NOTHING IS WORKING IN NIGERIA, SAYS BAFARAWA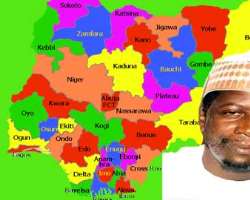 'Nigeria needs total overhaul'
By Abdallah el-Kurebe
Sokoto - Former Governor of Sokoto state and presidential aspirant of the Democratic Peoples Party, DPP in 2007 and now of Action Congress of Nigeria, ACN, Alhaji Attahiru Dalhatu Bafarawa has observed that the Nigerian nation needed a total overhaul in all areas of socio-economic and political development.
Alhaji Attahiru Dalhatu Bafarawa
He made this observation during an interactive session with newsmen in his house in Sokoto.
According to Bafarawa, 'You can see that nothing is working in Nigeria any longer: the leadership, security, the economy, the education and health sectors, all these and more have failed due to bad leadership,' he alleged adding, 'So, there is so much, indeed, everything  needs to be changed in this country.'
He pledged that if elected as president of Nigeria, he would transform the country and deliver it to the good of the old times. 'I am aspiring for the presidency under the platform of the Action Congress of Nigeria and if I become the party's flag bearer and subsequently the nation's president, I will transform it from the gloomy state that it has been plunged into
through the bad leadership of the PDP.'
On the alliance between the ACN and other political parties, Bafarawa explained that a formidable force was required to correct the damages caused by the leadership of the PDP for the past twelve years.
'Credible Nigerians have come to agree that so much bad has been done to this country and that we must put our heads together to correct the damages,' he said adding that 'Here, the ACN is not only talking about occupying the presidency but also taking more states from the PDP as is happening now.'
Bafarawa added that all those in the ACN aspiring for the presidency are partners in progress and that there was no do-or-die affairs attached to it.
'If Ribadu gets the party's ticket for the presidency, he will need me to capture the government in order to make the required change and vice versa.'
Speaking about Boko Haram, he noted that those who are suggesting for the supply of adequate guns as the veritable means of arresting the malady have missed the point, adding that the Boko Haram problem was brought about by poverty, which must be tackled.
'I fault those who think that it is the gun that can solve the problem of Boko Haram. Far from it.  They know the solution to the problem and they know that the solution to the problem is far from using the gun,' Bafarawa said adding, 'They know that the problem is poverty, which is caused by their bad leadership. So, until the problem of poverty is addressed, Boko
Haram will continue to haunt us as a nation.'