FASHOLA FLAGS-OFF VOTERS' REGISTRATION CAMPAIGN IN LAGOS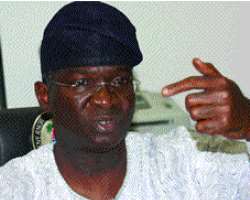 Lagos State Governor, Mr. Babatunde Fashola, has flagged- off voters' registration campaign in Lagos to sensitise eligible voters on the essence of the programme five days to the commencement of the exercise. Addressing party faithful and teeming supporters at the Action Congress of Nigeria (ACN) secretariat in Lagos on Monday, the governor said the campaign became necessary to create awareness for the registration exercise scheduled to commence on January 15.
He charged Lagos eligible to voters to come out en-masse to participate in the forthcoming exercise   if they wanted to achieve a brighter rewarding future, adding that their voters' cards remained a veritable tool for them to elect a competent leader of their choice.
He emphasised that the electorate could only solicit for good governance if only they had played their civic responsibility of getting themselves registered to cast their votes and ensuring that their votes counted.
His words: 'To keep  the hope and flame of a brighter rewarding future alive, people must register to vote. Every Lagosian above the age of 18 years must be registered first. It should be done with passion from house to house, ward to ward, communities to communities, sensitising people to come out and register to vote at the various polling units used in the previous election.'
'Tell your taxi driver, customers in the beer parlour, teachers, barbers, church members, club members people we have daily contact with must be advised to come out and register to vote in the forthcoming elections.'
Fashola enjoined the army of party faithful and supporters who wore branded T- Shirts with inscription like 'Register to Vote,' 'Your vote is your power,' 'Make sure your vote counts,' to be prepared to wrest power from the ruling People's Democratic Party (PDP) in the forthcoming polls.
Earlier, the special adviser to the governor on political and legislative matters, Abdulateeef Abdulakeem, noted that the state government knew the importance of the voters' registration process, adding that the voters would be adding value to their status by having voters' cards with which to cast their votes.
He pointed out that the state government has employed the services of popular Nollywood actors led by Mr. Segun Arinze to further sensitize Lagosians on the importance of the exercise, saying the actors would also appear on paid and sponsored shows to enlighten the people.