Why we seek support to empower widows… Afam-Ani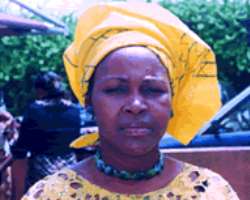 It had been a general impression that women's roles are bearing children and managing the kitchen. They were seen, but not heard, with cultural and religious limitations preventing them from participating in family and societal decision making. But today, things have changed, as women are assuming important positions and making useful contributions. It is also obvious that women help their men counterpart in the fight to ensure that peace and development abound in their respective communities.
These , were put into practice recently in Lagos, as the Ozalla Women in Lagos gathered at NECA house, Ikeja to celebrate their silver jubilee and the Launching of N5 million widows economic empowerment scheme.
Speaking at the event that was witnessed by those whose interests in assisting the less privileged women in the society know no bound, President of Ozalla Development Union, women wing, Lagos branch, Mrs Nkechi Afam- Ani said the principal aim of the union was to bring all Ozalla women together to speak with one voice and promote peace, progress and in the town. She expressed that as the union evolved over the years, it developed other objectives of partnering with relevant stakeholders in championing issues that affect women of the area.
She pointed out that the social organization of Ozalla women is dedicated to impacting lives of the Ozalla women, and to enable them enhance and develop their quality of life , thereby, becoming the architects of their own future and lives by presenting opportunities for spiritual , educational and economic transformation. ' We want to contribute our quota towards developing our community by empowering ourselves to have the desired good quality of life. This is because many of us are suffering', she said.
She also stated that the Ozalla women in Lagos rose to tackle some of the problems facing some of the widows among them. This, the succeeded in doing by garnering support from their husbands, friends and well-wishers.
Among other things, Mrs Afam-Ani further noted that the union seeks to promote the status of women with credible political ambition, liberate Ozalla women and children from the shackles of poverty, illiteracy, domestic assault, trafficking and other forms of socio- economic hardship. 'Today's event is special and remarkable because we are working towards alleviating poverty among our women. We are also honouring and celebrating the selfless service, sacrifice and generosity of some of our husbands, sons, daughters and friends of Ozalla, who have contributed immensely towards the growth and development of Ozalla women and the town. However, those we are honouring today are small sample of the supporters and contributors to our union' she stated.
Mrs Afam -Ani explained that welfare of Ozalla women, especially the widows was paramount and assured that money realized would properly be used to cater for the widows of the town. 'Our main focus is to cater for the Widows among us. Therefore, we will appreciate whatever support given to us to support them. I also assure that we will use any amount realize today for the purpose it is meant for', she promised.
One of the illustrious sons of Ozalla town, Barrister Afam Ani commended the women for the taking the wise decision of sourcing for fund to empower the widows among them. He stressed the need to give them a desired financial support to achieve their good plans. 'This is a very good idea and the first of its kind in Ozalla town. So, the women should be supported to achieve their aim.