Presidential election: Only God can stop Jonathan –Shagari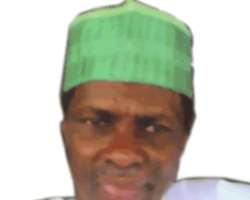 Delivery of democratic dividends
So far so good, in terms of the promises we made to the people of Sokoto State. We have been able to improve their living standard, provided infrastructure and ensured that Agriculture takes the rightful place bearing in mind that majority of our people are farmers.
In the area of education, we have done as much as we can. The same goes for road construction and housing. One very important area which I am very happy about is the policy we adopted on the welfare of destitutes which is greatly succeeding. The establishment of the Almajiris School in the state is the first of its kind in Nigeria. Only of recent, the Federal Government started copying the state government in this regard.
I must say I am so happy with the progress we have made so far. However, I must also say that only a term is not enough for any government to achieve all it wants to achieve. So, we hope that if our party and the governor are restored to power come 2010, some of the things that have not been done now would certainly be done.
Poverty
I think we have improved on that tremendously. We have created employment for our youths. We have also ensured that the business people in the state have been properly taken care of by providing soft loans for them to enhance their business activities. We have been giving agricultural loans to farmers, and we have improved the irrigation sector which is an important area through which employment can be created for the people.
I believe from the time I shed my tears, a lot has happened and there has been tremendous improvement in all sectors of the economy. If you look at the number of vehicles and motorcycles plying the streets of Sokoto today, and considering how happy most people are, you will agree with me that we have done well. Let me however point out that poverty is not peculiar to Sokoto alone. It is everywhere and I think the federal, state and local governments should join hands to tackle the ugly trend.
Decision to drop guber ambition in 2007
I have said it times without number, that the most important objective for me in politics is services to my people, irrespective of the position I find myself. Secondly, I am of the opinion that Sokoto state should be part of the central government, and opt out of the opposition which they were for almost eight years and for this reason, I believed no sacrifice would be too much to take the state out of the opposition into the central government bearing in mind the importance of this state in the political equation of this country.
Similarly, it is my strong belief that my governor, in the person of Alhaji Magatakarda Wamakko has all it takes to be the governor of this state. He has the capacity to occupy that office having been, in the past, a deputy governor, a permanent secretary, a local government secretary as well as a teacher. So, he knows the state so well, and for this, I felt, joining hands with him to liberate our state would not be a bad idea and this is exactly what we have done and thank God, we are succeeding.
North's PDP consensus candidate -Atiku
A lot of people have commented on this, and I must say I agree with some of those who believe that all we have is a consensus candidate of Adamu Ciroma Committee which was put together by four presidential candidates. I don't want to go further than that.
However, suffice it to say that millions of northerners are supporting Goodluck Jonathan's bid to contest the presidency in 2011, and it is very well known that my position on that is very clear. What some northerners failed to realize is that some of the issues that are very important to northerners have been taken care of by President Goodluck Jonathan. For example, almost all the textile industries in the North have collapsed and the President has started reviving them. So also are all the oil mills we have in the North.
He has promised he is going to look into that. He has done so much on the provisions of irrigation facilities; he is equally working hard towards ensuring that the irrigation facilities that were being put together by Obasanjo administration are now being completed. In addition to that, the poor condition of our roads is now receiving his attention. You can see that the Gusau/Funtua road is now under construction, and I can authoritatively say he is paying a lot of attention to the construction of the dual - carriage way from Kano to Maiduguri.
Let me also say that one very important development that happened just two days ago was the upgrading of the Almajiri School. He intended to construct aditional 100 of such schools as an interim measure as a way of solving the problem of Almajiris roaming about our streets. This is somebody who has served under a northern president. So, he knows what the problem of the North is and he is actually giving them the desired attention. 
I have consistently said to my brothers in the North, articulate the problem of the North in the areas of education, infrastructure, industry and water supply and the rest, and approach the President on how those issues can be addressed because the major problem of the north today is not about power but rather about development and how we can eradicate poverty ravaging majority of our people.
For me, he is the man of the moment. I was very close to him before he became the president, and I know what his feelings are about the North and that is why I am supporting him. Anybody who will help us improve education in the North, improve agricultural production, revive our textile and oils mills industries and construct our roads, and put Almajiris off our streets should be our man in the North. I don't think anyone has addressed the problems of the north better than Jonathan and that is why I am supporting him.
Zoning/rotation policy of PDP as a party
Yes, one understands there is a zoning policy put together by a small group of people within the PDP which they want to force on the rest of us. But one fact remains and that is to say we have a constitution in this country which must be respected, and the constitution gives opportunity to anybody qualified to aspire to any political office.
I have consistently explained to people that if Yar'Adua were to be alive today, Jonathan would not have contested for presidency, and he would have supported Yar'Adua for a second term. But now that the situation has become what it is today, what remains is for us to support  him to complete the remaining four years in office.
Jonathan and the North
Look, look, we should be thinking about this country and not a section of the country. No one is born to rule. As a practicing Muslim, I believe power belongs to God. He can take it from whoever he wants and give it to whoever he likes and at the time he wants. If it is the wish of God that in 2011, Jonathan will be our president, no one can stop it.
And if it is the wish of God that by 2015, the President will come from the North, nobody can stop it. I don't think we should allow this kind of issue to create any problem for us. One should be thinking about the unity of this country. We should be thinking about the peace of this country and about the problem we have such as poverty, falling standard of education and realization of proper health care facilities rather than where power will come from. Let us leave that to God to determine just as God has determined that today Goodluck Jonathan is the president of Nigeria.
My nomination as VP after Yar'Adua's death
Firstly, I want to say that if out of more than 150 million people in this country, my name is mentioned as a Vice Presidential nominee, I think it is something for which one should thank God, and thank the people of this country. But as I have said in the course of this interview, power comes from God and he gives it to whoever he wishes, and at the time he wants to. I think that is the way God wanted it to be and no regret whatsoever. The Vice President, Architect Namadi Sambo, is my brother, he has all my support and prayers to succeed in advising and supporting President Goodluck Jonathan towards the realization of the objectives of their government and subsequently win the 2011 general election.
Me and Obasanjo
Yes, yes, I do that because firstly, President Obasanjo brought me into his government without me lobbying him or anybody, and up till this moment I am talking to you, nobody in this country has said to me, I was the one that suggested your name to Obasanjo. He appointed me a Minister and gave me a Ministry that is extremely important in this country, especially to the people of the North. He gave me all the support and the necessary things I needed to succeed, and I succeeded to the extent that at the end of the day, he awarded me a CFR on behalf of this country.
I have studied Obasanjo very closely, and concluded he is somebody who has passion for the unity of this country. He is somebody who has passion for the development of this country. He is somebody who believes that the right thing must be done always. He is somebody who will always support you as long as he is convinced that you are working for this nation. For me, anybody who loves this country, anybody who is detribalized, I think that person deserves my respect. I can say without mincing words that Obasanjo is one of the best people that has ever been produced and one of the best Africa has produced so far.
He started calling me 'My Son' when he realized I was committed to the service of this country, and I was very loyal to him to the extent of executing the programmes, he has for this country. He never found me wanting and I also gave him my respect as a father, because he deserves to be called 'father.' He is that kind of person, who makes you comfortable in his presence, the kind of comfort a father will give his son.  From day one, we have this link and this bound father and son together.