2011: Chukwumerije won't return to Senate – Ogbonna, aspirant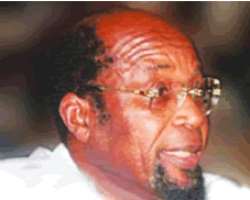 Navy Captain Jerry Ogbonna (retd), a senatorial aspirant for Abia North on the platform of the Peoples Democratic Party (PDP), has vowed to upstage incumbent Senator Uche Chukwumerije. He told Daily Sun that Chukwumerije has performed below average. Excerpts:
Defeating Senator Chukwumerije
The politics of this time is politics of ideas and acceptability by the people. It is not an 'arrangee' kind of election. It is not an election where people think they can just come in because some governors will rig them in. Chukwumerije as a senator for the past eight years has not really done anything for Abia North.
He has not done anything that will endear him to the hearts of the electorates or the PDP delegates in Abia North. He has shown himself to be very inconsistent for running from pillar to post and running from one political party to the other. He was in PPA and to APGA, and he runs back to PDP, he has shown that he is an inconsistent person. He has no project for Abia North to his credit.
He was there when the Federal Government continued to take action that would have eroded the economic base of Abia people, especially Abia North. Chukwumerieje was there when second-hand clothing importation was banned. He did nothing. It is the business of the Abiriba and the Ohafia people. All the boys in Aba who used to trade lost their economy and probably their lives.
He was there when they banned the importation of stock fish, one of the businesses of Abia North. He could not lobby the government in power to make sure that it was not done and even if it was going to be done, an alternative should be provided. Five years ago there was no kidnapping in Aba because people had things to do but when all these things were lost, their economy was been eroded. These people have no job, they have nothing to do. This is where we have the major problems we have now among the youths and all the kidnappings that are taking place.
I have feelings for the Igbo people, I have feelings for my constituency. I set up local industries that will create employment for the people. I have attracted N35 million from the Federal Government to set up fish farming industry in Abia State. I used my own money to set up industries for extraction of palm kernel. The people who are going to man it will have 20 percent of the proceeds and I will keep 80 percent. What has Chukwumerije done for his people?
He has not done anything. If the people give me their votes, I promise them I am going to set up one industry in each of the local government areas that make up the senatorial zone. It will be from my constituency money. We should use it to employ people, set up cooperatives, so that they can run properly. When I go there, I will create jobs for the people.
To re-open debate on second hand clothes and stock fish
Government cannot start banning things without looking at the economic effects on the people. Abia has been a victim of kidnappers. These boys are the boys whose economy has been destroyed because of government policies. I will ensure that before government takes any action that will affect my constituency, I will bring it to their notice.
The day government banned second-hand clothing, they provided N500 billion for textiles industry to thrive. Why can't Chukwumerieje lobby at least N5 billion from that money to improve on textile industry for Aba traders so that the boys can get back to work? We are talking about people who are still living, who need to live their lives, whose economic lives have been destroyed but he did not speak about these.
Governor T A Orji and PDP
Sincerely, it has affected us very badly I must say. For example about November last year we were working under the PDP umbrella. Suddenly, the state executive of the party was dissolved because T.A Orji has returned to PDP. He came with his own group and said they wanted to harmonize the list. They began to change the state executive to favour those who they wanted to anoint.
I would have expected that for democracy and fairness, they should have allowed the state executive to be. But they decided to write a new list and what we now have is a set of people who are not democratically elected. What they did was to appoint an interim caretaker chairman and mandated him to harmonize the list. This is not democracy.
No internal democracy in Abia PDP
There is no internal democracy. Who brought all these people who are going to be delegates? There was no proper election, there was no congress, none was held in Abia State. As an aspirant, I am worried that the rest of the party members who would have been carried along are not carried along, who would have been allowed to select their leaders, from the chairman of the ward to the rest were not given the opportunity. Leaders were imposed on them just by writing lists.
My programmes
In the first four years, I want to set up one industry in each of the seven local governments, which make up Abia North Senatorial District. When I do that, I would have created at least about 20,000 jobs. That will prevent our youths from going to the big cities and getting involved in crimes. I will also try and attract roads, which I will lobby the executives to do. At the end of the four years, I would have created four industries in the local government areas.
N5million industry in each local government which will provide massive jobs and massive employment. My concentration is on agro products. For example, cassava, which people are producing massively in Abia North. I am ready to get from China about 100 metric tones processing plant to process cassava so that women who are in that area of business can make good money.
Confidence in INEC leadership
Yes, I have the confidence. The personality of the leadership of INEC is it. Anything that happens in any particular organization is very crucial in accessing that person. Prof. Attahiru Jega has been somebody whom people know as an upright man, who is committed to do something proper. I hope that he will not disappoint us. He should put up mechanisms that will ensure that we have proper election, that people are properly elected.
The President has also done well by making sure that INEC is truly financially independent. It is not in the case of the last election, where money that was billed to do something was delayed and INEC didn't have the money to do what they needed to do. I am happy and optimistic that this time around it will be better and also I would have expected that the next elections should be done by electronic voting. However be it as it may, we would go ahead with what we have and hope on INEC to have good people who are credible to be appointed as the electoral officers because 2011 is so important to the growth of Nigeria.