Monday business report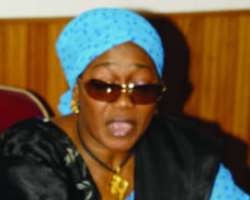 Farida Waziri
Corruption has often been described as Nigeria's public enemy No 1. Having stalled much of her economic development initiatives since independence, no one perhaps would still be in doubt as to why the Federal Government has launched an all out war against the monster which also includes money laundering and other forms of economic crimes threatening the growth of the nation.
It was therefore not surprising that the Economic and Financial Crimes Commission (EFCC), and the Independent Corrupt Practices Commission (ICPC) the nation's leading anti graft agencies have continued to devote more resources toward taming the monster. Although stakeholders are in agreement that their strategies are effective, a major source of worry to many is that corruption still thrives in several sectors of our national lives leaving many with the conclusion that there seems to be no real impact on Nigerians so far.
Statistics of recoveries by the anti graft body made available to Daily Sun show that between 2003 and 2010, an estimated N5.15trillion made up of cash and assets may have been recovered from crime suspects, including political office holders and advance fee fraudsters.
This was made up of $6.5 billion (N975bn) recovered between 2003 and May 2010, as well as another tranche of about N2 trillion worth of properties confiscated locally and overseas from 46 politicians and influential Nigerians on the orders of the law courts. Among the items recovered from them are 238 bank accounts worth over N500billion, 320 million units of shares in blue-chip companies, 18 limited liability companies and 28 plots of land.
Others assets recovered by the agency include 43 vehicles, three filling stations, four hotels, two warehouses, four shopping complexes, five schools, two bakeries and three estates. In addition over N1.5trillion fresh landed properties and business concerns were said to have been recovered from politicians and chief executives of some Nigerian companies in the last quarter of 2010. The staggering quantum of recoveries however gives a clear indication as to why Nigeria as a country has been struggling to develop let alone meeting the Millennium Development Goals set for it alongside other nations of the world.
Unfortunately, successive political administrations in the country have over the years left the citizens with the impression that they were committed to taming the corruption monster when in absolute terms the numbers are still soaring. Confirming the recoveries at a meeting held December 16, 2010, EFCC Chairman Farida Waziri revealed that within a space of seven years, the commission made ' recoveries of over $11 billion and secured over 400 convictions.' This means that additional $4.5 billion cash was recovered between May and December 2010.
While it may be apparent that these recoveries may be a clear testimony that EFCC was winning the anti-corruption and anti-money laundering war in many fronts, there are still concerns in most quarters that the funds being recovered may not have been put to proper use.
Ever since these recoveries became issues of public debate among most commentators, some observers have been trying to know from both the EFCC and the political authorities the whereabouts of the recovered fund.
Enquiries about the safety of the fund recovered may have borne out of the belief that citizens of this country should feel the economic impact of the recovered loots hitherto stolen from either the public treasuries or from the nation's financial markets.
Many are of the view that it should at least translate to better life for the citizenry, particularly against the backdrop of severe economic hardships facing them. With corruption still dominant in public and private businesses in the system many have been wondering what the citizens have benefited from the efforts of the anti graft agencies in the country since their establishment.
However, in a swift reaction, the executive chairman, Economic and Financial Crimes Commission Mrs. Farida Waziri hits the bull's eye in her frank assessment of the strides made so far stressing that the impact was real. According to her, the achievements of the EFCC in its seven years of existence are quite immense. 'In stating these, you need to quickly take a mental excursion into the pre-EFCC Nigeria. Before its establishment, Nigeria had become globally blacklisted as a haven for money laundering and economic crimes.
Advance fee fraud, cyber crimes, banking and contract scams and other financial crimes were legion,' She recalled how fraudsters were being celebrated with nothing being done by the authorities to arrest the situations.
She explained that the coming of the EFCC, brought significant changes in the affairs of the nation to the extent that the Financial Action Task Force's list of Non-Cooperating Countries and Territories with Nigeria was removed from that infamous list.
Corroborating Waziri's position, Ngozi Saromi, the Special Assistant to the former Executive Chairman of the EFCC Chairman Nuhu Ribadu, said: 'Today, Nigeria has been removed from the Financial Action Task Force (FATF) list of non-cooperating countries and has been accepted into membership of the Egmont group of Financial Intelligence Units through which she enjoys global cooperation on a broad number of issues that impact on our economic development. Today the national financial corridor has been reconfigured to yield a robust mechanism, vigorous and appropriate to pull our economy to greater, safer heights. Did all these developments just happen? Nigeria's strong commitment to improve governance by vigorously tackling corruption has been serially cited as a pre-eminent factor in this whole process.'
Why there is no impact
It was in the light of the above that the Bishop of the Anglican Diocese of New Bussa, Rt. Reverend Israel Amoo, recently argued that Nigerians were yet to feel the impact of the fight against corruption, despite efforts by the anti-corruption agencies. Though there have been a lot of activities by the anti-corruption bodies, most Nigerians believe the effects of the fight are yet to be seen and that until people are sanctioned appropriately the culture of impunity was likely to continue.
Amoo who spoke after the first synod of the diocese, also described as deplorable, the state of public infrastructure in the country which he implied can only exist in a society where public funds are appropriated into private pockets. He lamented 'When somebody is accused of corrupt enrichment, he should go and clear his name before he is allowed to hold any public office. Today, there are people who have a question mark on their integrity, yet they are still entrusted with public offices,' .
Commenting on the issue, a civil servant, Mr. Robert Terngu believes that though the antigraft agencies were making positive impact in checking the menace of corruption in Nigeria, the war was yet to be won. The reason for his contention was that corruption was everywhere, in ministries and parastatals, in schools, from the grassroots to the top because every Nigerian wants to make it and live above the poverty line..'
Similarly, former Lagos State Attoney-General and Commissioner for Justice, Professor Yemi Osibanjo (SAN), said there was no impact because corruption has continued to ravage the country like a virulent cancer largely because the relevant authorities have not shown enough willpower to fight the scourge.
'Over the years, people have come to the realization that if you steal a large enough amount of money you can get legal representation and waste everybody's time for years and eventually they will let you go or forget about it. Now, it is difficult to have a criminal trial against someone who has the resources to fight it and part of the reason is the delay in processing criminal justice. Part of it is also the delay in the entire criminal process,' Osibanjo submitted. He added that perpetrators are getting away with money laundering and other forms of economic crimes because only few people are charged to court in Nigeria for such offences while only a few get convicted or punished.
An Abuja based businessman, Mr Edward Enonche , there is still massive corruption at federal , state and the local administrations . 'They loot and share the country's monies at will and no one says anything about it because it has become a norm.' He attributed the leading causes of corruption to poverty, fear of tomorrow, lack of social amenities and lack of fear of God.
Thus, in a statement signed by the Special Assistant on Media to the former governor of Abia state, Mr. Emeka Obasi, it was stated that the EFCC seemed out to truncate the political ambitions of perceived vocal members of the opposition leaving its core mandate of fighting economic crime.
Where recovered monies are domiciled
Responding to a question on money laundering and where EFCC kept all the recovered funds, Bala Sanga, the principal staff officer to the executive chairman explained that the EFCC abides by its Act which stipulated that all monies recovered by the Commission be returned directly to the victims of the crime, be they individuals, corporate bodies, or foreign entities.  'If the victim is the Federal Government, the proceeds go into the Federation Account, and if the victims are State or Local governments, the proceeds go into their respective treasuries. If the victims are from specific public agencies the proceeds go to such specific accounts: thus, if they are from the oil sector, the proceed goes to the NNPC account; if they are from Customs, they go into the Customs account; or to the Inland Revenue account if the victims are the Inland Revenue Board. 
'Billions of naira have also been recovered and returned to banks and other private commercial entities. Most Nigerians are aware today that monies have been returned to victims in places like Brazil, the United States, Britain, Hong Kong, and U.K, to mention only a few cases. The cases involved foreign 419 victims and that is typically how similar instances are being treated.  Victims get their recovered monies paid directly back to them, wherever they may be in the world, and that is in keeping faith with the law that set up the EFCC,' Sanga maintained.
Speaking at a forum organized by the Lagos Chamber of Commerce and Industry (LCCI), Sanga contended that restitution was a central component of the work that EFCC, stressing that it has never kept a kobo of the billions of naira recovered in the last four years. 
According to him where there was need to use recovered monies as exhibits in prosecution, they are properly kept, documented and used in court to prove the commission's cases against accused persons following the due process of law. Thereafter, upon conviction and forfeiture, the monies are processed according to court directive. It is illustrative that till date no complaint has been filed against the commission that a single kobo of such funds has been diverted,' he further clarified.
But how can these recoveries be applied to improve the quality of lives of the people.
This question arises following a recent revelation by the National Coordinators of National Agency for Poverty Eradication, Dr Magnus Kpakol that over 80 million Nigerians are living below the poverty line. This shows that an estimated 80 per cent of Nigerian live on less than $1 (150) a day. The National Project Management Conference (ProMaCon) in September last year quoted a World Bank report as saying that 7.08 percent of Nigeria's population live on the poverty line of less than $1 a day, while 92.4 live on less than $2.
ProMaCon a private sector initiative that seeks to promote and institutionalize project management best practices through advocacy tools like conference, seminars and workshops contended that Nigerian anti corruption agencies would need to do more to change the status quo.
It was against this background also that an economist, Mr. Damian Nnanyerugo in an interview with Daily Sun recently argued that if the government can only allocate N1.5 trillion out of funds recovered for the economic welfare of the citizens; it means each citizen out of the population of 150 million Nigerians will get N10, 000 per annum. He believes that as little as this money is, if independent agencies like EFCC or the Independent Corrupt Practices Commission (ICPC), is given the mandate to oversee the utilization of the fund for the common good, a lot would be achieved.
'This amount when factored into job creation, human capital development or infrastructural development, will bring about tremendous multiplier effect on the economy. At least many breadwinners would be made out of several families and many lifted above poverty line.
'Imagine the acceleration in growth and development this will create. The population would become more productive and less dependent on the working few. When this is backed by law and accorded necessary priority, it will make more impact in the life of the people than the profligate fund allocation for constituency projects to representatives that end up in private pockets due to lack of proper accountability. N10,000 per head for a year is nothing compared to N15.18 million per month total salary and allowances of a senator and N10.59 million taken by a member of the House of Representatives,' the economist maintained. This is probably in line with the idea of N50 billion set aside by the FG from the 2011 budget for job creation.
Instead, the economist lamented, more than half of the population (80 million) of Nigeria lives below $2 or N300 a day. This translates to N9,000 a month and N108,000 per annum. Assuming that this amount is not spent on food or anything but saved, it means that in 10 years, the consolidated earnings each, of more than half of the population of Nigeria will save N1.08 million. In other words, 80 million Nigerians each is worth a little above N1million in ten years. This throws up more questions than answers in an economy where colossal sums of money are laundered and purportedly recovered, Less than N300 a day is stunted in an economy where it was alleged last year that 25 per cent of Federal Government overhead is spent on members of the National Assembly.
Only recently, a total sum of $170.8 million (N25.6billion) was paid as penal fines to the Federal Government of Nigeria by multinational firms indicted in the bribe-for-contract money scandal following allegations that about five persons shared $182 million (N27.3 billion) being fallout of the scam..
But argument on whether money is being laundered within the country or not, was put to rest by a legal practitioner, Ajibola Dalley of G.R.F. Dalley & Partners Lagos.
Dalley said money laundering involves 'a conduct or actions designed to conceal or disguise in whole or in part the location, source, ownership or control of proceeds of crime.' Wikipedia online dictionary also describes money laundering as engaging directly or indirectly in a transaction that involves money or property which is proceeds of crime or receiving, processing, conceiving, disguising, transforming, converting, disposing of, removing from, bringing into any territory, money or property that is the proceeds of crime.
It then follows that funds realized from over invoicing, inflation of contract sum, diversion of public funds, bribery and other forms of illegal transactions being carried out today are proceeds of crime. When these monies are reintroduced into the financial system by any form of transaction, it qualifies as money laundering. This raises the question of whether the penal fine paid by Halliburton to the federal government does not qualify as proceed of (bribery) crime which will soon be introduced into the financial system.
In a chat with Daily Sun, the Managing Director and Chief Executive Officer, Wyoming Capital & Partners Limited Mr. Tajudeen A. Olayinka stated that the effectiveness of EFCC could have tremendous impact and to a large extent stop money laundering and ensure that government business was properly done. He said it will equally ensure that economic wealth was channeled to deserving and proper economic agents.
'The actions and inaction of EFCC determine the extent of civility in the conduct of business in Nigeria by various economic units. Where the EFCC functions optimally, its activities could shape behaviour and engender orderliness in the conduct of business by various economic units, and this will affect the rating of business environment in Nigeria, thus providing a boost to the most desirous foreign investment in the Country. The reverse will be the case for an ineffective EFCC.'
In assessing the effectiveness of EFCC and the impact of its activities, Professor Taiwo Osipitan implied that despite the commission's efforts, people still give bribes and the majority suffers for it. He called on makers of the law to expand the horizon for EFCC, to enable it make meaningful impact in the life of the populace. According to him, 'A point ignored by makers of the law is that a private company or individual who offers bribe to a non-public officer is bound to pass the cost to consumers. In the case of private companies, bribes paid out will definitely diminish the profitability of the business and the return on investments of shareholders. It is unthinkable that we can effectively tackle corruption by merely focusing on public sector probity and ignoring the private sector.'
More so, it is alleged that EFCC does not keep Nigerians abreast of where the funds recovered from politicians were domiciled. Everything seems like a mirage, existing only on print and electronic media. At least from monies recovered for the government, roads, hospitals, schools and instruments for security of life should be fixed to an extent. People should feel the impact of national wealth. Other economic analysts who argued that the agency is merely scratching the surface as far as war against economic crime is concerned, hinged their belief on a new report from US-based Global Financial Integrity group which claimed that Nigeria sits atop a list of African countries that have suffered a massive outflow of illicit funds in Africa between 1970 through 2008.
The study, titled, 'Illicit Financial Flows from Africa: Hidden Resource for Development,' reveals that Nigeria lost $165.697billion, close to 19per cent of the total $854 billion outflows from Africa to other western countries. Following behind Nigeria are Egypt ($70.5 billion), Algeria ($25.7 billion), Morocco ($25 billion) and South Africa ($24.9 billion).
Interestingly, this period overlaps with a period of intense anti-corruption campaign within Nigeria through the establishment and empowerment of the Economic and Financial Crime Commission (EFCC). They criticized the commission for not achieving much, despite public funds pumped into its activities.
Aside the G-8 demand, war on corruption became inevitable due to its devastating effect on the nation's economy. For instance, it has been estimated that since independence, Nigeria has lost over $400 billion (about N60trn) to hemorrhage occasioned by the unconscionable activities of its ruling class. A recent World Bank report estimated that about N600 billion worth of contraband goods pass through the customs and ended up in private pockets with several others cases taking place without being noticed.
In 1999, a United Kingdom-based non-Governmental Organization, Jubilee 200 Coalition had alleged that about $55 billion, corruptly acquired by some Nigerian rulers, their agents and some government officials were lodged in various Banks in the United Kingdom. The result of investigation by the National Assembly regarding about $16 billion allegedly spent by Obasanjo Administration on the power sector, has remained hazy.
It was not until the exit of Gen. Sani Abacha the former head of state that the nation was regaled with his exploits in transferring incredible sums abroad straight from the Central Bank. In all, he reportedly looted over $4billion, part of which mercifully has been recovered in the Nigerian state. In this our same country a leader mismanaged $12.6 billion of public wealth and there is still no accountability till date. The Federal government on the 22nd of November 2010 withdrew a $17.5 million case of bribery scandal earlier instituted against Siemens brothers after the later agreed to pay a N7 billion fine representing three times the amount of bribes given by the company to its beneficiaries. The implication of this on anti-corruption war can only be explained by the EFCC. The list is inexhaustible.
Within the past 39-year period examined, the US-based report stated that the massive flow of illicit money out of Africa was facilitated by a global shadow financial system comprising tax havens, secrete jurisdictions, disguised corporations, anonymous trust accounts, fake foundations, trade pricing, and money laundering techniques, the GFI director, Raymond Baker said. It was therefore not surprising that the GFI says a continuation of this loss of massive amounts of money to illicit financial outflows means that economic development and prosperity will remain elusive.
'The impact of this structure and the funds it shifts out of Africa is staggering,' Mr. Baker said. 'It drains hard currency reserves, heightens inflation, reduces tax collection, cancels investment, and undermines free trade. It has its greatest impact on those at the bottom of income scales in their countries, removing resources that could otherwise be used for poverty alleviation and economic growth.'
Even as Nigerians are complaining of lack of impact of EFCC's recoveries, , US Ambassador to Nigeria , Mr. Terrence Mcculley is canvassing for more powers for the commission, to enable it overcome the current challenges of fighting graft in the country, He also lamented on the effects of corruption and money laundering, saying that: 'EFCC is at critical point. The issue of public and private corruption is perhaps one of the most pernicious elements in any society and I believe it is one of the most critical areas to a long term economic health and stability of this country
'Pernicious because public corruption damages any economy and it undermines the entrepreneurs and investors to compete. It is pernicious because public corruption undermines the population's confidence in its leaders and it creates the impression that the leaders are pursuing selfish interests. 'Therefore it creates a gap between government and the people, who feel that their leaders will not necessarily respond to their concerns. And therefore the work of the EFCC to root out corruption at all levels is a very significant one and it must be a neutral institution.'
Also, in one of his statements to the Press, the former President of the Nigerian Economic Society Professor Sam Olofin lamented the devastating effect of corruption. 'One of the major distorting effects of corruption on the economy has been the creation and sustenance of an artificial economy within the larger economy, which promoted rent seeking behaviour over and above production in the real sector. Rather than channeling our earnings from oil into enhancing capacity of the productive real sector to create real wealth and job opportunities most of the misappropriated funds are either funneled out of the economy or laundered into less than productive activities in the financial sector or into overvalued real estate sector.
These are the two major sectors that are safe havens able to absorb laundered funds to the detriment of the real sector where entrepreneurs like the Dangotes and others in Manufacturers Association of Nigeria need resources to produce goods and services to create wealth and increase gainful employment for Nigerians.