I won't leave PDP –Chime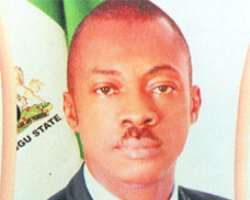 Chime
Governor Sullivan Iheanacho Chime of Enugu State has reiterated that he has no plans to dump the Peoples Democratic Party (PDP) even as aspirants to different positions on the party's platform are groaning under intense pressure over the uncertainty surrounding their primary elections.
The Enugu State Commissioner for Information, Culture and Tourism, Chuks Ugwoke made the clarification, yesterday, in order to dispel the insinuations that the governor plans to dump PDP for another party.
Said he: 'I believe I made the point strong enough yesterday (Saturday) when I said quite emphatically that Governor Chime nurses no plan to abandon a party (PDP) where he is the leader and the torchbearer for any other one.
'His focus for now is to deliver the state's bloc votes to President Goodluck Jonathan during the forthcoming presidential primaries and to also ensure that he secures the tickets for himself and other members of the PDP family in the state during the various primaries.'
However, tension continued to build following the reluctance of the party's national secretariat under Dr. Okwesilieze Nwodo to conduct primaries in the state. The aspirants had heaved a sigh of relief when it was announced that the exercise would finally begin from today. But such hopes were dashed again yesterday when words filtered that the primaries would no longer hold.
Daily Sun gathered that as at yesterday afternoon, the party under Nwodo had refused to publish any list of officers scheduled to carry out the exercise which ought to have started with the House of Assembly today. The National Assembly and the governorship primaries were billed to hold on Wednseday and Thursday respectively. The primaries are being conducted in many other states.
'By the timetable earlier agreed with the national secretariat,' explained Dr. Okey Eze, the publicity secretary of the Vita Abba-led executive in the state, 'the primaries were supposed to have started on Monday (today) and to end on Wednesday after which the delegates to the national convention would have departed.
'As I speak to you now, materials have not been sent for that purpose; electoral officers to conduct the primaries have not been sent by the national secretariat. Yet, we must have to conclude the primaries by January 15. So, somebody must be up to a sinister game.'
The worry of the aspirants, according to one of them who pleaded anonymity, was that 'there is a grand design to keep shifting the commencement of the primaries until we're faced with a situation where we can't be candidates. It is ridiculous that a party under the leadership of a son of the soil (Nwodo) is plotting such evil against its own members.'
An earlier compromise had been reached to share the party structure on a 50:50 basis from the ward to the state level. But according to Eze, 'like I said the other day, we (Chime's group) were ready with our lists as a mark of respect to Mr. President and other high-ranking members of the party who were part of the discussion. Surprisingly, our brothers from the other side (Nwodo's camp) bluntly backed out and the team sent to harmonise the two lists returned to Abuja without accomplishing its assignment.'