Nothing good can come out of PDP - Akeredolu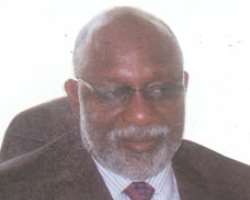 When it comes to the legal profession in Nigeria, the name Rotimi Akeredolu rings a bell, and the reasons are obvious. Apart from attaining the enviable status of Senior Advocate of Nigeria (SAN), he is the immediate past national president of the Nigeria Bar Association (NBA), one of the most elitist and critical organizations in the country. And for a man with such a pedigree, it is little wonder his views on any issue are taken seriously.
Sunday Sun engaged him in his Ibadan office before the last Christmas and he spoke extensively on a wide range of issues, including the forthcoming general election, politics of the South West and his tenure in the NBA. Excerpts…
How do you feel about the state of the nation ahead of this year's general election? Are you optimistic that the exercise would be free and fair?
I am not optimistic but I know that certainly if we all get involved in so many aspects of the election and the international community is prepared to give all the necessary assistance and prepared to be here to monitor the election fully, there is hope. Then we have the police, and if the security apparatus of this country can get to a point when they can see themselves as a national outfit rather than a government outfit, then we could have a free and fair election. But I am not optimistic.
You are talking about the structure. But do you think the people have the right attitude for a successful election in Nigeria?
I want to believe that apart from a few, which even borders on leadership, Nigerians have the right attitude to elections. The few are more at that echelon. They are the ones that are fraudulent and they are the ones that make it their own role in election to recruit the downtrodden, who unfortunately because of their level of poverty, their conscience can be bought. But the majority of Nigerians go out to vote and expect that their votes would be counted. It is only a few recruited by this corrupt leadership that get involved in destroying the process.
So I would say that Nigerians have the right attitude to elections. You will see how they would turn out to register because they want a change. They long for a genuine democratic process. They would attempt to even protect their votes but you would now see the security agents who have been bought by those in power, particularly the government; they are the ones that would now create the problem.
I think Nigerians have the right attitude but the only thing that is lacking is that we are docile. We do not have a staying power to insist on our right. We need to be able to go out and demonstrate for days to demand for our right. This is the only country where the government would not provide water and Nigerians would start digging well or going to streams to fetch water.
The government would not provide electricity and Nigerians would start buying generators and those who cannot afford would buy lanterns and bush lamps to put in their houses. In other countries, the level to which the Power Holding Company of Nigeria (PHCN) has failed Nigerians the people could have been on the streets. Nigerians are docile but I know that people are yearning for democratic change now. They are tired of, for instance, the leadership we have now.
They want to vote them out. But if the leadership insist that they would stay on in power and they recruit as many jobless people as possible to corrupt the process, Nigerians would run back and say, I do not want to risk my life.
But looking at the array of presidential aspirants in the field now, who among them has the right credentials to lead Nigeria out of the woods?
I have looked round those who have declared their intention to run to become the President of this country and I feel that there is one or two that if given the opportunity can make the difference. I do not hide my feelings and I want to believe that given the opportunity General Muhammadu Buhari can make the difference. I know that Buhari has had a stint before and I want to believe that given the opportunity again, because of his attitude and because of my own perception of him, he can bring about the desired change. Another person is Nuhu Ribadu. I have always said that Ribadu could not only bring about change but a generational change. We have had enough of the Atikus, the Jonathans, Buharis, Babangidas and so on.
Why don't we give a young man a chance?
With those two people; if we want to stick with the old, Buhari is there, and if we want to stick with the young, Ribadu is there. If they are able to get as many people as possible into their think-tank, they will do well. This is because they will not be carrying any baggage. I do not see any candidate that the Peoples Democratic Party (PDP) would be fielding that would not be carrying a baggage of the party. The PDP is a retrogressive party and I do not see anything good that would come out of it.
If it has ruled this country for about 12 years, eight years, which were wasted under Olusegun Obasanjo, four years under the late Umaru Musa Yar'Adua and Goodluck Jonathan, which would also go down as wasted years, why should we continue to have a government that would stay in power to waste the future of the country? So, the country is prepared to have a change. I call on Nigerians to insist on a change. The PDP has not made any impact. The people must insist on a change. It happens everywhere. In America, in Britain and everywhere, if you stay in power for eight years or more, the people would be clamouring for a change. Nigeria should also clamour for a change. Enough of PDP; let us have another political party and let us see whether it will be better.
What is your take on the outrageous salaries and allowances of members of the National Assembly?
My take is the position of the NBA when I was president of the association. That was why we had to go to court against them. So my take is simple, that in the light of the pervading poverty in this country, it is really sacrilegious for anybody to believe that as a legislator, you should earn as much as the National Assembly members are earning. It is totally unacceptable and most offensive to the sensibility of any right thinking person in a country where workers are fighting for N18,000 salary. It is unfortunate. I am against it and the NBA under me went to court.
From your vantage position, what does the removal of governors who have spent up to three years in office by the courts portend for our democracy? Are we moving forward or backward?
We are moving forward. What I mean by we are moving forward is that at least a few governors even if they stay four years less one day and the court found out that that position was by fraud, if the courts put their feet down and their election is nullified as was done in the cases of (Segun) Agagu, (Oserheimen) Osunbor, (Olagunsoye) Oyinlola, (Segun) Oni and a few other places, I think we are moving forward. Before, people rig elections and they get away with these impunities.
But I think in 1979 or 1983, it happened in only one place or two; that was (against Michael) Ajasin. (Akin) Omoboriowo never had the opportunity of staying in the office. That was then that you had to finish election petition and people are sworn in after the petition had been determined. Which is what people are clamouring for that we must find a way to determine the petition before people are sworn in or to determine the petition within reasonable time. It should be a maximum of six months. What it means is that if somebody's election is declared to be fraudulent and is nullified, within six months, he will know and he will leave, which will be better.
So, we are moving forward. At least, the courts are helping out. That is why I said we are moving forward, but we could do better. The idea of somebody staying illegally for over three years in office is not acceptable. What it means is that he was never a governor. People call some people former governor when they were actually never governor in the first place. You do not call such people former governor. In law, they were never governors. They were just there. At the end of the day, the court decides and says this is the person who won the election. So, certainly we are moving forward because at least, the courts have been helping out.
The wave of nullification is more in the South West than in any other geo-political zone, why is it so?
I happen to come from this area and I do not want people to say he is an irredentist and he is trying to praise his own tribe. But people in the South West are fighters and they never give up. This has happened over and over. Look at the history of this country from independence. When (Samuel) Akintola and his NNDP were imposed on the South West, we fought consistently until the coup came and saved everybody.
(Obafemi) Awolowo was in prison but they still believed in him and they continued to fight. I mentioned the case of Ajasin in Ondo State and they also fought. They were not going to give up. They told Omoboriowo, let him continue to rule in the media, but you can never come to Ondo and he did not come to the state. They fought consistently and that is the stuff the people are made of. When M.K.O Abiola's case came up, the people of the South West fought consistently.
Even when every other person who was in support of the democratic process and who were partly in support of June 12 appeared tired and their support waned, the people of the South West did not give up and they remained on the same spot. That was how they came about with National Democratic Coalition (NADECO) and other groups who came up to actualize the June 12 mandate. They continued to fight and it led to one thing or the other. Unfortunately, Olusegun Obasanjo, who later reaped the benefit, did not acknowledge the blood that was spilled for him to be in that office.
He was a total disappointment to his race, if he belongs to that race anyway. I am not sure whether he is from here but if he belongs to this race, he was a total disappointment because he never acknowledged that sacrifice was made for him to be in office. So, the South West has been consistent and has remained the same.
This time Obasanjo wanted to capture, in his own words, the South West. But you cannot capture people who do not believe in you. If you conduct a free and fair election in Owu, Obasanjo's ward, he would lose because nobody would vote for him. That is because the people here have established their own ideology. The people of South West believe in a progressive type of politics and not the conservative and retrogressive politics that Obasanjo and co represent. So, the PDP represents retrogression to an average Yoruba man, whether they like it or not. So, they will fight them consistently.
What has happened in the case here is that people knew that they never voted for these people. No PDP governor won in the South West. It was not possible. They did not vote for these people but they found out that Obasanjo and his cohorts decided to capture and steal their votes. So they were going to fight. Luckily and at this point in time, one must give kudos to (Bola) Tinubu and his other workmen, who came out to challenge that impunity that Obasanjo and the PDP represented. They gave the fight their all and that is why you are seeing the result.
They are the ones that started the issue of forensic analysis of ballot boxes and other election materials. That was fantastic. I think Tinubu and other people in the engine room of the Action Congress of Nigeria should be commended. They were able to put in place a good legal team.
With the exploits of Tinubu in the politics of the South West and beyond, would you say that a man in the mould of Chief Obafemi Awolowo has eventually emerged?
No, Tinubu has his own role. He has played a great role and is still playing a great role. But when you talk about another Awo, I don't think another can come again; it is not possible. We are talking of an intellectual giant. They do not come often. I do not see anybody that can be another Awo. But when it comes to being a political tactician, you must give it to Tinubu. He has tried and has rallied round the forces in the South West. He can be the rightful person that takes over the mantle of leadership of the South West but he cannot be another Awo.
But what is your take on the void in the leadership of the South West since the death of Pa Abraham Adesanya?
But Pa Adesanya was not another Awo. I think there cannot be another Awo. You are talking about a man who towered head and shoulder above every other person that was with him. I cannot see anybody that can measure up to that now. But when you talk about leadership now, you can say that, yes, Tinubu is the focus, and with time, I am sure he will become the leader. What I am saying is that the leader will now be Tinubu but not that he will become another Awo.
Another general election is here. What is your assessment of the strength of the opposition against the PDP, the ruling party?
The opposition to me does not appear to be concerted yet. They appear to still be in disarray, which is an unfortunate development. One expects that by now we should be having like minds coming together. I believe that if the opposition parties can get their acts together, honestly, the PDP is not a party. But that notwithstanding, I do not see why any party that throws up an interesting candidate cannot beat PDP in the election. Just field a credible candidate and PDP will be on the losing side. It is just to field a candidate that will touch the people.
I see a new face of politics for me in somebody like Ribadu, somebody that is interesting. They will defeat any political party. All you need to do is to give them support. Yes, the opposition now is not making any genuine effort to work together. It is a total disappointment and one is worried about it and I think they should put their acts together immediately. But that notwithstanding, we should all look out. One day an interesting candidate that the people love would come up. There was the time of (Babagana) Kingibe. He was an interesting candidate when he ran. Once in a while, an interesting candidate comes up; somebody people see as new and they would like to relate with.
How do you see the role of the judiciary in strengthening the nation's democracy?
I am sure they are trying. You saw them nullifying some elections. No doubt, we will not run away from the fact that there are some things they have failed to do. There are one or two decisions they have taken and there was the outcry of corruption. That would not help our democracy. And they must be able to put their acts together. They must be able to flush out those who are corrupt in their midst, no matter whose ox is gored.
If the likes of (Justice Kayode) Eso would come out and say to me that look, a number of times they have become like rogues in legal robes. He must have been pained to the heart to say some of his colleagues or some who occupy positions people regard as very hallowed have now become thieves just like when Jesus Christ said that His father's house of worship had been turned into a den of thieves. So, he felt that they are only stealing in the name of law and is shouting and if that house of justice is turned into a den of thieves, then all of us must come out and fight and make sure that we clean the Augean stable.
The judiciary must be prepared to fight themselves. The bar must be prepared to fight and get the security apparatus after all judges. They must be able to get their accounts and so anybody found guilty should be removed. Not only remove him, try him and let him account for where he got his wealth. When you have done that and you are able to sanitise that place, I think it is better for democracy. But like I said, I know they are trying except in one or two places. Nigerians must have absolute confidence in the judiciary. To whom much is given, much is expected.
How was it like leading a strategic and elitist organization like the NBA?
For me, it was a calling and something I had longed for. All my practice life, I had always believed I wanted to be president of the NBA. I longed for it seriously and I had consistently been a Bar person. I held offices in the branch. I held offices at the national level. And when it now pleased God to put me at the helm of leadership of the Bar, I had no option than to do what I believed was right. I could not have done otherwise.
I am the only one in the history of the Bar that had won election unopposed. Maybe, there are others when they went to conferences, there are horse-trading and all that and somebody is asked to step down. But where, for instance, you file your nomination and I was the only one that was in the contest. So, why would I not give my best? My campaign team and I promised that I was going to prosecute our convictions. I believe that they are to judge me. I am not to judge myself.
But importantly, leading the Bar was by my own standard, two years of service, two years of not being in my office, two years of traveling and knowing places, two years of knowing people, two years I can never forget and two years I will continue to reap from the experience. I move everywhere now, I am known. My colleagues would judge me. But I believe that by the grace of God, not my making because I do not do anything without God's assistance, I did prosecute our convictions with courage.
What was your greatest challenge in office?
My greatest challenge was, I must say, I woke up one morning and I found out that people you have been working with, people you have been dining with, people who were supposed to be your lieutenants rebelled against you. I felt bad. That was my initial reaction. But almost immediately, I gathered myself back and said to myself, I won election unopposed and I should not allow myself to be distracted by anybody's rebellion.
I should remain focused on the work that I have been voted to do. So, immediately I had that resolution in my mind, I was no longer bothered and I forgot even that those who carried out the rebellion did. For me, it was now left to them, if they wanted to continue, all well and good. If they decide to leave it, all well and good. But to me, the work continues. So, that was the greatest challenge I had as the NBA chairman.
There is a point in my life that I try to be a man of integrity and I live a life of integrity. But when you now try to challenge me on that turf and say things that border on lack of integrity, there is no way I would not feel bad. This is because I am a man of integrity. I live above pettiness. I do not need so many things. I try to be honest because of my Christian background. I am a Christian and I want to profess it. I want to profess Christ. I want to live like him.
They said a contract was awarded to a company and I do not run such a company. Is it that I made money out of it or what? No. Three million naira! It is a lie. You now put it on the pages of newspaper and so on. It was not necessary for my colleagues who did it. That was the only point I felt worried about the people I was leading. I thought about it and said, is it worth it but I now sat back and said how can the reaction of a few determine whether or not it was worth it leading the NBA. Even after that, the way your colleagues rally round you when they see you gives you cause to be happy. So, how can I now be disturbed by the actions of a few?