Jonathan denies linking North with bomb blasts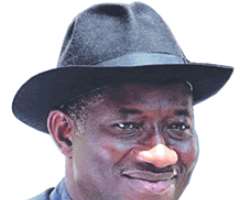 President Goodluck Jonathan has said he never linked the spate of bombings across the country to the North, insisting it was a calculated attempt to discredit him after he has received the support of the region to condemn the dastardly acts.
The Arewa Consultative Forum (ACF) had on Friday accused President Jonathan of linking the North with the series of bomb blasts across the country.
In a chat with State House Correspondents on Saturday, the Special Adviser on Media and Publicity to the President, Ima Niboro, said there was no time President Jonathan linked the North with the spate of bombings while blaming the Arab News Network Al-Jazeera Television of plot to cause chaos.
According to Niboro, 'This is a grand design by Arab News Network Al- Jazeera Television to cause chaos in the country.
'Prominent Northern leaders have joined the President in condemning the attacks and there is no evidence linking the North with the bombings, and for anybody to say that the President is linking the North with this heinous crime is unfortunate.
'We understand that Al-Jazeera is doing the bidding of certain elements in the society and they should keep Mr President out their dirty politics. The President is committed to seeing those responsible for these criminal acts brought to book'. 'We appeal to Nigerians and the international community to disregard this claim as this does not represent the position of Mr. President,' the presidential spokesman said.