PDP responsible for Ogun crisis –OBJ's daughter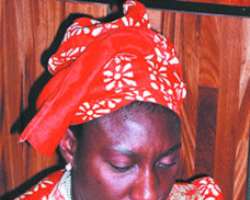 Senator Iyabo Obasanjo-Bello has blamed the National Executive Committee (NEC) of the Peoples Democratic Party (PDP) for the intractable crisis rocking the party in Ogun State.
According to the Senator, who is the daughter of former President Olusegun Obasanjo, the success or otherwise of the party in the general election would depend largely on how the national headquarters of the party handled the crisis.
Obasanjo-Bello, who is seeking re-election to the Senate, spoke with journalists shortly after she was declared winner during the parallel primaries of the party held in Abeokuta, the state capital.
Dressed in light green buba and iro, with a headgear to match, the ex-President's daughter, however, expressed the hope that things would take proper shape in the party before the general election in April.
But she expressed regrets that the intractable crisis had been allowed to tear the party apart through the alleged lackadaisical attitude of its leadership. The Senate Committee Chairman on Health also warned against any unjust disenfranchisement of candidates and party stalwarts, saying that this might spell doom for the party during the forthcoming elections.
Her words: 'I think it is obvious that if you disenfranchise these many people (the delegates) in the party, you have already had the result. That is clear. 'The failure of the PDP or the structure of the party in Ogun is in the hands of the PDP national (headquarters). They can crush the party or allow it to thrive.' Obasanjo-Bello, however, vowed to do everything possible to save the party from collapse in the state, adding that she would eventually emerge victorious in the election.
In a related development, a PDP House of Representatives aspirant in Ijebu-Ode, Mr Wale Ogunbanjo, has protested the alleged removal of his name from the primaries conducted by the party last Thursday.
Ogunbanjo, who was a former Reps member between 2003 and 2007, also alleged that despite the clearance given to all aspirants, including himself, by the National Working Committee of the party, his name was allegedly removed from the delegates lists.
He called on the Central Working Committee to correct the anomaly in the interest of the party in the state.