A MAN WHO LOVES GOD WON'T HURT HIS WIFE – UCHE OPURUM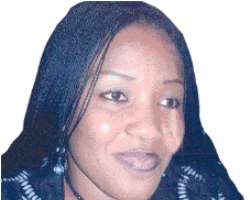 She is a deaconess in The Redeemed Evangelical Mission, TREM, a successful banker and former branch manager, who by the grace of God 'midwifed' three branches. Mrs. Stella Uche-Opurum spent 17 meritorious years with Citizens International Bank until it became SpringBank before she retired to answer a higher calling.
God led her to turn her 15-year teaching experience as a Sunday school teacher at TREM into a new ministry of molding the lives of toddlers into godly individuals for God and the nation. Incidentally, Opurum attended Anambra State College of Education, where she read Mathematics/Education before going to the then Anambra State University of Technology, Enugu Campus (now known as Enugu State University of Technology, ESUT) for her Bachelor of Science degree in accounting. Subsequently, she returned to ESUT for the Master of Business Administration degree.
As part of her preparation for Kingdom services, she attended the school of ministry at TREM and in November 2010, she graduated from the bible school with a diploma. The recent commissioning of her school, the Alpha Place in Ire-Akari, Isolo, provided a good opportunity to talk about her marriage, career and why she veered into education when she could have set up a financial services company. Excerpts…
You said that God gave you a vision to establish the Alpha Place.  Please explain.
Education has an important role in every society. If Nigerian children are properly trained, I don't think we would have kidnappers today; I don't think we would have armed robbers who just kill somebody because of N10,000 or N20,000. When a person has solid foundation, knows societal norms and values, and especially understands the place of God and His word in his life, I believe that no frustration would drive that person to do evil or any bad thing. Again, if you look at the female angle, a lot of our women are dying because they are into prostitution and other vices.
The simple reason many people get involved in evil and other bad things is traceable to their foundation. And this has to do with the wrong training they got while growing up. But the good news is that God is able to amend so many things that have gone wrong. Even in the bible, at any point in time, God always allowed a new beginning to take place in every generation. This is what we are about to witness in Nigeria. After 50 years of Independence, God is trying to rebuild what we have lost as a nation.
So in essence, at Alpha Place, we believe that the age bracket zero-five is the most important in the formation of any child because that is the time when sound matters to a child.
What the child sees you do or hears you talk about registers in his subconscious. At this stage of the child's development, what you try to give him stays. By the time the child gets to primary school level, already there is something growing with the child. In Alpha Place, what we are trying to do is to help the parents introduce God to these children at that level, and be able to inculcate sound morals into them children, so that these children will be able to interact among themselves and also express their God-given talents and creativity.
The tender age is the best time to build up the child to become a useful individual. All we are doing is to help parents nurture the children in moral values. For instance, if a child does something wrong, we correct and say 'don't do this again' and give reasons why he shouldn't do it. We want to give the child opportunity to explore his world, and express himself right from early life. You find that a lot of parents are so busy. The parents go to work and leave the child under the care of domestic staff who probably came from Cotonou or Jos - somebody with a different concept of God, different beliefs and value system. Of course, your domestic staff has all the time to feed your child with her own values.
So at Alpha Place, when parents are at work we nurture their children to become godly individuals.
God gave the vision for Alpha Place to help parents train their toddlers to know God and be able to explain who he is, even if not perfectly. I would say that Montessori education is what this is about and that is what we want to achieve. As the children grow up, our primary school will take over when they get to Age-5. Right now, the primary school is ready but we don't want to pick children from different schools.
For a person who spent 17 successful years in banking, one is tempted to think that your natural next level would have been to set up a financial services company. Instead you veered into education. Was your decision prompted by some other reasons beyond what you have said?
Well, I know that God would take you to a particular level so that He can use you for the propagation of the gospel and advancement of His kingdom. I think this is one of the ways God wants to use me to really reach out. Alpha Place was birthed through prayer. Right from conceptualization, completion and official opening, the presence of God was very visible. Moreover, when the mandate came, I didn't just start. I went to my spiritual parents and said to them, look at the way God is leading me.
We prayed together and they released me to go and start. I will say that Alpha Place is the fulfillment of prophecy because my Bishop has always said that the mission statement of the church is that we should go and impact our generation. I am seeing God's purpose fulfilled because when most parents come to register their children, they will open up and start telling you about things that are bothering them. At that very point, you become their counselor.
As you discuss with them, you realize that the person is not yet a born again Christian and needs to go to a certain level with God. So you have to introduce God to that person. The fact is that once a mother knows the place of God in the home then that home will become very successful, because it's the woman that builds the home. The bible says that a good woman builds her home. Each day I see evidence of why God turned my attention to education sector.
Look at my credentials - I have NCE in mathematics and degree in accountancy; I am also a member of Business Education Examinations Council, Society for Applied Mathematics and a chartered economist. While I was studying for my NCE, I had a lot of love for education; besides, my parents are educationists. If you look at education, it is not a lucrative sector such that one could leave a profitable sector like banking to engage in.
So I can say that education has always been in me. I am a Sunday school teacher in my church, and I have been doing this for close to 15 years. I discovered that at any point my students would always come back to say thank you for what I taught them. In essence, I think that God was just waiting for a time like this to bring it out. All my life, I have been teaching, maybe not in a regular classroom.
So how did you meet your husband?
Fortunately or unfortunately I met my husband at the head office of the bank, where he came for a transaction. I just came out to do something and the young man was sitting down in the office I went into. At that time I was wearing low cut. So, when I passed he exclaimed 'wow' and asked to know who I was. I didn't know. This was what I learnt after. Somebody said, 'she is nice, she is this and she is that, she has good manners and even gave him my phone number. I didn't get to meet him. The day I eventually met him it was like a business talk. How are you finding the environment? That was just that and I went my way. If you are a professional, you know how to carry yourself especially with the opposite sex so that you will not be misunderstood.
Then one day I got a call from my mother in the Lord, Bishop Peace Okonkwo who said that somebody had just left her office. I asked who the person was, and she informed me that the person came to ask for my hand in marriage.
I was shocked and told her that nobody had said anything to me about marriage; so she mentioned his name. I screamed that he did not tell me anything. She replied that the man recognized her as my spiritual headship and so he came to my spiritual cover to seek my hand in marriage.
Then she just advised me to go and pray about it. That was how the journey started.
In TREM marriage is taken seriously; you have to go through a lot of teachings, and counseling sessions because we understand that marriage is the basis of a successful life and the entire nation. In my church, emphasis is put on family. After going through all that we sought the blessings of both Bishop Mike and Bishop Peace. Then we got married on February 21, 2009.
How has it been in the past two years?
Oh, it has been lovely and wonderful. It has been worth it because the guy I married, Uchenna Opurum, has a heart for God. That is the basis and I am not regretting marrying him one bit. He has a heart for God and that is one thing I treasure in anyone because a heart that loves God will love you as a wife, a heart that loves God will love you as a husband, a heart that loves God will not hurt you, a heart that loves God will not do anything that would make God question him. That is one of the things I am enjoying in the marriage today. 
Advice for mature ladies that are waiting
My simple advice is that you should know who you are. That you are still single is not a reproach because you are special and God wants to do something special in your life. Apparently, if you had married at a younger age, you might not realize that God is preparing and taking you through a process because he wants to take you to a certain destination. If God has marked you for a certain destination it's not just anybody that you can marry. Most times, we ladies don't understand that. It's not about beauty, rather it is what you have inside you that attracts the man. Just hold unto God; you must recognize that God has taste. If you think that you have taste, God has great taste.
So if you have great taste and God has great taste then the man will come; just hold on, understand who you are, love yourself, develop your love tank, share love with people. When I was single, I visited orphanages. Do things that will make you happy. Look for a place where there is need; fill that need. Someday God will honour you. God always honours His people; age has nothing to do with it. I have seen somebody who got married at 45 and the man said, 'look, I want this thing done quickly. As you are waiting on God, carry yourself well and be good. God will bring the man, the best man for you.
What made him special? Was he the type of man you had been longing for?
Before we got married, my husband was not a TREMITE. He was worshipping in another church in Apapa. When God is set on doing something he will suspend natural laws to make sure that what he wants takes place. In the church where he was worshipping, he had a ministry that was thriving and he was helping the pastor to get God's work done.
Apparently, the day he saw me at the head office (as he told me later), he told his pastor that he had seen someone but didn't know the person. His pastor said he should give him time to pray about it and after three days the pastor began a dry fast. Three days later, the pastor called him and said that he should go and talk to me.
His pastor told him, 'the lady is already operating on a high ground, you are the person that will leave your church to go to where she is and together both of you would worship God.' My husband told me that his former pastor warned him not to take me out; that he was the person that would come over to the higher place and stay there for the work of God to continue.
That was what gave him the courage. Instead of talking to me, he now came to TREM and stumbled into the office of Bishop Peace and declared his intention. That was how we started. Today, he's a TREMITE and member of Bishop's protocol team. Both of us have gone to bible school. In fact, we graduated together this year. Everyday, I can see why God brought us together. He's a good man. And as I said, he loves the Lord.
He is very loving, he makes me laugh a lot, he has a sense of humour and he is handsome. When I prayed to God for a husband, all I prayed for was a man that has a heart for God but God gave me everything in one. When you come to our house you will not know that we are husband and wife, you'll think we are siblings. I don't have too many friends, his friends are my friends, and he's been very wonderful.
Though his former pastor never saw me, he told him not hurt me. In fact, it was after my Bishop had released me to marry him that I accompanied him to see his former pastor. In essence when his pastor said that I was operating on a higher ground, he meant that God had given me an assignment which he should assist me to carry out and not hurt me in anyway; that if he hurts me he would only be hurting himself.
From every indication, you are enjoying marital bliss. What advice do you have for women that are agonizing in their marriage?
A woman in such a situation, the only thing I can tell you is that you can change your situation. Women are powerful. You, that is hurting, I earnestly appeal to you not to do anything bad. Rather, go to God in prayers, and be assured that you can conquer on your knees. God will always help you to turn things around. Talk to God, and tell the Lord, 'this is my covenant husband; please change him for your name's sake. I can tell you God will always answer prayers.
Start seeing your husband the way you want him to be. When he comes back, smile, serve his meal, greet him, I can tell you love changes, love conquers, I can guarantee you that. When we carry bad thoughts in our spirit, it's like we are carrying poison and when you try to talk, you are vomiting poison and the bible says kind words are like medicine to the bones. When you as a woman have prayed and you have a positive attitude, you try to speak good words; God has a way of turning things around. I have seen many homes healed. Something that is not working out well today, might work out better tomorrow. Woman don't give up, there is hope for you tomorrow.
Who are your mentors?
My mentors are the Bishop of TREM and his wife, Bishop peace Okonkwo. They are different; they have a heart for God and a heart for people. They reach out to people, regardless of status. They are the bible you can read; they really influenced us a great deal. We look up to them a lot. They always instruct, direct and believe that you will achieve your destiny. They are just soldiers in the Kingdom.