BORNO BUDGETS N99.8B FOR 2011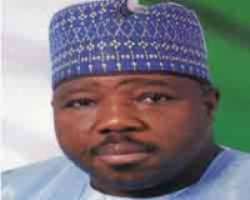 • Governor Sheriff Makes Presentation Amid Tight Security
AMID tight security at the Borno State House of Assembly complex, Maiduguri, Governor Ali Modu Sheriff recently presented the 2011 Appropriation Bill of N99.81 billion to the Assembly. It is an increase of N10 billion over last year's N88 billion.
Presenting the appropriation bill recently to the Speaker of the House, Hon. Goni Ali, Sheriff said there was an additional N1.4 billion in the last quarter of the year, stating that the supplementary budget was to address security problems caused by the Boko Haram sectarian crises.
In the new budget, Governor Sheriff proposed N30 billon for the recurrent expenditure and N74.8 billion for capital expenditure.
He said the budget is expected to be financed from the statutory allocation of N33.7 billion and internally generated revenue (IGR) of N27.2 billion, while the capital receipts for the year is estimated at N74.85 billion.
In a breakdown of the sectoral allocations, he said that the planned fiscal bill has allocated the lion's share of N16.6 billion to the educational sector, while the Ministry of Works and Transport was allocated N12.9 billion.The health sector was allocated the sum of N12 billion; while agriculture was allocated the N8 billion .
Speaking with newsmen shortly after the budget presentation, Sheriff  expressed satisfaction with his policies and programmes in the last eight years of his administration, stressing: 'I have achieved 90 percent of my blueprint for the people of my state, even though we started this eight years ago with a whopping debt of N7 billion'.
Expressing his appreciation to all who have contributed in making his administration succeed , the governor said he is more than ever before committed to leave a healthy and debt-free government to his successor, stressing that 'we will not do like our predecessor, who left us with a strangulating debt of N7 billion.'
He therefore, assured the people of Borno that by the time he hands over to a new government, it will have more than N7 billion in its coffers to start work.
Unlike the previous years, the presentation of 2011 budget was done amidst tight security as armed police men and soldiers cordoned all roads leading to the assembly to avoid any possible attacks from the men of the Boko Haram sect, who allegedly killed seven persons, including three policemen yesterday at three different locations of the metropolis.