I'M A GOAL GETTER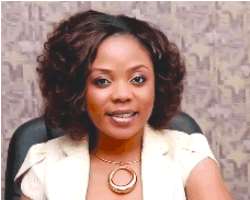 Bunmi Oyeniyi
Bunmi Oyeniyi, is the founding Director of Unveil Studio, a beauty and makeup studio. Over the years, she has been dedicated to enhancing the beauty of her clients with her signature makeup. Bunmi holds a B.Sc in Estate Management from Obafemi Awolowo University, Ile-Ife and is also a trained and certified makeup artist.
She has successfully grown her business from a humble beginning into a world acclaimed international standard makeup studio. She established her makeup business and has grown from strenght to strenght, introducing new innovations into the business. In 2006, she added sales of wedding rings as a backward integration of the makeup business. Few years ago, she launched herself on the beauty scene with the opening of Unveil Makeovers, a make-up and rings outfit.
Having established her brand, Mrs. Bunmi Oyeniyi, took her business to the next level when she organised a beauty pageant called The Face of Unveil, a contest designed to select a brand icon whose face will embody the essence of the brand. In 2007. And in 2008, she launched her brush line called The Unveil Professional Brush. Now, she is set to establish a beauty and makeup institute called The Unveil Institute of Beauty and Makeup. She spoke to Saturday Sun about this new baby, her growing up and the secret to her success in life.
Tell us about your new baby, The Unveil Institute of Beauty and Makeup
In 2009, I visualised The Unveil Institute (TUI) to drive the imperative for a makeup artist to have multiple skills to meet the demands of the industry and increase their earnings potential. Thus, TUI is conceived to provide the highest standard of education in all aspects of beauty and makeup. While TUI is a live-in-institute, it additionally caters for day students to create a flexible plan for those staying in Lagos. There are variety of vocational courses. The main courses consist of makeup artistry and decoration. There are also borrowed courses like Nail, hair techniques and craft. It is the first of its kind. It is a makeup School with International Standard facilities and well trained staff.
The institute is like a university to award a diploma certificate located and it is located in Omole Phase 2. The concept is that we want to get away from home instead of staying at home and not doing anything. We are going to do enterpreneural courses and it is prerequisite. We choose the courses because they can make you to be talented. It is home away from home. The school can take atleast 50 students at a time. For the hostel, we are looking at 30, but to avoid conjestion, we can cut it down to 20.
What is your vision and mission for the institute?
Her vision for the institute is to nurture amateurs into master stylists and bring the real world into the classroom. Her mission is to create an enabling environment where every student is encouraged to develop a passion for a lifetime career in the world of beauty and makeup. My desire is to help young women to find their place in this fast paced excelling profession through a two- pronged approach of theoretical learning and hands-on practical.
Why did you go into training?
That is what I have passion for. The makeup industry has been saturated that is why I want to train people professionally. Anybody now claims to be a makeup artist, but it is being best at what you do. So, it is good to keep learning and stay on top of the game by learning everyday. You don't have to be a doctor or a lawyer before you live well. You can be a decorator and live well. I have trained more than 200 students in the beauty industry.
What make Unveil different from the others?
It is our signature style of makeup. And apart that we also have our wedding label. I have my own product line, The Unveil Makeup. We have enhanced our clientele. Our makeup is fantastic, and we have always put a smile on our customers face. We stay on top of the game. Every year, there is something to unveil from us. We keep giving back to the society.
You studied Estate Management, so what informed your decision to become a make-up artist?
I have always been a fashion person all my life. So, for me, this is like a hubby, a hubby that has resulted in an empire. So, after graduating, I had a baby almost immediately. Throughout my stay at home, I was bored and needed something to keep myself busy. Moreover in Nigeria, you have to be on top to be an estate surveyor, taking inventories, looking for places, letting and leasing. So, while I was idling at home, I decided to get some knowledge in makeup from House of Tara.
What was growing up like?
For me I ve always been a mother and a goal-getter. I don't relent until I get to where I am going to because I lost my mother when I was ver younger and I have four younger brothers. That is why I said I have always been a mother, so I have always taken care of them. I have always been like a man. All these for me is like a piece of cake. It is easier especially with God on my side. I was very close to my mum. I was always going to church. I had part of my primary school in America and I went to secondary school here in Nigeria. I attended Holy Child College, Ikoyi and I went to Obafemi Awolowo University.
How did you make it to the top?
I look at myself and feel that I am no where, but it is just God. He has been faithful. I always tell God each time I want to embark on a project that if it is not His will, it should not work. It has been God and encouragment from people.
What were the early challenges you had?
I had challenges with people getting familiar with you because there are people who are already there. So, when you join the industry the question is, where are you coming from? And over time I had a lot of friends in the media that are encouraging me. I must give it to the media. They have been fantastic and have been there for me.