MAN LOSES FATHER, FATHER–IN-LAW, FRIEND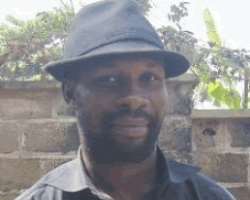 One needs not be told that he is mourning. Black shirt, black pair of trousers, with a walking swagger and a unkempt beard. Chukwu Francis Uchena, 36, Agency Manager, Capital Express Assurance Company Limited, Abeokuta, Ogun State, is mourning a father-in-law, a bossom friend and his dear father all of whom he lost within three months.
To him, fate has been unkind to him in the last three months of 2010, when he lost his mother-in-law, in November he lost a bossom friend in a fatal accident where himself narrowly escaped death by the whiskers but sustained serious fracture.
As if this calamity is not enough, in December 2010, he lost his father, Pa Nwani Batholomeo Chukwu, a businessman and a native of Ugbomeni, Okposi, Ohazara Local Government Area, Ebonyi State: 'I don't know why things are happening like this to me. But as a Christian, I have accepted it as my own cross. Like the Biblical Job, there is trial time for man.
This is my trial time and it will soon pass away. 'The more I think about my predicament, the more the shock and chest pain I had during the accident that claimed my friend relapsed. I still go about with the aid of a walking stick. It is a big blow, I never imagined that cruel fate would descend this much on me. Everything that happens to a mortal happens for a purpose, but I do not pray it happens to me, relaitions or friend again in life. It is a terrible thing. But like people will say, it is God in action.
'Actually, when my bossom friend was pronounced dead, after so much torture, my mind told me that I had to mourn him for 41 days. Mourning him for 41 days to me means wearing this black attire and carrying this unkempt beard and not even a hair cut for the same period. A lot of people have read a lot of meaning to this, but this is just how I chose to mourn a dear friend.
'I believe God has a purpose for everything that has happened to me in the past few months. For it to have happened to me in the last three months of 2010 means God wants such a terrible thing to stop in my life.
'Yes, there is no armlet against death, because it will come when it will come. But the death of my bossom friend, Olumide Ogunsanya, in a car that we both travelled in is a great shock of my life. I have equal grief for my departed father-in-law and my dear father. The death of Olumide in a fatal accident is most painful.' For his father, a Catholic: 'I will miss him a lot. Although I am not the first son or first child, but we relatedvery well so much that people even wondered why the love was so much. He told me a lot of stories about our village and showed me a lot of things. Before his death, he told us, his children, that we must remain united.
'I received the sad news of my father with a great shock. Infact, I never thought he would die in the next 20 years after he retired home on January 15, 2010. He spent the greater part of his life in Okitipupa, Ore all in Ondo State and Epe in Lagos State where some of his children grew up. 'His first journey outside his native land was to Ore in the early 60's. He returned to the village in 1966 because of the rumour of the Civil War. As Onyibe, the first son of a prominent chief, he returned home. He told me that he returned home with three Pounds, four Shillings which he did not show to his father. He kept three Pounds with an uncle who was his confidant and kept four Shillings to himself.
'With the four Shillings, he started road-side trading selling matches, sweets and other items. This he did until 1968 when his uncle advised him on what to do with his three Pounds in his custody.
'My father told me that his uncle told him to use part of the money to buy a horse for his father. That was the tradition in our area the first son or any promiment person who makes money in a chief's house buys him a horse. The remaining money, he used to marry my father a wife.
'Although the civil war was still ravaging the country, my father after marriage had his first child on January 1, 1971, Chukwuwike Dominic after which my parents left the village for Okitipupa in 1973. It was there that I was born on December 2, 1974. 'My father also told me that after my birth, they went to Ore where they had my younger sister in March, 1977 and subsequent ones. My father became so successful in his business of selling clothing materials and accessories in Ore. He bought his first car, built his house in the village and also bought a popular motor-bike, a CD 175.
'I cannott remember exactly when he left us in the village for Epe, in 1979 during which he shuttled between there and our village to look after our welfare until he settled down and later came to pick us. I still remember very well how we were received by the Catholic parish priest in the town, Rev. Father Sylvester Osigwe. 'There we started scholing and he also had other children. Before his death, we were eight, seven males and one female. There he lived until January 15, 2010 when he eventually retired home for a domestic reason.
'My mother was always sick, yet my father remained friendly, affectionate and loving as before. Last October, when she was sick, it was my father that was taking her round. It was in the course of taking her around that he fell ill and eventually died. Before his death, he had been battling with complications arising from a surgical operation he had few years back.