FIFA MAY REINTRODUCE GOLDEN GOAL RULE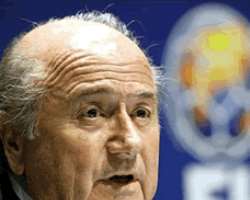 •Blatter
FIFA may reintroduce golden goals to decide extra-time matches at the 2014 World Cup in Brazil. FIFA's President, Sepp Blatter, said Wednesday that other possible moves aimed at improving on the quality of World Cup soccer included scrapping extra time after tied knockout matches, and changing the points awarded for wins and draws in group stage games.
'Is it worth taking another look at the golden goal? Some people like it, some people don't,' Blatter said in an interview published on FIFA's website. Potential changes will be recommended by a FIFA-selected panel of experts called 'Task Force Football 2014.' The FIFA Executive Committee created the panel in October to help ensure a 'more attractive' World Cup in Brazil after the disappointing quality of soccer in South Africa.
At the time, Blatter was critical of teams' defensive tactics that resulted in seven of 64 matches ending goal-less, including six in the opening group phase. In 16 knockout-phase matches, four were tied after 90 minutes and went to extra time — including Spain's 1-0 victory over the Netherlands in the final. Had the golden goal applied — which gives victory to the team scoring first in the additional 30 minutes — play would have stopped and Spain declared the winner as soon as Andres Iniesta struck in the 116th minute. Golden goals were approved by FIFA's rules-making panel in 1993 to promote attacking play in extra time and reward teams for showing ambition.
The rule was used at the 1998 and 2002 World Cups and was decisive for Germany in the final of the 1996 European Championship and for France four years later. It was abolished in 2004 because too many teams chose to defend in extra time and take their chances in a penalty shootout. Two matches in South Africa went to a penalty shootout, including Uruguay's quarterfinal win over Ghana.
Blatter said Wednesday that the merit of extra time itself would be studied. 'Is extra time the only option we have when a game ends in a draw?' he asked.