'OBI IS ANAMBRA'S CENTRAL STAR'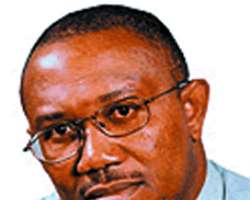 •Peter Obi
A chieftain of the All Progressives Grand Alliance (APGA) and a community leader, Chief Stephen Okeke has described Governor Peter Obi as the central star, in what he called 'Anambra's consternation of stars.' He made this remark in a press release he made available to the press in Onitsha .
Explaining, Chief Okeke said Governor Obi, through deft leadership and commitment to the welfare of his people above his own personal welfare had started the silent war of re-orienting our people towards the love of the state. He said APGA was proud of him and would continue to support him in the silent revolution he was leading in the state.
Chief Okeke , who reiterated the fact that APGA as a party had come to stay said it was not surprising that who is who in Igboland and beyond were now joining APGA. He commended the recent resignation of Prof. Dora Akunyili as a minister to vie for the senatorial seat as the height of service to her people. He said what was most intriguing about all those joining APGA was the fact that 'all of them, from Uche Ekwunife, through Senator Joy Emordi to Prof. Dora Akunyili professed joining APGA because of the attractiveness of the good work Governor Obi is doing in the state.'
Commenting on the recent appointment of Governor Obi as the vice chairman of Governor's Forum, he said it was striking that his goodness had been recognised beyond the shores of Igboland. In his words: 'Before Governor Obi, the South-east Governors' Forum rotated their chairmanship but the rest of the governors insisted that Obi should continue because of his leadership credentials. A few days ago, the governors of Nigeria went further to appoint him the vice chairman of the Nigeria Governors' Forum inspite of his belonging to a minority party. It is not for me to comment on this, for, as lawyers say, res ipsa loquitor, 'a thing speaks of itself.'
Chief Okeke advised the governor to realise at this critical time that all eyes were on him, both the eyes of those seeking inspiration, that of those who see him as a role model, that of those seeking developmental template and above all, that of those seeking fault to destroy him.