End-of-year prophecies: Divine visions or enlightened guess work?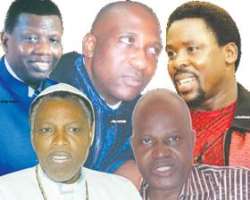 As another year rolls in, anxieties are high of what the new year holds. Leaders and masses alike are wont to know how well they would fare. Besides, the masses, in particular, will want to know the direction the affairs of the state would be headed in the year. They would also like to know what to expect from their leaders and the fate that awaits the nation.
And at a time like this; the beginning of a new year, some men of God do come out to give spiritual insight into what the year holds in stock. This they do by telling what they say God revealed to them, either through dream or by fasting and prayers.
As last year was folding up, some prophets addressed the press on what Nigeria and her people should expect in 2011.
Although,it has become a norm for Nigerians to receive prophecies from men of God at the beginning of a new year or at the end of an outgoing one, failure of some of the prophecies to come to pass has reduced popular expectations and reliance on them in recent times. To many people, prophecy has been reduced to plain luck and logic with general and non-specific proclamations more akin to the astrology found in a newspaper column . One of them, Ihechukwu Njoku argues: "Using the same principle of sowing and reaping, pastors make declarations of divine blessing and uncommon favour for the saints and destruction and devastation for the enemies,and then confuse fact and fate with predictions of obvious eventualities such as natural disasters, scientific breakthroughs and various tragedies in leadership- all wrapped up in the sacred term 'prophecy'.
"Prophecy is not the product of reasoning faculties or merely stating the obvious with a touch of common sense. It is foreknowledge of presently hidden things which cannot be known by the natural light of reason,the foretelling of the future through a direct revelation from God, an inspired declaration of divine will and purpose.
"Today, reading of prophetic revelations at the start of each year leaves more questions asked than answers given. Why does God seems only to send these messages to His servants at such strategic yearly timing? Why is He revealing what everybody already knows? Why does He let out vague and general warnings that could be misinterpreted, misjudged, and easily related to multiple situations?"
Could Nigerians be wrong for waiting on professed men of God to know what He has for them in a year? For ages, men and women have sought to know what is to come in all societies, to see what is in store for them and how to avert possible danger. Denied God's favour, Saul, the first Isrealite King, went to the witch of Endor to rouse up Prophet Samuel from the dead.
Dozens of prophets in the Old and New Testament have delivered their messages – sweet or bitter- anxious and apprehensive Israelites waiting for direction from God on the smallest domestic issues to the biggest belligerent causes. From Isaiah to Jeremiah and Elijah and Nathan, these prophets had something to say about the Isrealites or their Kings, and most of what they predicted came to pass.
Though not a Hebraic prophet, Michel de Nostredame, the famous French seer known to the world as Nostradamus, was a sixteenth century physician and astrologer. From quite an early age, Nostradamus made predictions about people and events long before they happened. Even predictions that were dead right only hours after he made them.
For his accuracy in predicting events that happened hundreds of years after he made them, Nostradamus rightly earned the enviable soubriquet of the man who saw tomorrow.
So, this brings up the issue of the men of God in Nigeria who claim to see into the future. Are what they said they see just plain publicity freaks or do they really have messages from beyond, proclaiming joyful tidings or warning of imminent dangers? Are they often right in their predictions? Can they even see beyond their noses?
Nigerians wait to judge at the end of the year as they receive below revelations for the year told by some ministers of God.
Pastor E. A. Adeboye on 2011
In 2011, Nigerians should not despair but remain steadfast in their prayers to God, who has promised to still all troubled seas.
There is no need to panic; all will be well. Nigerians should pray for long life for prominent Nigerians. And for those who will be totally committed to God this year, it will be a year of mighty testimonies.
There will be big celebrations in many homes and families and there will be massive restorations of losses of the previous years.
Nigerians should pray against killer diseases, particularly amongst children.
For the international community, serious prayers should be offered for the international scene this year against massive storms and extreme temperatures.
People should pray against major disasters, especially by fire. They should pray that God will speak peace to a convulsing earth. People should also pray against civil wars and civil unrest.
There will be major discoveries in the automotive and aviation industry.
Why I don't prophesy –Pastor W. F. Kumuyi
Prophets prophesy. And there are many kind of prophets and we need to understand when we talk about prophets and prophesies. Look at the word of God to start with, Joseph was a dreamer. I know that Joseph can have a dream but he cannot in a conference like this and say Joseph I learnt you are a dreamer, dream a dream for me and dream a dream for the nation. He will say no, I always dream what dream God gives me. You talk about the other General Overseers; of course they prophesy and say what the Lord has told them. How can I say God has told me something when he has told me nothing, just to fall in line with other General Overseers and say hear my prophecy. That is why I don't do it. I look at prophecies that people give from year to year and ask where is the fulfillment. Just last year, how many prophesies came the first week of January. Look at where we are today, where are the fulfillment of those prophecies. Instead of Nigerians yearning for another prophecy, we should be asking ourselves that the prophecies that were given in the past years, how were they fulfilled? Where are we?
If we are to go by those prophesies, will we be today where we are. Put your heart away from people just coming to us to give us their desire and wishes as prophecies. Wishes are not prophesies. Desires are not prophesies. If I desire that my country must be like this and that, I should not put it in a language of a prophecy and deceive people. But if I tell people that as a Nigerian I wish that my country will be like this or that in the coming year, that is no prophecy, that is my wish. As a Nigerian I have families here, I have children, I have people, I desire that this country will be like this for the joy and happiness of my members and for everybody. That is a desire. I hope in this new year this will happen; that is a hope. But if I put the desire and wish in the language of prophecy and if the people that are following us believe in all that we say, they will say our General Overseer said so and so. I will be misleading them.
So I'm going to appeal to all the people who are prophesying to let us know when they are expressing their hopes, wishes and desire as against prophecies.
Now let us come to prophecy. Do you know that there are people who prophesy only in the month of December. Why do our prophets in this nation have to wait till December. The prophets of the Bible do not wait till January or December but prophesy any time? Why are we waiting till December or January? We just want to know something, why didn't you ask in July, why didn't you ask in August what the Lord is saying today. Not only that, prophets of the Bible prophesy of things that will happen seven hundred years before their time. That's why Isaiah prophesied the birth of Jesus Christ long before his birth. Not that a virgin shall conceive and then the following year you are looking for the virgin. No! It took seven hundred years after for the fulfillment of prophet Isaiah's prophecy to come to pass.
So, I will not force myself to be like other prophets who prophesy in January or December, I prophesy of things that are going to come. It may not be in January or even next year that I'm sure that will happen. I wish that my country experience a turn around and a better future, that's my wish, not a prophesy. I wish this coming elections will be free and fair, no bloodshed. That's my desire and hope not prophesies. I pray that this country will turn around and our leadership will not just get the office for their selfish use but to serve the people. That also is my prayer, not prophesy. Sometimes prayer are stronger than prophesy and our desires are greater than prophesy. Whatever you desire when you pray, believe and you will have them. I think we need to turn our hearts from desire unto claiming the promises of God, unto changing our lives and having something better for our country in the future.
Prophet T. B. Joshua on 2011
The year is coming to an end, what prophesies do you have for the nation?
It is too soon to tell people prophecies.
What are your expectations for the 2011 elections?
The only prayer I offer is that God should make April 2011real because there will be challenges that will threaten the April elections. God has shown me the challenges. Many of these challenges are changeable and many are unchangeable, so I'm praying. It will be too early for me to begin to outline the challenges when I'm asking God to change many of them that I'm seeing. In next year's election there will be many challenges. I'm praying that April will be real so as to promote democracy in Nigeria.
People will like to know the challenges; can you tell us some of them?
Let me tell you the reason why I have been very careful; before Nigeria was fifty last October, I'd kept saying since July that people should pray, that I foresaw fire and explosion on October 1. I related it on television. It was shown and I see some people being arrested. I kept saying it, even when October 1 was two days away, I repeated it. Nothing was done. Nobody ever came to ask me about what I said. Again I predicted extension of elections. In July I kept saying it, nobody asked me about what I was saying. But the date of the election was extended. When the issue of the late president Yar a dua came up, I said "I'm seeing coffin, seeig wood, they put someone in the wood and it will cause the country to lower her flag of Nigeria." I said what I foresaw was about a leader. Yet, nobody asked me what I meant. I can begin to tell you many others that were recorded and that I said publicly to the whole world. So if I now also come and begin to tell you the challenges that will threaten the April elections, do you know how it feel for one to say something and no one is taking any notice of it. The prophesy was in most news papers. But one thing which I will still repeat anywhere, is that I pray that this April election will be real. We should also pray against what will make the situation like what is happening in Ivory Coast, where there is imposition of leadership. We should pray that whoever will be declared winner should be by large margin.
Primate Elijah Ayodele on 2011
In the month of January 2011 we need to pray to God to avert whatever can cause problems or conflict in Nigeria. There will be threats from various angles, especially on oil related issues. Workers will be at dagger-drawn with the authorities. Let us rebuke whatever can cause our people to panic even at the global level. Let us rebuke calamities that can make people cry or shed tears globally. Let us also pray to avert sudden death of a prominent person that will shake the whole world. The Spirit of God says people will be highly agitated, restless and feel pains. People will be uncomfortable. The evil forces will want to work against a lot of things in Nigeria as some funny things will happen in Nigeria politics. The butchers will not be pleased with the situation of things generally. The Lord says many shocking news, closely guided secrets will be exposed during this period. Everybody must be fervent in prayers in the month of January as things will be quite unpleasant for people. The month needs a lot of prayers.
For the month of February, let us rebuke cases of accident that will claim many lives. Let us pray to God to avert political crises in the country. Let us fervently rebuke fire outbreaks. Let us rebuke accidents involving sea- going vessels. Our Assembly members need to pray for God's protection and guidance. Politicians, the Military and educationalists need prayers in the month. Ekiti ,Oyo, Ogun, Kwara, Enugu and Abia states must be prayerful in the month.
On the economy, efforts will be geared towards revamping it by the government. However, because of our disrespect for due process, the name of Nigeria will continue to be on the watch list of international anti corruption agencies.
The Spirit of the Lord says we need to commit the presidential plane into prayers. This is because the plane will develop technical problems. These technical problems if care is not taken may cause us a lot of things. The Presidential villa must be sanctified because of certain ugly developments there. We must rebuke crisis, problems and issues that will make the seat of the president become unbearable to be seated upon. For the future let us rebuke whatever can cause serious dispute on account of the declared results of the presidential election; problems that can arise such that candidates will be at dagger drawn over disputed presidential election results. I foresee that there may be annulment of election results again, not now but in foreseeable future, that will attract negative reactions. Let us commit all our political activities, plans and programmes into the hand of God. I foresee certain changes and reforms but we must pray to God to avert whatever can cause cases of threats in our nation. Let us pray fervently to God to ward off upheaval in Nigeria.
On the forth coming general election, I foresee that the PDP will still have so many troubles. There will be series of antagonism towards the PDP as a political organization. Let us rebuke bloodshed in the nation through prayers. Let us ask God to take control of the elections from the presidential to the other levels in 2011.
On the Independent National Electoral Commission (INEC0, the INEC chairman will be greatly troubled. The Commission will put a lot of structures in place to ensure credible elections in 2011. The new chairman will be confused and will not be allowed to effect the changes as expected.
The Dean, Church of Nigeria, (Anglican Communion), Dr. Aphraim Ademowo
2011 is a decisive year. It is a very unique year which is anticipated to be full of wonderful events such as breakthroughs, celebrations, restorations and fulfilments. Not only will the nation cover new grounds, there will be a positive move to the right direction. Democracy has come to stay.
"Anti-democratic attitudes such as political thuggery, rigging, violence, politics of bitterness and acrimony leading to politically motivated assassinations that still dominate the political landscape should be stopped. A new political orientation that will ensure the success of this year's elections should be enthroned."
But the lost glories would only be restored if Nigerians lived righteously and according to God's will.