Why We Buried Barrister At Night – Brother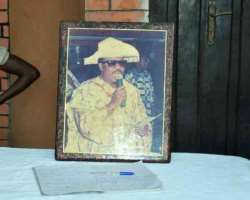 Following the myriad of controversies currently trailing the burial of late Fuji music pioneer, Dr. Sikiru Ayinde Barrister (MFR), his immediate younger brother, Alhaji Nurudeen Balogun has reacted on the real reason the family decided to bury him at night.
The remains of the Fuji legend, who passed away at Peddington Hospital in London on December 16, was finally buried on Thursday after several days the corpse was delayed in the United Kingdom due to flight disruptions caused by bad weather.
Though the unavoidable weather condition had prevented the musician's family from burying him within 24 hours according to Islamic injunction, however, Barrister's body arrived at his Fuji Chambers residence around 9.30pm on Thursday and was buried almost immediately around 10pm in his sitting room.
However, after the burial, there have been insinuations from some quarters that the family had skeletons in their cupboard for burying the Fuji legend at night, especially as it is not in the tradition of Islam which the late musician ardently professed.
When asked why the Fuji icon was buried in such an unusual way, Alhaji Nurudeen, who has been in the news since his elder brother died, was very furious over the way people have translated the incident.
"I don't know why everybody is tormenting me for burying my brother at night. The point is that we have buried him and he is resting. We buried him the way he directed us to bury him. Barrister directed us to bury him at night and we obeyed his order. Should we deny the dead his wish because of what people will say? He himself will be happy with us where he may be because we have honoured his wish. Besides, I am his brother and I could bury him whichever way I deemed fit.
"Barrister is ours, so people should desist from troubling the family, especially me over how we buried him. The point is still that we brought him into the country, buried him and it was his real body we buried," Alhaji fumed.