Pirates Sold 5 Million Copies Of Igwe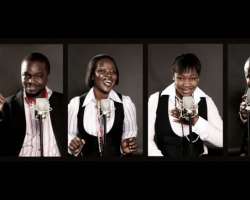 When the popular gospel song "Igwe" stormed the market in 2008, everybody embraced it and no church concerts or function is complete without it. One's opinion will be that the producer and artistes will be smiling to the bank on daily basis.
But alas, it was not to be. In this interview a member of the Midnight Crew, Michael Abdul in an interview with Nigerian Tribune talks about the pains and gains of the album.
Excerpts..
Tell us about your journey into stardom?
We started in 2001. That particular hit track, Igwe, came out in 2008. We have been singing it for a very long time but people did not even hear it. In fact, it is even in our second album
What are the challenges you have encountered since you started?
When a group decides to put things together, you always have one saying, 'let's do it like this or that'. We also appointed a project director, a kind of mediator between everybody. Apart from that, you will observe that the song has different sections — Igbo, Yoruba. We gave Igbo to somebody who was able to put it together and followed through with the vision. That is how we were able to surmount our challenges.
Any accolades won so far?
We have nominations from everywhere. I think we got these accolades in 2009 after they had observed what happened in 2008. We have concerts from all over the world. We have from Ireland, Germany, USA, United Kingdom, South Africa, Ghana, Ivory Coast and other places that we don't expect. Don't be surprised that it is just one song, Igwe, that is giving all these, because it was sung in a language that most people understand.
How many copies did you sell?
Our marketer can only account for one million copies, but from our estimation and our marketer's estimation, the song has sold about six million copies. He believes that pirates sold up to five million copies. The pirates really sold.
By now you must have been the richest gospel singers?
We are not the richest gospel artistes, but we are highly rated too. We are grateful to God for that.
How are you coping with stardom?
First, we are grateful that stardom did not meet us suddenly. God has been showing us a lot of grace.
Tell us about your music background
We all started from the church after we met at school.
From where did you get the inspiration?
Inspiration comes every day. It can come from you seeing a kid and you just wonder how God can put this great piece of art together.
Who are your role models?
We have people like Panam Percy Paul. People who make us proud. People like Gbenga Adenuga, Wale Adenuga and Sanmmy Okposo.
How did you come about the name Midnight Crew
I can say that the name came through the kind of vision we carry, which we also share with some people in the Bible, who went into their assignment in the middle of the night and their major assignment was to tear down the altars of Baal. We too have the vision of pulling down the walls of religion and put the place of God in the lives of all men. In a nutshell, we can liken ours to theirs. So, Midnight Crew is synonymous with great people in the Bible working in the midnight.