Eri Ife is not about my failed----Lepa Shandi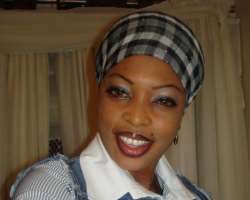 At the moment, beautiful crossover actress and producer, Shade Omoniyi, alias Lepa Shandi, is making plans to produce her fourth movie titled Eri Ife (Evidence of love). But not a few of her fans who have got wind of her next move are wondering what the light-skinned actress has to offer about the issue of love, having recently walked out of her marriage.
The Osogbo, Osun State-born actress, who shot to prominence in the nation's movie industry following her role as a sex hawker who swindled men, said she still believed in love despite her separation from her husband of many years.
Omoniyi, also the producer of Akamo, Omi Ewuro, Ifihan, said, "I believe in love despite my separation. There is no way I will stop believing in love because I grew up in it and I still hope to love. But this story has nothing to do with trying to tell the world why I walked out of my marriage. It is a story that celebrates a couple that sticks together to save their love and marriage."
Although she refused to speak on when she would give marriage another shot, Omoniyi is anxiously looking forward to celebrating her 40th birthday in a grand style soon.