MOBILE PHONE USERS INCREASE TO 3.5 BILLION IN 2015, SAYS EXPERT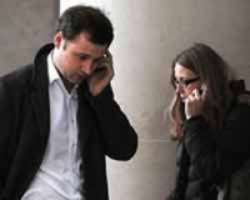 THE users of broadband in Africa is now be expected to increase from its present number of 400 million to 3.5 billion by the year 2015.
The President and Chief Executive Officer of Ericsson, Mr. Hans Vesberg, made this assertion recently in Lagos, that the operating environment was becoming more complex in competition for consumers who are becoming increasingly advanced and demanding.
'We have just seen the beginning of the massive data growth, driven by smart phones and other mobile devices. These new devices provide operators with new charging capabilities. Consequently, we are beginning to see signs of changed operator tariffs and pricing models aligned to consumer needs, especially for mobile broadband services and data usage. It's important for us to follow this development.
'These important industry drivers require operators to focus on network quality and efficiency. In addition, in the developed world, where the networks have been up and running for quite a long period, we will see operators modernise their infrastructure not only to meet increased data usage, but also to reduce power consumption and use frequencies better. These are challenging operations, requiring deep technology understanding and services capabilities as well as insights on advanced business support systems and understanding of consumer needs.
'We will see new business models emerging and so called competition among operators, where they will share platforms and build scale together around applications.'
He also elaborated on the group's leading position in mobile networks services and multimedia as well as platforms and handsets via the joint ventures; ST-Ericsson and Sony Ericsson.
Continuing, he said: 'We see good long-term growth opportunities in our traditional segments and we are determined to further strengthen our position and continue to grow faster than the market. Less than 5 per cent of the world's population has access to 21 mbit/s or more in the air, at least 1.5 million installed GSM radio base stations must be replaced and in addition, we see continued need for services in fields such as consulting, system integration and managed services. We estimate that our addressable market, including joint ventures, is worth $50 billion.'