PLASTIC SURGERY IS A 50/50 AFFAIR –CLARA KOMOLAFE, BEAUTICIAN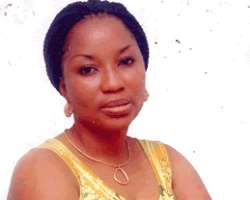 Clara
Clara Komolafe, CEO of Claras Beauty Home who carved a niche in the area of fashion, beauty and style has given tips on how you can be more beautiful. According to her, what you eat and drink go along way of enhancing your beauty. The mother of three with a beauty clinic located both in Lekki and Ogba offered the explanation that chemical enhancers use in tropical areas like Nigeria and its environs is different from what they use in less tropical areas like UK and US saying its use will not yield good result.
In this interview with Daily Sun, she bared her mind on issues bordering on beauty.
Here are excerpts:
About Clara beauty
I am into beauty enhancement, working on people's skins. We are in lekki and Ogba and we do a lot of things on skin. Generally, we discover that a lot of woman has a lot of problems on their skins and mostly woman who are married wants to get back to their former shape. Thus, Clara is saddled with the task of maintaining people's skin to give it its natural form.
Why ladies are more beauty conscious than men
It is a case of the good old proverb which says that a woman laboring for a baby girl takes longer than giving birth to boys. Men are always rushing to get to where they are going but ladies take time to take care of their body before they set out. The truth of it is that, every lady gets conscious of herself to look good and be admirable but few guys take care of themselves as ladies. In a real sense, a man is the head of the family who should work hard enough to take care of his woman while women are to maintain themselves so as to attract their husband's attention. That is why beauty enhancement is usually a ladies' affair.
Why a lot of women grow old after labor
Many women grow old after delivery because they don't take care of their skin. I still taking care of my body even when I get to 70, I still want to look like 30 because after one child, nothing stops you from maintaining your skin and get back to your former shape before you conceive for a second one. As you can see some women, before they get through the first child, they have conceived for the second time. They have forgotten the lessons of family planning. That is why many ladies grow old early.
Between beauty and style
Both belong to the same family. They work hand in hand just like fashion and beauty because one wants to always look beautiful because she is conscious of the style in vogue. In beauty, you choose the type of complexion you want, shape and all these border on styles. The style you choose complement the beauty in you. You can't be stylish and beautiful. Beauty can come out naturally but style can enhance its perfection.
Obsession with surgery
One day, I was opportuned to watch Oprah Winfrey show and a lady was brought to her programme. By the time they went through her story, it was discovered that her case was spiritual than natural because how can a woman say that every time she looks into the mirror, she sees a monster. This lady has done surgery more than 30 times and she is still not contented with her appearance. According to Oprah Winfrey in her analysis, hers was a spiritual problem
Plastic surgery is a 50/50 affair. That is, you might be lucky you go into it and come out perfectly. On the other hand, it might destroy your skin. In Clara Beauty home, we believe in natural things and not in anything chemical, machines and all that, we don't believe in it. We believe in the use of herbal formula to correct skin problems so as to bring out your natural beauty.
Beauty clinic in Nigeria and other parts of the world
Beauty clinics in countries like UK and US do not always have anything to do with African beauty clinics because they have different weather, skin, and atmosphere. In Nigeria, we have a very hot weather and our skin is ticker than that of people in other countries. That is why I can't compare ours with them even in advance countries, they know where to go to. If I use my herbal product on American person, I will destroy his skin because it will be too hot for him and if you use theirs, it will not work on you because their weather and skin are not the same as ours. My products are sourced from Asian countries like Thailand, Dubai and all that because we share the same weather. So, whatever they produce there works on us much more than what is produced in UK and US
Challenges
In spite of the fact that people are aware of the business, they are still naïve to patronize us. Many people don't want to understand that they need to look good. Your personality in life is not complete if you don't look good. If you don't look good, you will not attract people that will do business with you. That is to say that everybody needs to be beautiful but despite this, some are still naïve. Maybe, our financial constrains is largely responsible but with the little money you have, you can also look good.
Aside from fake beauticians constituting a major challenge, another problem is our bad and harsh weather and environmental hazards. We are battling with polluted environment They All these have adverse effects on our skin.
Tips on maintaining body
Eat well and take fruits. Take a lot of water and watch your weight. Don't hinge your story on what you might have inherited from your parents because if you don't watch your weight, you are prone to all kinds of infections as your immunity will be low and won't able to fight infections. If you are confronted with this challenge, you need to seek help from professionals.