WOMAN CELEBRATES SILVER JUBILEE, GIVES PANACEA FOR SUCCESSFUL, MARRIAGE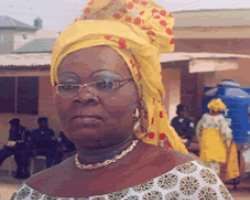 Bisiola
For Bisiola Oluwa, December 26th, 1985 was one of the happiest days of her life. It was just like yesterday when she walked down the isle with Oladeinde, the young man in whom she was well pleased. How time flies. It's been 25 years since she took that oath to stay with him till death do them part.
As she celebrates this land mark anniversary at her LSDPC Isolo residence, she relishes the joy of motherhood to four lovely kids and looks forward to more fulfilling years ahead with her family.
Mrs Oluwa, a teacher who hails from Ondo state took Daily Sun down memory lane to the beginning of her journey with her beloved husband. In her present capacity, no one is more qualified to give panacea for a successful marriage. Here are her recipe to stay long in a marriage
Here are excerpts
Congratulations, you just celebrated 25 years of your marriage. Can you briefly recall how you met your husband?
I met him on December 29, 1975 at the church. He first called out to me and we exchanged normal pleasantries. As we chatted, he mentioned that he would like to marry me. I was startled and asked if that was how his people just see women and propose to them.
But he explained that he had observed me closely for a time and came to a conclusion that I was good enough to be his wife. So, I told him flatly that I couldn't agree to his proposal just like that. However, as time went on, we began what you now call dating and I saw that I developed interest in him. We later got married. Our wedding took place on December, 21 1985
You are a mother of four kids. Can you recall if he was ever present with you in the delivery room when you gave birth to anyone?
I remember that of my first child. About three days to my delivery, I noticed that the right leg had swollen up and that was a sign that I was due so I told him to endeavour to come back from work on time. So on the actual day, he took me to the hospital and even as the doctor asked him to go back home, he refused. Instead, he paced to and fro the entire stretch of the hospital corridor reciting every psalm that he could remember
Since he was with you for the first time, what about the others? Was he also there and if he wasn't, did it make any difference?
There was absolutely no difference because when you are in the course of giving birth, you don't really bother about any other thing, whether your husband is there or not is immaterial. What matters most is for God to have mercy on you and just deliver you of the baby. Since no one can help you push the baby out, you don't really care whether your husband is there or not
For these 25 years of marriage, what would you say that has kept your marriage?
First of all, it has been the grace of God. Then, my husband is a very quiet man. He tolerates so much from me but I learnt quite early in our marriage that it would be dangerous to take his quietness for granted. In summary, I would say that patience and understanding have been the key words.
Yes, you have talked about his quietness and patience, haven't you also done anything to make the union work?
To be able to succeed in a marriage, both parties need to be committed. I also have learn to endure what I can't change. We both do not do anything without each other's knowledge. Although, we don't operate a joint account but I assist whenever the need arises and in any capacity I can because one thing the often causes friction in a marriage is when both partners keep secrets from each other
After two decades and half in this institution, you should be able to tell more why marriages collapse.
What are those elements that are lacking in some marriages?
Most women are not content with whatever their husbands provide for them. Comparing notes between their husbands and other men is usually an issue many women have to contend with in most marriages. You know that contentment brings satisfaction and happiness. Let me also point out that another essential factor which is, a woman disregarding her in laws. Any woman that does this is gradually preparing her exit pass from that marriage because as Africans, a woman is not only married to her husband, she is married to the entire family
What lessons would you say that you have learnt from this endless school called marriage?
I have learnt quite a lot within these years. Marriage is a school where teaches you. You learn from your mistakes. I have learnt not to compare my husband with any other man. I have also learnt to
take things in my stride. If I don't have a car, maybe, my husband will buy for me and if doesn't buy for me, maybe, my children will buy for me. Why should I lose sleep over what I can't get now. So, I take things in my stride. I have learnt to be myself and not copy others and because no two marriages are the same, you have to handle yours the best way you can
Can you still remember that particular thing your mother told you some 25 years ago as you were getting married?
Yes, of course. She said that it is only genuine love that sees marriages through the test of time. She said I should if we both love ourselves, whether he is disabled, poor or rich, and in whatever circumstance, we would both make it through thick and thin.