BOKO HARAM KILLING SPREE SPREADS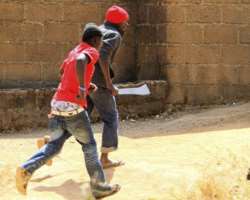 By Taye Obateru, Jimitota Onoyume,  Albert Akpor & Evelyn Usman
JOS—MEMBERS of an Islamic sect, Boko Haram, in utter contempt for the authorities defiantly continued their killing spree, yesterday, in Maiduguri, the Borno State capital killing seven persons. They attacked a police vehicle, the latest in a string of attacks by the group and wounded eight people.
A military spokesman said the vehicle was 'burnt to ashes' in an attack by the Boko Haram group at a bus station in the Dala area of Maiduguri, one of two cities where churches were bombed on Christmas Eve that claimed six lives.
Only last Tuesday, members of the sect fired shots into a teaching hospital in Maiduguri killing a police officer and two others.
Boko Haram, which wants strict Islamic law imposed throughout Nigeria, claimed responsibility for the Christmas Eve bombings of churches in Maiduguri and Jos, and has been blamed for other attacks over the past week.
Plans to attack churches on New Year Eve uncovered
Clashes broke out between armed groups near the central Nigerian city of Jos on Sunday, a Reuters witness said. REUTERS/Afolabi Sotunde.
Meanwhile, Commander of the Special Task Force maintaining security in Plateau State, Brigadier General Hassan Umoru, said they have uncovered plans by some people to launch mass attack on churches on New Year Eve.
He, however, said the Task Force was battle ready to contain the situation adding that his men had been ordered to get down anyone trying to burn down or attack any place of worship.
Speaking with journalists, yesterday, he urged parents to warn their wards not to participate in any criminal act.
Vanguard learnt, however, that many churches had called off their 'cross over' services as a result of the threat
Jonathan vows to fight terrorism
On his part, President Good luck Jonathan has assured that the nation would get over the problem of terrorism.
Speaking against the backdrop of recent blasts in Abuja, Jos and Yenagoa, the President who addressed South South delegates of the Peoples Democratic Party in Port Harcourt said a special body would be set up to address the problem.
Lagos CP holds talk with religious leaders
As part of proactive measures to ensure sustainable and uninterrupted peace in Lagos State, the Commissioner of Police, Mr. Marvel Akpoyibo, yesterday held an integrative meeting with religious leaders of both the Christian and Muslim groups.
The meeting which took place at the command's headquarters, Ikeja had in attendance over 80 religious leaders.
While thanking the religious leaders for their collaborative effort in crime fighting and peace keeping in Lagos, Akpoyibo reminded them of the need to continue to discharge their individual and collective civic duties positively to ensure that th prevailing peace in the state is not undermined by criminal elements under any guise whatsoever.
Advising the religious leaders on measures that should be taken to ensure improved security in and around places of worship, Akpoyibo said that with effect from today until the festive period was over, there would be increased  vigilance at churches, mosques and all religious gatherings
He said: 'All vehicles to be parked at least a distance of 120 metres away from churches and mosques especially during tomorrow's Jumat service and new year's eve related services at churches'.
Borno Police Commissioner, Mohammed Abubakar, who confirmed the attacks, said: 'Yes, we confirmed the serial and coordinated attacks and killings on the two churches. It is very unfortunate at this time of the Christmas season for the outlawed sect members to launch fresh attacks and killings on innocent citizens of this state without any cause.'
He said the armed sect members could have been arrested, if the Divisional Police Officers, DPOs, had heeded his warnings on the planned attacks of the rampaging outlawed sect members that resurfaced two weeks after the Zinnari community attacks.
Similarly, reacting to the attacks and killings, Governor Ali Modu Sheriff, said in an interview in Maiduguri: 'It is very unfortunate and sad for the Christian community to be attacked and killed without any genuine cause whatever. Prior to these attacks and killings, I alerted the police and other security agencies in the state to take no chances of any reprisals from the outlawed sect members,' stating that yesterday's attacks and killings could have been prevented if the police had heeded his security advice.
http://www.nigerianbestforum.com/blog/wp-content/uploads/2010/12/QRAN-Group-visitJona.jpg
Members of Quaranic Reciters Association of Nigeria in a group photograph with President Goodluck Jonathan during their visit to the State House in Abuja Wednesday.
At Sinimari COCIN Church, the gate and walls of the church were riddled with bullets, after armed suspects in two vehicles killed the security guard, Mr. Sopso, 60.
In a related development, Plateau State Deputy Governor, Dame Pauline Tallen, fired back over allegations linking her with the Christmas Eve bombings in the state capital accusing the state government of playing politics with a serious matter involving the loss of lives and property.
She accused the 'leadership of the state'of being more concerned about their ambition 'than the lives of the ordinary Plateau man affected by the bomb blasts.'
A group known as Movement for the Survival of Plateau People had in an advertorial published on Monday accused the deputy governor of master minding the blast since it came days after her declaration for the governorship race.
She said the claim of responsibility by an Islamic group for the bombings in Jos and Maduguri had vindicated her.
Tallen said: 'A leadership that is always giving excuses in crises situation that it has no control of the security machinery leaves a lot of question marks. A state leadership with all the apparatus at its disposal is supposed to adequately protect her people.
'The inability of the present leadership in the state to use all the human and material resources at its disposal to protect lives and property of her citizens but is quick to apportion blame to others without full scale investigation shows poor leadership skills.
'While others are busy apportioning blame, others are busy developing a blueprint that will ensure lasting socio_political and economic development for our state. That is why we need a change of leadership in our state. Plateau indigenes and may other Nigerians resident in the state have a high state in Plateau and with the prevailing failure of leadership in state, we definitely need a change of leadership'.
The deputy governor promised to make a difference if she becomes governor by working with all stakeholders to pursue reconciliation, reconstruction and transformation.
She advised the news media to be wary of the things they publish as news or advertisement considering their influence in society.
Continuing, the President said by March next year there would be significant improvement in the power situation in the country, promising that Nigerians from that time would no longer depend largely on generators.
He said he would partner with governors of the south south states to address challenges of underdevelopment in the area. 'Those of us in the South South we have a common problem, from Ikpoba River down to Cross_river. We will work with your governors to change the developmental history of the region. We will no longer be weeping dogs'.
The President who got applause from the delegates as he spoke vowed never to let the region down as President, noting that his presidency would greatly affect the area either in negative or positive sense.
'I will do my best as President because what I will do will rob on you positively or negatively. If I perform poorly we will be written off. I promise you I will not disappoint you.'
He said his administration would continue to give education a major attention because without a sound educational system the peoples dream would be a mirage.
'One thing we believe is in the education, without sound education our hope and dreams will be a mirage ', he said.