NFF ORDERS ARREST OF OWUMI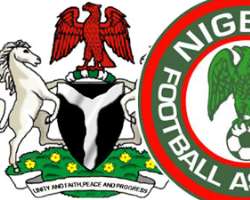 By Ben Efe
Nigeria Football Federation at the weekend instructed the State Security Services to arrest any individual parading himself, as the chairman of the Nigeria Premier League board.
This is coming on the heels of last week's declaration by the Federation during its annual general assembly that NPL board chairman, Davidson Owumi ceased to exist as the head of the league body. But the former Rangers star, hit back and claimed that he remains the chairman of the NPL, stating that the NFF has no locus standi to sack him.
According to a top official of the NFF, the nation's soccer ruling body acted in line with FIFA statues and therefore its order for a fresh chairmanship election within 14 days stands.
'We have directed the security services to arrest whoever is parading himself as chairman of the NPL,' the official stated.
It was gathered that Owumi may be heading to court if the NFF refused to see reason and maintain the status quo. He argued last week that the yardstick used by the NFF to announce his sack was not attainable.
'That whatever decisions taken at the Annual General Assembly have no effect whatsoever on me following the suit before Justice Okeke of the Federal High Court in suit no FHC/L/CS/1408/2010'.
Owumi said article 68 of the NFF Statutes on Arbitration Tribunal does not provide for, and entertaining such a request as election matters which has a judicial organ, whose decision(s) are final and binding on such election matters.