ECSTACY @ 30,000 FEET ABOVE SEA LEVEL: THE WORLD OF AIRLINE CABIN CREW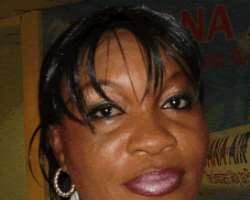 The average Nigeria believes that commercial planes operated by airlines are more like flying coffins than aircrafts. So most passengers board these cylindrical aluminium 'caskets' with trepidation, praying continuously from take-off to touchdown.
But for the cabin crew, the planes are their welcome workplace, where they come alive and tingle with excitement as the high horsepower engines of the engines cut through the air, propelling them to the next destination.
Despite the obvious risk in air travel, pilots and their cabin crew's don't miss a beat as they simply enjoy some of the pleasures of their profession. The big question is: why would a young person opt to become a cabin crew member instead of taking up employment in a bank or working as a marketing executive in a on solid ground? Sunday Sun sampled the opinions of these people and came back with interesting findings. Excerpts:
There is fun and excitement in this job - Jumoke Adewunmi, IRS Airline crew member
There is fun and excitement because the job affords one the opportunity to meet different people from diverse cultural backgrounds. One is able to travel to different places without paying for it in the cause of executing the job. These are places one would never go to because there is nothing that can take you to such places if you were working in some other sector. Again, considering the level of my income, some of the places we lodge are places I cannot ordinarily afford if I had to pay from my salary.
Traveling is like a school of its own - you learn many things such as how to handle emergencies like hyperventilation, bleeding, air sickness, loss of oxygen, how to administer drugs in such cases depending on the severity. In essence, we are given thorough training for the job. In this job, you are the safety officer in charge. it is your responsibility to comfort the passengers on board, who look up to you for protection in the event of any emergency, which no one prays for when flying. Every day you go to work as a cabin crew member, you prepare your mind for all that the job requires. You are like the healthcare professional, who has to administer first aid if there is no doctor on the flight.
In the past the basic required for this job used to be secondary school certificate but times have changed. Now, the basic qualification is first degree and of course work experience in airline industry confers a little advantage. Contrary to the belief of many that an airline hostess must be pretty, this is not a major consideration when organizations are interviewing ladies for this job nowadays. Really, you don't have to be Miss Nigeria or Miss World. Notwithstanding, the person needs to be presentable, have carriage, poise and be modest.
For phonetics, we are not taught how to speak but when you are addressing a crowd you must be able to project your voice. When it comes to sexual harassment, the fact is that no one can force you into what you don't want to do. Promiscuity is not common among airline crew members, and I have never experienced it. But when undue attention comes from a passenger you know how to handle it and not let it get out of hand except you want to make it much of an issue.
If my child wants to be a pilot or follow in my footsteps, I will encourage the child. But first I would let him or her understand the challenges and risks involved. If the child still remains interested in taking up piloting or becoming a cabin crew member, I will give my support and encouragement. Of course, there is no human endeavour that does not carry elements of risk. Being in a job that regularly takes you to 30,000 feet above the ground does not mean that one has a death wish and wants to die. The thing is that you take a job you have passion for and because you just love it, not minding the risk involved.
Cabin crew are trained to be 'nurses' on-board - Salami Gani, an airline industry veteran
The major causes of fear that grips people about flying is the critical take off stage, when the aircraft appears to suddenly 'drop' as it is ascending, after clearing the ground or when it is about to touch down. Another source of fear is when turbulence occurs, which happens once in a while. The thing is that with education and a well-organized system these fears are surmountable.
There is so much embedded into the job. For instance, one learns about aviation medicine, which allows you get trained to act as a 'nurse' so that if a pregnant passenger goes into labour and there is no doctor on board, you can deliver the baby. For instance, I recall a particular case where a pregnant woman who went into labour and there was no doctor available on board. When this thing happened, another crew member and I took over and she was delivered of a baby on board the flight.
There are safety measures put in place for such occasions if an emergency arises. The talk about sexual harassment is just what it is - gossip. It is also said that female cabin crew members tend to marry rich people; now to some extent this is true because these are the only people they come in contact with. But then again, if you look at the other professionals like that of the male doctors, they often get married to female doctors, nurses or any other hospital worker because they are they ones they see often. Therefore it is not abnormal for air hostesses to get married to rich men - since these are the men more often available to them.
The job is another form of education - Isa Yamta, airline industry veteran
I have been in this industry for ages. Yes, it carries a level of risk just like any other profession. Death is inevitable as every one is destined to die anyway. The job is another form of education because it affords you the opportunity and privilege to meet other people and learn from them. I will encourage any of my children that shows interest in getting into this profession. I will educate and enlighten the child that the profession will give opportunity meet people, learn their culture and widen his view of life.
The primary reason more women than men are employed as cabin crew is that they bring a certain unique feminine touch and 'softness' to the profession as a passenger who is worked up can get relieved of the day's stress by the smiling face of a lady and her calm and polite disposition, soft word or even a little tease. People naturally gravitate towards women. That is how God has made it. The average woman has that unique motherly touch that eases pressure, brings customers and also helps retain them.
The desire to meet diverse people got me interested in this job - Patricia Ebilah
It has been very interesting working as an air hostess. I was attracted to this job because of my desire to meet people and get to know more places within and outside the shores of Nigeria. I just laugh when people say that air hostesses are exposed to sexual harassment by passengers. It just doesn't happen, and I have never experienced it. In the past too, people used to ridicule air hostesses as promiscuous ladies. Those days are gone and nobody can say such rubbish about air hostesses again.
People just spread rumours about air hostesses - Magdalene Okoroafor
If any of my children shows interest in becoming a pilot or an air hostess, I will encourage the child. I don't see anything wrong in the career. Certainly, it is important to have the right qualification. Getting the IATA Certificate (International Air Transport Association) gives you an edge over somebody who has just a pretty face and a degree.
People outside the industry just peddle rumours about air hostesses and rich men. They say that air hostesses only like to marry rich men. Who you marry is a matter of choice. If God makes it possible for a lady to marry a rich man, so be it. Another falsehood is that air hostesses get sexually harassed by male passengers. This is not true. I went into this profession because of my love for the job. It gives me the opportunity to meet people with a different perception of life and learn from them each time I fly. I have no regrets at all for choosing this profession.