OLUSEGUN AYODELE: BASKING IN GOOD HEALTH ENGENDERED BY FOOTBALL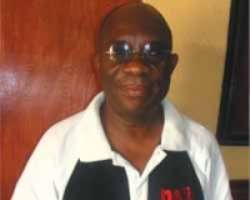 Olusegun Ayodele, the son of a clergyman, grew up to love football. But his father wanted a different career for his first son. The two-time Student Union Government (SUG) Director of Sports' love for the world's most popular sport saw him captain The Polytechnic, Ibadan football team as well as the Bauchi State NYSC football team in 1977. It was a humble beginning that saw him play for Oduduwa Babes and Red Devils in Mushin, Lagos, in his teen. The meagre remuneration the sport offered in those days, he told ENO-ABASI SUNDAY and AJIBOLA AMZAT, was enough disincentive to peter his love for football and cause him to train as an accountant. He also bared his mind on other issues.
TO get a good toothy smile from an old woman, ask her to tell you about how she met her husband. To get same smile from Olusegun Ayodele, ask him to recount the match between his alma mater, The Polytechnic, Ibadan, and Auchi Polytechnic in 1971. Till date, the memory of that 90- minute encounter that gave the Ibadan side victory over Auchi Polytechnic still brings smile to his face.
It was a memory Ayodele so cherished because of the gratification it brings to senses, just like an old lady reminiscing on the fond memory of the past. At the beginning of the match, Ayodele, who was the captain, and his friend, Ayodele George, were not fielded by the coach, Late Carl Odwyer, because they went to party the previous night.
In his wisdom, the coach believed that the revel and dalliance of the previous night would have taken a toll on the twosome, therefore, he decided to bench them. The decision turned out to be a costly calculation, as Auchi Polytechnic whipped Ibadan Polytechnic 2-0 before the first half ended.
Seeing defeat looming large, Odwyer called in his party-weary players in the second half, and they delivered the most needed goals within 20 minutes, pushing the scoreline to 2-3 in favour of the Ibadan lads. As if that was not enough, Ayodele released a banana kick 30 yards from the goal posts, which flew past the goalkeeper like leather bullet. It was a goal that ended the match.
'The goalkeeper mistakenly kicked the ball directly back to me and I returned it to him 30 yards away from the goal post. It was a marvelous goal. That goal still lingers in my memory till date,' he recalled.
Son of a reverend gentleman, Ayodele began to play football at the age of six as a primary school pupil in St. Paul's Anglican School, Idi-Oro, Lagos, and continued when he entered Victory Secondary School, Ikare Akoko in Ondo State. He said: 'I played football on the fields of primary schools and on tarmac in Lagos.
'Eventually, I discovered that I could play very well. So I played for Oduduwa Babes and Red Devils in Mushin. We used to have clubs for youth between the ages of eight and 13. When I got to secondary school, I started playing as early as in Form 2 and I played till my final year. When I got to Ibadan Polytechnic in 1971, I started playing immediately.'
This was at a time the school's football team had a constellation of stars, who came there from schools like Ahmaddiya College and Baptist Boys High School, among other schools where football was a tradition. At Ibadan Poly, Ayodele played alongside his bosom friend, Segun Odegbami, and the likes of Ayodele George, late Engr Etim Eyo and other Nigerians that made their mark in the round leather game. He even went on to play for the Green Eagles, as the country's senior national football team was then known.
Ayodele, who was the school's football captain in the early 1970s, was also the Student Union Government (SUG) Director of Football between 1972/1973 sessions. He was later to occupy the same office in 1976. He said: 'Thereafter, Odegbami introduced us to various clubs like Rediffusion, Water Corporation and the then Nigerian Tobacco Company (NTC) team in 1972.
His romance with football continued even into his national service year, when as a member of the National Youth Service Corps (NYCS), he organised and captained the Bauchi State NYSC team. But unlike some of his friends, however, Ayodele did not pursue football career, yet the brief period he spent earned him the sobriquet Pele among his peers.
Even wiz kids like the late Haruna Ilerika came to admire his skills when they met at Evans Square, Lagos. He noted further: 'We both admired each other's performance that day. And we became friends till he died about three years ago.' But that juvenile glory came at a price. Loved as he was by fans, Ayodele never enjoyed the patronage of his cleric father.
Like Michael Angelo's father, who never believed art is a serious enterprise for the serious-minded, late Abraham Ayodele never believed footballing is a serious career to be pursued by a youth. Thus, he did all he could to stop his son. According to his son, 'there was a day I went out to play football with friends at All Saints School playground in Lagos, and I played for five hours non-stop.
'By the time I was back home, my father was already waiting at the door, eyes on fire. That day, I almost died of flogging. He ended up extracting a promise that I would not go out playing football again.'
But like all promises, it was broken many times after. Unlike his father, Ayodele encouraged his own children to play football. Unfortunately, none of them is interested in the round leather game. For him, football was like a peanut for monkeys and the attraction was too strong to resist and the only way he could get his kids from kicking football. But there was a day the game he loved so much left him so sad for days.
He recounts: 'In 1969, my secondary school, Victory College, Akure, played against Aquinas College, Akure during the Ondo Zone of Principals' Cup. As much as Aquinas played, we won the match by stroke of luck. It was like the Victory boys were destined to go to Liberty Stadium, Ibadan, to play against Olivet Height, Oyo.'
On return to school, the footballers joined other students to protest the poor condition of living in the school, an action that angered the Principal, Rev. Oni. They all got suspended for bad behaviour, as he bellowed: 'You are not fit to represent the school.'
That was how Aquinas was asked to represent the zone at Liberty Stadium instead and that, indeed, was how Ayodele's dream of playing at the legendary Liberty Stadium was cut short. He recalled: 'I cried that night. It was the saddest moment in my football career.' It also turned out – more painfully – that Aquinas would lift the Principals' Cup that year.
Though he later played at Evans Square in Lagos, where, like Roman gladiators, they entertained thousands of spectators, but it was not like playing at the Liberty Stadium. Two factors, however, prevented the Chief Executive Officer (CEO) of Homeland Ventures from pursuing football as a career. These were his father's apathy for the game and non-profitability of soccer business then.
'Then, there was no money in playing football. If the game were as profitable as it is today, I probably would have stuck to it,' he noted. 'But since it was not, I had to move ahead and pursue a course in accountancy. No one knew that soccer would later become a money-spinning business.
'Those days we used to collect as little as £1 or £1.10 to play football for clubsides. Even though this was something in those days, we basically played football for enjoyment and display of skills. But we enjoyed playing the game.'
According to him, hearing his name being shouted on the pitch was intoxicating: 'It was great fun when people acknowledge the fact that you were skillful and cheered you on. Even when you go back to school, your schoolmates were always waiting for you to come back with the money you made,' he said.
Perhaps because of the disparity that has been created between university degree and Higher National Diploma (HND), Ayodele opted to obtain professional qualifications in order to have a strong bargaining power in the labour market. So after graduation, he left for the United States (U.S.) for his MBA at the University of Texas. He also obtained a Diploma in Finance at Western University of Switzerland.
While in the U.S., he also played soccer, though not at a very active level. Back in Nigeria, he worked with the defunct National Electric Power Authority (NEPA) as accountant for some years before quitting paid job in 1982 to establish a consulting outfit, Davey Richman and Partners. With the death of his friend and business associate, Kola Oyegoke, he shifted focus from consulting business to import and export, using the experience he garnered from the consulting business.
He continued: 'After Oyegoke's death, I established Homeland Ventures Nigeria Ltd, where I brought to bear the experience I got from Davey and Richman. In those days, we did business with companies like Coca-Cola, Nigerian Breweries Plc and Hoechst, now Nigeria-German Chemical.
Like many other football buffs in the country, Ayodele is not pleased with the local football administration. His pain stems from the fact that it is left in the hands of mediocres, who got there through much influence from godfathers. According to him, 'people who act as godfathers put the wrong people there just to satisfy their own selfish interest.
'This accounts for why perennially, people with beautiful ideas about football administration are not allowed to get involved. Our football is at the mercy of godfathers. That is why people with great knowledge of the game are not allowed to get in there and take over the reigns. Look at my good friend, Segun Odegbami. He has tried several times to get in there but lost out.'
For Ayodele, the social and health benefits he derived from taking part in school sports are enormous. That explains why he is saddened that the current crop of students in most schools across the federation is being denied what is capable of shaping their worldview. Hear him: 'Up till this day, I still enjoy good health and this is because the foundation was laid years ago in school just as a way of satisfying my urge.
'Children that take part in sporting activities are intellectually sharper and physically toned up far better than their colleagues that do not. Furthermore, it is very difficult for a child that takes part in sports at an early age to become a recluse or turn out sluggish or lazy.
'I still run into some of those we played football together with years ago in parties and sundry places. And when this happens, you will hear them call out, Lanky Pele! Of course, people will turn around to see the Pele. It is at this point that I am saddled with the task of explaining how the name came about. From there, we go ahead to recall some of the matches we played, and how we would have gotten a different result had we done a few things differently.'
The retired accountant said he was writing a proposal to some state governments on how to revive school sports, which in his opinion is dead and needed to be given life once again. He praised the efforts of persons and institutions spearheading the revival of sports.
One of such alliances, he said, is what Odegbami and Shell are doing with the Shell Cup, stressing that it is a worthy step that should be emulated by all well-meaning Nigerians and firms.