BORNO GUBER 2011: SHERIFF PROPELS MY AMBITION – DIBAL, DEP GOV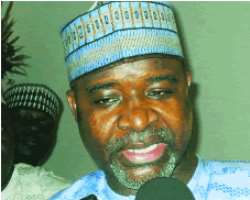 Dibal
Borno State Deputy Governor Adamu Dibal has dared the consequences and declared his intention to succeed his boss on the platform of the All Nigeria Peoples Party (ANPP) in 2011. He said the decision to contest was propelled by Governor Ali Sheriff, whom he said he served loyally and diligently since 2003 when they were both elected into the Government House, Maiduguri.
In an interview with selected newspapers in Maduguri, including Daily Sun, Dibal said the governor has implicitly endorsed his gubernatorial ambition:
'My boss, the governor has always been saying that it is the people of Borno that will select and elect whoever will succeed him. He had asked the people to join him to pray very well before they get somebody credible to take over from him.
'After a long period, I started receiving invitations from the people of Borno asking me to come and contest. Having thought over the matter, coupled with his encouragement earlier, I conceded to the peoples' calls.'
Why did you declare your gubernatorial bid when other aspirants in ANPP claimed the governor was yet to give them go ahead to do so?
I don't think the governor told anybody not to pick nomination form or declare interest. To be fair to him, he has never stopped anybody and to the best of my knowledge, asked us to wait for his directive. All he said was that it is the people of Borno that will select and elect whoever will succeed him.
Borno is an ANPP state. He asked the people to join him in prayer so that a credible person can take over from him. Sheriff is a seasoned politician and administrator having been in the Senate three times and Insha Allah, governor of Borno two terms. He is contesting for the Borno Central Senatorial seat which he vacated in 2003 to lead the state and I strongly believe he will win because he has what it takes to get there.
I can say confidently that his endorsement propelled my resolve to pick the form and declare my intention. I have been inundated with calls from various groups, associations, our elders, youths, women, religious bodies among others that I should contest the governorship. Initially, I considered their invitation very carefully. They told me they were only responding to the prayer which my boss had previously requested from them. The calls cut across different political parties, ages and social status. I eventually considered their decision and that was what made me to obtain the form. I believe that come 2011, ANPP will once again retain Borno and I am sure I will not disappoint our people.
The growing factions in ANPP
Growing factions? I am not aware of anything like that. There are others who are interested in the seat. May be they have not really made up their minds or they are slow about it for one reason or the other. But then, when people are behind you, God is with you. In any case, only God gives power or leadership position to whom He wants.
If it is about political weight, some people will not be leading their states now or country. Remember how Obama won the U.S presidency.
There are governors in this country who won in 2007 not because of their political weight but because God was with them and it has been destined they will be in power. The fact that I have picked the nomination form is an indication that our party is intact and Sheriff is the rally point. I have a very robust relationship with him not just premised on boss-subordinate level but that of a younger brother to his senior.
Do you envisage the possibility of the governor or party denying you the ticket?
I don't understand what you mean by denying me ticket. Are you talking about possible manipulation of the electoral process or what have you? I know the provisions of the 2010 Electoral Law clearly explained the condition and procedure for conducting party primaries. But since I am not God, I cannot really predict what will happen now but we are getting ready for the exercise. Let us cross the first hurdle before we know the next step.
What I learnt my boss
I have learnt a lot from him especially politics and I can stand election with anybody. Sheriff knows nothing but winning. I have learnt that for you to win, you need to do your assignment very well. Much as he does not under-estimate any political move by the opposition, he is a man of courage. I have learnt that in politics you need courage to survive and succeed because without that, you will be pushed aside by your political foes and adversaries.
These lessons coupled with that of governance are enough for me to lead the people of Borno. Indeed, they have spoken that they needed somebody to take them to the next level irrespective of where he comes from. I am therefore prepared mentally, physically and spiritually to see that come 2011, we win the governorship seat again. I have the required zeal and contact to turn things around for good.
It will interest you to know that most of my campaign posters, Radio and T.V jingles were done by people on volunteering basis. This demonstrates how people can invest in a course they believe in. Of course, I do not have the resources to fund campaign. I have absolute trust in God and the power of the people of the state.