ECOWAS PRESIDENTIAL TEAM FAILS TO TALK GBAGBO OUT OF POWER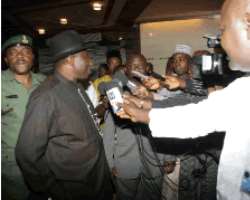 ECOWAS Chairman, President Goodluck Jonathan (L), addresses journalists after a meeting with Presidents Ernest Koroma of Sierra Leone and Pedro Pires of Cape Verde, two of the three leaders who met Ivory Coast strongman Laurent Gbagbo to urge him to step aside, yesterday in Lagos. PHOTO:AFP
The three wise presidents the Economic Community of West African States sent to Ivory Coast admitted yesterday they had failed to find a solution to the country's political crisis during talks with Laurent Gbagbo, and plan to resume talks on Monday.
The three presidents have been tasked with breaking the country's post-election deadlock, which has seen deadly clashes between supporters of Gbagbo and his internationally-recognised rival Alassane Ouattara.
The trio returned to Nigeria to brief ECOWAS chairman President Goodluck Jonathan, after late night talks with both would-be Ivorian leaders. Presidents Boni Yayi of Benin, Ernest Koroma of Sierra Leone and Pedro Pires of Cape Verde had gone to Abidjan on Tuesday to deliver Gbagbo an ultimatum: cede power to Ouattara or face regional military intervention.
Jonathan who would be expected to greenlight any invasion, acknowledged the envoys had not broken the deadlock and said they would return on January 3. 'We are still talking,' he told reporters after meeting Koroma and Pires. 'People are negotiating. We are discussing. That is why they are going back,' he said. Pires had earlier said that a return to Ivory Coast was necessary. A statement from Pires' office said that the 'Ivorian parties' had asked for 'time to reflect in order to find a viable way to conclude the electoral process, which is the only way to promote durable peace and stability in this West African country.'
This stance differs from that taken by Ouattara's spokesman following the talks. Patrick Achi said Ouattara had told the envoys his status as head of state is 'non-negotiable' and asked them to 'return as soon as possible'. Meanwhile, military chiefs from West African countries have held talks over Ivory Coast's crisis after the regional bloc demanded that Laurent Gbagbo quit power or face military action, an official said yesterday.
'The meeting of chiefs of defence of all the ECOWAS member nations started yesterday (Tuesday) in Abuja and it is expected to end today,' ECOWAS director for external relations, Abdel-Fatau Musah, told AFP in a telephone interview.