WHY NIGERIA IS YET TO BENEFIT FROM WRITERS' OUTPUTS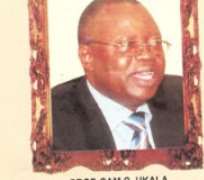 The twin problems of poor reading culture and incorngible leaders maning Nigeria's affairs since independence till date, may have conspired to frustrate priceless contributions of writers to National development. Yet, the tendency is there to blame literary community for not deploying its creative prowess towards attaining a better society. But Prof. Sam Ukala would rather attribute Nigeria's failure in all fronts to the harsh environment 'that has failed to respond to the many timely interventions and admonitions of writers' buried in their various literary outputs.
SIGNIFICANT playwright, chairman, Association of Nigerian Authors (ANA), Delta State chapter, and teacher at Delta State University, Abraka, Prof. Sam Ukala envisions a better future prospect for Nigerian writing and its writers. Reason? The current environment is too hostile for the noble ideas and ideals that the nation's writers have propounded to take root and move the nation forward.
Perhaps, the most significant single obstruction to this ideal, he argues, is a poor reading culture by a vast majority of the population with an equally 'illiterate' leadership.
Ironically, Ukala is of the view, that the nation would have been better off if such men of letters like Profs. Chinua Achebe and Wole Soyinka and their ilk had been allowed a greater say in the affairs of state, or their admonishments even heeded as patriotic service to fatherland.
But, regrettably, Ukala says, this is not the case. What has come through is a nation with an uncouth population and for whom the ennobling virtues of literary engagement mean nothing, that interpret the life-changing meanings of literary concepts upside down only to arrive at a warped perception of the role of writers and their writings.
So, he states, 'We have a culture that is not reading. A culture that is not reading is unschooled totally; they are uncouth in their arts. So, it's a great problem. What we need is a kind of revolution, which our pens cannot bring about. And unless we have somebody at the helms of affairs who is thinking like Achebe or Soyinka, and then imposes that thought on the polity, we cannot get out of the woods.
'The pen hasn't failed; no! It's succeeding for those who want to read. It's not succeeding for those who don't read. A certain pastor preached and preached and said, 'oh God, the people for whom I'm preaching are not in the church!'
'Oh, yes; the people for whom we're writing are not reading. So, what has failed here is government's inaction to engineer reading culture. It's not that the writers have failed. Even though we all pass away, it doesn't mean we have failed. In future, hundreds of years away, we'll be read.
'So it's a question of environment. What environment are we in? Is the environment ripe enough for people to benefit from the writers? A community that doesn't value its writers, and that is not thinking about the ideals of the writers, will never make progress.
'Now, if we have a situation where we're churning out these bright ideas and nobody is reading them, it doesn't mean we have failed. It means we're storing up for a future environment, a future generation that might read. We're still reading Shakespeare today, don't forget.
'The foundation is not being laid now, which is a greater tragedy. That foundation of reading is not being laid now, but we do not want to give up. Nevertheless, there is hope that at some point when God wishes these things to change, we'll think about the right thing and get it done for people who will initiate and sustain the reading culture in this country'.
Ukala gives a typical example of how a majority of the people misinterpret literary interventions, and says it is the thrills and excitement works of art provide rather than the lessons to be learnt that stick. For him, this is a tragedy of the Nigerian society.
'Nigeria is what it is because people like Achebe, Soyinka can never be president of this country because those who have ideas, those who know how the place ought to be run are not listened to,' he argues. 'We write all that we care to write, but nobody is reading. Even when we want to get the people to be changed in their hearts through our writings, if they don't read, how do they know what you're saying?
'Some of them watch these home videos, and they think all they're about is to thrill them, to make them happy, to be entertained. They don't get at the lessons, the messages of the thoughts that are being expressed because they refused to be trained, attuned to appreciate literature.
'You can't appreciate literature without training. That's why some people, when they see a play where there is a prostitute, they say, 'oh, this man is doing pornography; he is teaching about prostitution'.
'They don't care to know what happened to that prostitute at the end of the play. They don't care whether that prostitute picked up AIDS and died of it. So, there's a lot to be done. And unless people are reading, they cannot begin to appreciate arts.'