WE ARE BEHIND HODGSON, SAYS COLE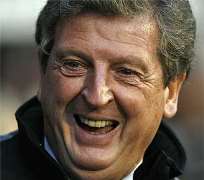 Even a much-needed 2-1 win over Bolton – achieved by Cole's injury-time goal – did little to quieten the whispers that say the Englishman is living on borrowed time at Anfield. The spectre of the club's legendary former player and manager, who is currently employed in an ambassadorial role, Kenny Dalglish, looms ever larger over Hodgson's shoulder.
Club owners – New England Sports Ventures – are considering who is the best man to lead the club forward. And if, as it seems, Hodgson is not to be that individual and no suitable replacement can be found quickly, there is the option of bringing in Dalglish – the last Liverpool manager to win the title – on a short-term basis.
But Cole, who tapped home from close range in added time to snatch three points against Wanderers, insists that the squad is doing its best to ease the pressure on Hodgson.
'We are all behind the manager. We all want to put this club in the right direction and keep working hard. We are out there playing for the shirt and the manager. We have all got to stick together because there is no-one bigger than the club,' he said.
'I am really happy for everyone at the club; it has been a tough week for everyone – particularly the manager – but we've got the win. It is not just the newspapers, none of us likes losing and getting criticised but half the battle of modern day football is dealing with pressure and kicking on.
'We are pleased for the fans, the owners and the manager but we have all got to stick together and kick on from here, it can't be a false dawn.'
Hodgson began 2011 on a high note, having just three days earlier endured probably his lowest point since taking over in July.