GOVT TO APPOINT NEW NSE CHIEF SOON, SAYS SEC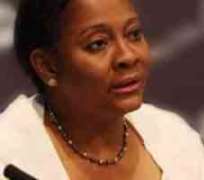 THE Securities and Exchange Commission (SEC) will announce the name of substantive Director-General (DG) of the Nigerian Stock Exchange (NSE) before the end of January 2011, DG, SEC, Arunma Oteh, has disclosed.
Oteh, who spoke with The Guardian on Tuesday in Lagos, attributed the delay in the announcement to pending appointment of NSE executive directors. However, she assured that the final vetting of candidates for the post was on. The NSE DG's appointment was earlier scheduled for the end of this year.
Oteh disclosed that after a rigorous interview process, the NSE Council recently forwarded the name of the successful candidate for the position of NSE DG to SEC, adding that names of successful candidates for the position of three executive directors were being awaited by the commission.
The SEC chief disclosed that some candidates who applied for the positions of NSE executive directors from Europe and America were stranded due to bad weather, thereby making it impossible for them to be part of the final stage of the interview process as scheduled.
Oteh added: 'We basically granted them (NSE Council) some more time to allow them make submission to us. We are pleased with the process. I understand that all the candidates were very distinguished people with distinguished career. The final decision will be based on what the needs of the exchange are today in terms of experience, integrity and background generally. We are pleased with the process. We are doing our own checks'.
Commending the Interim Administrator of the NSE, Emmanuel Ikazoboh, for what he has done so far, Oteh said part of his mandate was to facilitate a credible, transparent, auditable process that would usher in the best hands into the leadership team of NSE given the 'unfortunate event, which led us (SEC) to intervene at the exchange'.
The SEC had on August 4, 2010, removed the management of the NSE under the leadership of Prof. Ndi Okereke-Onyiuke and replaced her with Ikazoboh.
In the statement removing the former management on August 4, 2010, SEC said: 'The Investment and Securities Act 2007 vests the unalloyed responsibility for safeguarding the interest of the public and protecting the investor on the Securities and Exchange Commission.
'The Commission has closely followed the developments in the Nigerian Stock Exchange, particularly with respect to inadequate oversight of the Exchange, on-going litigation, allegations of financial mismanagement, governance challenges and the inordinate delays in the implementation of the succession plan for the Exchange'.