CHURCH, NGO BRING SUCCOUR TO WIDOWS AT XMAS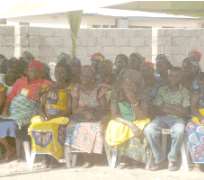 A church and a Non-Governmental Organisation (NGO), separately contributed their widow's mite for over 100 widows during the Christmas festivity in Kaduna, just as they outlined plans to identify widowers and cater for them as well.
Pastor Raphael Olufemi Ogunkole of the Cherubim and Seraphim Movement Church, Seed of Life Parish, Barnawa, Kaduna, told Daily Sun that it was a tradition of the church at every end of the year to donate food items and other skill acquisition materials to widows.
Ogunkole said grounding engines, bags of rice and food ingredients were donated to over 50 widows this year as against over 300 widows last year. He attributed this year low key activity to, 'the project ahead of the church.'
Similarly, executive director, Christian Awareness Initiative of Nigeria, Reverend Joseph John Hayab, said for the past five years, his organisation has been giving out gifts to widows in Kaduna  especially at  Christmas so that they could celebrate like any other persons in the society.  Items given out to over 50 widows, according to Hayab, included clothes, bags and stoves which are less kerosene consuming and environmental friendly. Ogunkole: 'We experienced low key activity in this year's programme for the widows because of the project ahead of the church.
'Last year, we spent over N3 million on this programme. This year, we just got a place of worship that is why we decided to make it a low key this year. By next year, God sparing our lives, we will do it to an enviable standard.
'This year, we cared for just about 58 widows, we did not announce that people should come because of the little things we have at present. We empowered about eight of them, and 50 others also received some packages, at least to allow them celebrate.
Because we are part of the society and we live in the same environment with Nigerians, that is why we cannot divorce the reason for the low key from what is happening in Nigeria. 'People are crying, there is no money, there is no job. We are looking forward to a situation that those that God has placed in position of authority will help us create jobs so that we can have what God asked us to have. And we will be able to do what God asked us to do.
'My message to the widows is just like what the Lord Jesus Christ said that those who are widows should look unto Him. He is the only one who can sustain them, who can help them, who can provide for their needs. If we give them anything, if it is food, they will eat and consume it and it will finish. They should look unto the Lord Jesus Christ, give their lives to Jesus so that it shall be well with them, not only in this world, even in heaven.
'It is true that they are widows on earth, but in heaven, there is nothing like widows, widowers and orphans. All of us will be there if only they can give their lives to Jesus, it is essential they do that. 'Last year we attended to about 20 widowers. Widowers being men, they will not want to come, except those who are not privileged. They are men, they love to struggle themselves, in fact, some of them are also struggling to give to other people as well.   It is possible for widows and widowers to get married.
'The essence of this programme is to bring succour to the widows especially at this time of Christmas where we celebrate and rejoice with one another for the birth of Jesus Christ. We target 50 widows this Christmas to show them our love. By extension, we are also helping their children.
'We should go beyond just rejoicing and celebrating, we should touch lives of the people.
'There are plans for the widowers. By our culture, men are put in high pedestal. When it comes to women, they are disadvantaged  people, so the best thing  you can do is to target the disadvantaged. If you can bring them near parity, then, you start doing certain things because there are places men can go and seek for help, but women cannot really go. Even if they go, because of the gossip and unnecessary things people say, people will start misinterpreting it as if they are going to chase somebody's husband or they are trying to flirt or do other things.