MOYES MAY FIRE AIYEGBENI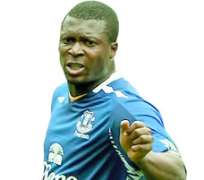 Aiyegbeni
Nigeria's Yakubu Aiyegbeni may be preparing for a possible exit from Everton as the club's boss, David Moyes, plans a complete over-hauling of his attack when transfer window opens next month.
Everton's attack which has Aiyegbeni, Jermaine Backford, Louis Saha and Tim Cahill has been struggling to find its bearing since the commencement of the season and the players below par performance are dragging the club backwards in the English Premier League.
However, Moyes was left to reflect on a familiar failing in front of goal after Everton drew 1-1 at West Ham United recently. The Toffees have scored just 21 goals in 19 Premier League games this season and have been short of a striking threat for much of the campaign.
Beckford, Saha and Yakubu Aiyegbeni have mustered just three goals among them, while Cahill was chosen as the lone front-man at Upton Park.
Everton's boss seems to be more comfortable with Victor Anichebe who is also not at his best at the moment.
Cahill created the equaliser for Seamus Coleman just before half-time, but Everton lacked a clinical instinct against the top-flight strugglers. "I thought if anybody deserved to win it, we deserved to win it, but we didn't have enough chances at goal on Robert Green," Moyes told Sky Sports.
"I thought we had much of the ball, but it was a bit like the start of the season with the same failing and it didn't look like we could get that other goal." With the transfer window due to open, Moyes confirmed he will look to the loan market in the hope of finding a solution to his team's goalscoring troubles. He added: "It's known we're quite tight for cash at this present time, so we'll try and look round the loan market to see if we can do something.