Akpabio presents budget on Consolidation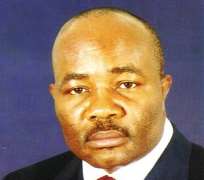 Godswill Akpabio
Akwa Ibom State Governor, Godswill Akpabio has presented to the Akwa Ibom State House of Assembly the 2011 budget proposals tagged 'budget of consolidation and transformation'
The budget which is put at N309.509b according to Chief Akpabio represents a decrease of N75.887b or 19.7% over the 2010 revised budget of N385.346b.
Christening the 2011 budget as "Budget of consolidation and transformation" the state governor said is "aimed at consolidating the achievements of the past three and a half years and to complete ongoing transformation programmes" adding that his administration has not wavered in its commitment and determination to reposition the state as the fastest growing state in Nigeria.
Akpabio while reviewing the performance of 2010 budget of N298.520b which was revised to N385.346b to provide for the construction of additional roads, payment of compensation to displaced traders of old Uyo market, State House Scheme, Special Taxi Scheme, renovation of House of Assembly, renovation of Ibom Hall, completion of Ikot Ekpene prisons and expansion of the inter-ministerial Direct Labour Scheme.
The Governor emphasized that the 2011 budget is predicated on the need to complete on-going people oriented projects and to establish new industries in the state so as to create more employment opportunities adding that the 2011 budget will seek to develop human capital and enhance services in the education and health sectors with a view to improving the living standard of Akwa Ibom people.
 
Sectoral allocation of the total estimated expenditure of N309.509b shows that N7.909b has been proposed for Agriculture, N31,171b for education, science and technology, N53.826b for land, Housing and Urban Development, N50.545b for industries, commerce and tourism, N9.125b for rural development, N12.501b for health, N51.619b for road and transport, N17,007b for information, sports and social development and finally for General Administration broken into N8.942b, N7.112b and N54.139b for state judiciary, State House of Assembly and general administration of the public service respectively.