EMULATE THE LIFE AND LEADERSHIP OF WORLD'S GREATEST LEADER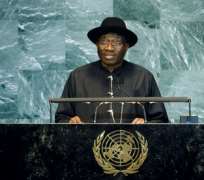 "Let the greatest surprises of the future come, but never has there arisen, nor never shall arise another like Jesus Christ" – Joseph Ernest Renan
"You can't lead the people if you don't love the people. You can't save the people if you won't serve the people." - Prof. Cornel West
"Power is the ability to make things happen." – Rev. Al Sharpton
Once again, the solemn celebration of the birth of Jesus – popularly know as Christmas has been marred with violence, terrorism and senseless killings in Nigeria, Uganda, Pakistan, and the Philippines. In a season of such spiritual significance – the remembrance and celebration of the Savior who came to save mankind from their sins, the Boko Haram and other religious fanatics went on rampage to kill Christians on Christmas Eve. Shame on you religious fanatics and sinners.
Sin is the greatest enemy of the human race and Jesus came to deliver people from the power and penalty of sin and to reconcile mankind back to the Holy God, the creator of heaven and earth. Christmas season should be the most loving and joyful season - the most holy and gracious seasons of the year because of the wonder, majesty and miraculous birth of Jesus Christ, who is the Prince of Peace, Kings of Kings, Lord of Lords and most importantly the Son of the Most High God. It ought to be a season of love, peace, and reconciliation as penned by the 21st century prophet, Rev. Dr. Martin Luther King Jr. It should be the most loving and peaceful season of the year, but rather the 'Jama'atu ahlus Muslim sect' went on rampage to kill for their god - those they claim do not believe in Islam – non-Muslims. What kind of God do these irrational and fanatical groups believe in?
In this piece, I'll like to bare my mind on the various social, political, economic and religious issues in Nigeria and around the world especially in the last few months and conclude by encouraging our politicians, religious and business leaders to embrace the teachings, life and leadership style of Jesus, who remains the greatest leader in all of human history.Jonathan's Presidency
President Jonathan Ebele Goodluck became the executive president of the Federal Republic of Nigeria after the demise of President Umaru Musa Yar'Adua in May 2010. The ascendancy of President Jonathan to his current position of power has been a subject of many political writers commentators and discussions among Nigerians. We must understand that position of power is obtained primarily in two ways – first, by people and second, from God. President Jonathan may not have come from the dominant tribe or campaigned and spent millions to become the president of Nigeria. But now, he is the president and we must accept the mantle of leadership that God has placed upon him. He may not be the typical leader that many Nigerians admire and cherish – the likes of IBB, Abacha, OBJ, Atiku, etc. But eight months in power, President Jonathan is leading wisely, compassionately and courageously. GEJ is touching and changing the lives of people in the country. His vision is to transform the entire country for better. I think president GEJ has done very well – his achievements so far are admirable. I do not approve PDP, the platform in which he is running for presidency, but I do give Jonathan Ebele Goodluck a pass. He is not corrupt like most of his colleagues in PDP. He has met with President Barack Obama twice now in the U.S. and I believe he will not disappoint Nigerians, himself and the world. Let us give him a chance to govern.
2011 Elections – INEC Readiness and Security Issues
The 2011 elections will either make or break Nigeria. It will either pave the path for building a genuine democratic system of government or relegate Nigeria to an era of military government or even division of the nation. Nigerians have a choice to make here. I believe the electorate is becoming smarter and wiser now. You don't have to sell your vote for a pot of porridge. Nearly ten years in the presidential system is enough time for the electorate to understand that their votes are their power in a democratic system of government. They should first of all go out and vote and then demand that their votes be counted. The era of rigging, stealing of ballot boxes, and violence should be reduced to bare minimum. The INEC Chairman, Prof. Jega has honestly said that Nigerians should not expect a perfect election. Nigerians do not expect a perfect election. There is no perfect election anywhere even in the known and well established democracies, but Nigerians do demand a fair, just and credible election. Such elections have been conducted in Nigeria before. There is no reason why INEC and its operators should not guarantee Nigerians a fair and credible election.
PDP, Consensus Candidate, and the Politics of Zoning
Recently, the former Minister of Water Resources and current Sokoto State Deputy Governor, Alhaji Muhtari Shagari, made a poignant statement that the "North is not born to rule. But rather the concern of the Northern politicians and leaders should now be how to tackle the issue of poverty ravaging its people and not where the power should go." I hope the Hausa-Fulani Northern Oligarchy and power hungry maniacs like IBB, Adamu Ciroma, etc., are listening to the young Shagari, who by the way is a true and courageous leader. Off-course, God is able to take power away and give it to another - the same with people – especially in the current system of government, the power lies in the hands of the people.
The zoning arrangement in PDP, the selection of former VP, Atiku as the consensus candidate of the North in PDP, and the recent treasonable statements made by Adamu Ciroma, IBB and Atiku should be treated seriously. First, the zoning formula should be an intra-party arrangement and not a national issue. The reason why zoning has become an issue in the national discussion is because there is no viable opposition party to defeat PDP today. I am a believer of two-party system in Nigeria. Due to the complexity of the nation with its biased geo-political structure, ethnicity, tribes, and religion – Nigeria should adopt only two idealist political parties if she is sincerely serious about good governance. The current sixty-five political parties in Nigeria is just insane and a mockery of democracy.
Second, I think that the Northern Political Leaders Forum, (NPLF) under the leadership of Mallam Adamu Ciroma that chose former Vice President Atiku Abubakar as the consensus candidate for the PDP was unwise choice and selection. I do not believe NPLF consulted widely in the North. I do not believe Atiku represents the aspirations of the Northern people even within PDP. In a nutshell, zoning is undemocratic and the selection of Atiku is unwise and regrettable and the politics of zoning formula in PDP should not destroy Nigeria. Third, the inciting and threatening comments made by Mallam Adamu Ciroma, IBB & Atiku should be taken seriously. These elders have not shown leadership at all. What do Ciroma, IBB and Atiku want? Do these power drunk individuals think Nigeria belongs to them? These people should be arrested and interrogated for their incendiary comments. They are clearly inciting violence and I believe that the recent violence and barbaric killings we have witnessed in the last few days in Plateau and Borno States are as a result of their arsonist statements. Most of them have been in position of power all their lives, yet they have not been able to accomplish anything for the common people only their own selfish enrichment.
CBN Governor – Mr. Lamido Sanusi and the National Assembly
I have been writing and speaking that the twin obstacles and hindrances against genuine development especially in Nigeria are bad leaders and corruption. Poor leadership is destroying Nigeria. The kind of people aspiring to lead us nowadays in Nigeria lacks the essential ingredients of leadership. Moreover, I am not certain if most of them truly understand the divine duties and obligations of leadership. On the other hand, the bane of Nigeria's genuine progress is the disease of corruption. Until this cancer is dealt in our polity, Nigeria will not get any where in terms of development and progress. The recent revelation that our lawmakers in the National Assembly gulp 25% of Federal Budget is incredulous. I must salute Mr. Lamido Sanusi for his courage to reveal the sad truth about the wages of our lawmakers. They should be properly called lawbreakers and looters. The men and women in our National Assembly today – Senate and National House of Representatives are simply thieves and looters. Most Nigerians are suspicious of them because of their instant wealth, lavish lifestyles and insatiable greed, but those close to them have not had the courage to expose their illicit wealth until now. This is insane and incredible that Nigerian lawmakers make more money than their counterparts any where in world. No wonder, the nation remains in abject poverty and currently rated among the poorest nations in the world with demise in educational system, antiquated infrastructure, insecurity, poverty, collapsing healthcare facilities and high mortality figures. Shame on Nigerian lawmakers – lawbreakers and looters.Recently, the CBN Governor also revealed that it was the politicians that killed Nigerian banks. It is sad that the kind of politicians we have in Nigeria are visionless people whose stock in trade is to embezzle and launder Nigeria's financial assets abroad to enrich other nations and their people. Also Nigerian bank CEO's have failed the people. The banks ought to be the custodian of the people's financial assets and should be primarily involved in lending money to businesses to create jobs and boast the economy. Instead, most Nigerian bank CEO's were involved in stealing and money laundering. The case of the seven biggest banks CEO's – especially the case of Mrs. Cecilia Ibru is just mind boggling – a classical sheer of greed and evil. The list of assets – bank accounts, real estates and businesses registered under her name – real and fictitious were incredulous. People like her should spend the rest of their life in prison.
PDP leadership have failed Nigerians
Nigeria does not lack competent people that can lead. But unfortunately what we have in this day and age are ruffians, incompetent and irresponsible personalities masquerading as leaders. The current brood of politicians over the affairs of our nations is mostly incompetent, lack vision and hides under their elicit wealth and dangerous connections. They ascend to leadership positions through conniving and treacherous ways. They are not transparent in their discharge of leadership responsibilities. Most of them do not have reputable educational qualification and they lack the ethical and moral qualities of leadership. In a nutshell, most people parading themselves in the various position of leadership today in Nigeria are not genuine and do not truly understand the divine tasks, obligations and purposes of leadership. Nigeria's biggest problem in this 21st century is to rid incompetent and irresponsible rulers and enthrone God-fearing leaders. Nigeria has a leadership crisis. The ex-governors and rulers like IBB, late Abacha, Adamu Ciroma, Ibori, Orji Kalu, Odili, Uduaghan, current National Assembly, etc., embody that group of politicians.
Corruption – Siemens, Halliburton and the Nigeria's threat to arrest Dick Chiney
The headlines of bribery and corruption involving men and women holding public offices are again all over our National newspapers and Internet again. The scandals for bribe, tax evasion, embezzlement, looting and money laundering by the very people entrusted with public service and treasury are just alarming. Whether we are talking of the Siemens and Wilbros bribery scandals for contracts, Halliburton, Chevron, Texaco, Royal Dutch and Bake Hughes bribe for tax evasion, or looting and money laundering by former governors; not to mention the billions of Naira spent by the former INEC chairman to organize the most fraudulent election in the history of Nigeria, that that regaled PDP victory, the National Identity card project fraud, the N300 billion for road construction without any good road to show for it, PTDF looting, privatization of Federal Establishments to friends and families, trillions of waste in the energy sector etc. One can revisit the last eight years and make a long list of fraudulent contracts, stealing, embezzlement, looting and all kinds of waste by our so-called leaders.
Recently reading about the threat by EFCC Chairman, Mrs. Farida Waziri to arrest the U.S. former Vice President, Dick Cheney was just amusing. She has not arrested corrupt politicians and greedy Nigerians still walking free on our soil –like IBB, Atiku, Orji kalu, Ibori, Uduaghan, Odili and so many other political thieves and thugs including the men and women in the National Assembly today – before talking about arresting former U.S. VP Dick Cheney. What a joke from EFCC. Why would EFCC opt for 'out of court settlement' and payment of $35 million to Nigerian government to withdraw a case of bribery and corruption against former US Vice President, Mr. Dick Cheney. In-fact the threat by EFCC to arrest the U.S. former Vice President, Dick Cheney is just an empty one and April fool.
Religious Violence, Terrorism, Moral & Social Decadence, Ethnicity, & Tribalism It is a known fact that Nigeria is a multi-ethnic group. Various colonies and empires make up the current Nigerian nation – various peoples groups, cultures, languages, religion, belief, faith and political systems. However, Nigeria is not a unique case in human history. There are a lot of nations with such multiple ethnicities. Many have written on the amalgamation of Nigeria as an issue that should be addressed if we truly desire to live peacefully. Others call for federalism, resource control or even equitable distribution of resource. Some are even calling for drastic measures such as division of Nigerian into three or four countries. I do not believe that will solve our problem per say. Nigerians must learn how to live in harmony with itself and her people. I believe that Nigeria must forgive itself because without genuine forgiveness and reconciliation, there cannot be order, unity and peace in our country. We cannot move forward as a nation and fulfill our common purpose and destiny if ethnicity, tribalism, injustice and religious tolerance are not addressed in our country. We truly need a national identity that harbors ethnicity and discourages tribal identity. The Holy Scriptures teaches that righteousness and justice exalt a nation. Righteousness and justice are the foundation of any nation. No nation can flourish; have order, peace, security and prosperity without righteousness and justice. Justice is ought to be a prominent concern of any credible leader who loves and cares for the citizens. The negative effects of injustice will always prevent and prevent us from reaching our potential as a nation. Those social and moral depravities must be eradicated.Also the moral and social decadence must be combated. Despite the proliferation of all kind of churches in Nigeria, religious hypocrisy, ignorance, and illiteracy abound – with rituals, divination, astrology, sorcery, witchcraft, magic, and all manners of evil and satanic worship. Most of the parishioners are gullible and put up with unbiblical teachings. Sadly, the messages that are proclaimed and promoted over our airways today are sometimes totally inconsistent with the teaching of the Holy Scriptures. What we have nowadays are pragmatic psychological philosophies and metaphysical powers to attaining success or solving spiritual problems rather than a sound exposition of God's Word. Christians that are supposed to be the salt and light of the world are now worse than worldly people with greed, hatred, corruption, idolatry, jealousy and envy.
The Scourge of armed robbery and kidnapping in the Southeast – especially Abia State
I am not a big supporter of Governor Theodore Orji, but I must congratulate him and off-course the Federal Government for pouring armed resources to combat the scourge of open day robbery and kidnapping in the Southeast especially in Abia State – God's own State. Thanks to the former Governor Orji Kalu, God's State was turned into Devil's State. Gov. Theodore has shown leadership even though it has taken long time to cleanup the mess of the past and abusive government. He should now focus on the development of the state. Abia State ought to be the hub of Nigeria and West Africa in terms of industrial development, manufacturing, technology and services industry. Unfortunately, the previous government lacked the vision to properly position the state where it ought to be. Former Governor Orji kalu and his mother abused public funds and created their family business cartels rather than develop the state. Aba, the industrial city of Nigeria was turned into a garbage and ghost town. The former Governor's political thugs, kidnappers and armed robbers took siege of the city and entire Abia State – but thanks to Governor Theodore Orji, it is only a matter of time for God's own State to pick-up the momentum and its rightful place in the federation. Abia State has the potential and if properly harnessed could become the industrial hub of Southeast region of Nigeria.
Resignation of Professor Dora Akunyili
The resignation of Iron lady of Nigeria – the former NAFDAC director and minister of information and communication, Prof. Dora Akunyili though a surprise, is a smart move. I believe she's a smart woman and calculated very carefully before deciding to join the game of politics. Even though joining politics is not the only way to serve or make impact in a society, I still think Prof. Dora Akunyili is positioning herself to serve the nation even in higher places. Nigeria needs a woman president – and very soon. Enough of these egoistic, visionless, incompetent and irresponsible men in position of leadership today.
Constitution Amendment - No to State Creation
Nigeria should do away with zoning, biased geo-political structure and give autonomy to states and local governments. Nigerian needs constitutional amendment to correct the injustices and imbalances in the system. The constitutional amendment should also address issues such as national identity, national value system, patriotism, religion, ethnicity, and electoral reform, the powers of the executive president, national assembly, senate, state police, local government autonomy, and various political office holders. This must be done to correct imbalances otherwise; the issues of inequality and injustice will continue to threaten the sovereignty of Nigeria.
Nigeria is Leaking - Assange and Wiki leaks
We are in a new world order – information technology and globalization. The pioneers of this powerful concept of global village are on their game. Information as we know it is no longer safe or a secret – provided it is not spoken, written, and archived anywhere. The only safe information is the one not spoken. Recently, I read that the new electronic gadgets such as wireless and mobile phones being developed are capable of reading the brain and understanding what the owner is thinking. Welcome to the new world of super information highway and supernatural information technology. I long for a day when our leaders will think like technologists in innovation and leadership.
The Qualities of a True and Great Leader
Leadership is a divine duty and a sacred task. It is a great sacrifice and service to humanity. Leadership is hard work. Leadership requires wisdom and courage that can only come from the God. Jesus, the greatest leader ever known to mankind made this statement two thousand years ago, "Whoever wants to become great among you must be your servant, and whoever wants to be first must be your slave just as the Son of Man did not come to be served, but to give his life as a ransom" (Matthew 20:26-28). Jesus said that to be a leader, one must be willing to serve, be a slave and ready to die. My friends - that is what genuine, pure and godly leadership is about.
A true leader is someone who is called by God, people or circumstances to possess virtuous character and who effectively motivates, mobilizes resources and directs people toward the fulfillment of a joint embraced vision. Leadership is the ability to set goals in accordance with divine purposes for the future and to communicate those goals to others in such a way that they voluntarily and harmoniously work together to accomplish those goals for the benefits of all. Any thing outside this is satanic leadership and that what unfortunately prevails in our society today. God has blessed our nation that there is no need for people of Nigeria to suffer poverty, hunger, lack which naturally leads to crime, corruption, hatred, violence, war and death. What we see today in Nigeria is not leadership. Today's leaders want to be served rather than serve. None of our politicians today want to die for their followers in the sense of working for the people rather they want the people to work for their selfish interests. Today's rulers do not have the interest of the people at heart at all. Most of them are rather driven by greed, corruption, jealousy and hatred. And any criticism of their leadership style is a threat to their satanic powers, authority and influence.
A great leader must posses these essential qualities: a Call, Character, Courage, Compassion, Commitment, Charisma (ability to listen to people), and Change maker (innovation). Great leaders recognize that all people have great worth; the leader's task is to maximize their delivery of the unique value each person. All great leaders believe they have a moral responsibility to take care of people they serve. No one should attempt to lead people unless you are prepared to pay a significant emotional, physical and spiritual price for their well-being.As 2010 ends and we enter 2011, Nigerians must prepare to go to pooling booths again, let us elect those who have the character, courage and capacity to lead one of the most powerful nations in Africa. Let us elect those who are ready to serve the people rather than expect to be served. Let us elect those who are willing to sacrifice and work hard for the common people. Let us elect those who will provide peaceful environment for the people of Nigeria to prosper and fulfill their God given life. Let us elect those who are willing to become slaves rather than being slave masters. Let us elect those who will provide order, peace and security for all Nigerians. Let us elect those who are willing to give their lives as ransom in order to serve. Let us elect those who truly understand the divine duties of leadership – i.e., those who are willing to pay a significant emotional, physical and sacrificial price for you.
May the souls of those who perished in the recent Satanic, barbaric and dastardly acts of Boko haram – aka "Jama'atu ahlus" rest in eternal peace? May the LORD dry the tears of family members that have lost their husbands, wives, sons, daughters, or family members? May God fill them and the entire people of Nigeria with His peace and strength during this time of sorrow, sadness, and mourning! Let us be strong and be encouraged and know that one fine day all these will make sense.
Wishing you a peaceful, healthy, and prosperous New Year 2011.
Happy Holidays.

Disclaimer:

"The views/contents expressed in this article are the sole responsibility of

thewillnigeria.com

and do not necessarily reflect those of The Nigerian Voice. The Nigerian Voice will not be responsible or liable for any inaccurate or incorrect statements contained in this article."
Articles by thewillnigeria.com