New Year Eve Bombing: Ribadu Urges Jonathan To Act Promptly & Strong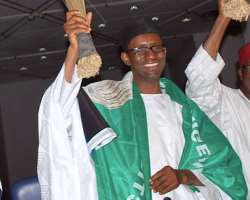 PHOTO: ACTION CONGRESS OF NIGERIA (ACN) PRESIDENTIAL ASPIRANT NUHU RIBADU.
SAN FRANCISCO, Jan 01, (THEWILL) - Presidential aspirant of the Action Congress of Nigeria (ACN), Mr. Nuhu Ribadu has urged President Goodluck Jonathan to 'step out promptly and strongly to guarantee the security of Nigerians from random acts of terror that is fast enveloping community life in the country.'
Ribadu also condoled with the victims of the New Year Eve Abuja bomb blast that killed four persons and wounded many others. Mr. Ribadu described the perpetrators of the bomb blasts as "cowards and cruel people who deserve no place in a civilised community" adding that the basic minimum expectation from the government now "is to ensure that the perpetrators of this crazy attack on the fraternal values that unite our communities are promptly and sternly brought to justice." Mr. Ribadu also asked for soberity in response from the populace asking the political parties to urgently engage with their members to promote tolerance and policies that empower those in their ranks that are champions of peace and social unity."
President Goodluck Jonathan has assured Nigerians that the 'criminals' the 'demons' have used for the attack will be apprehended and brought to justice.