UN to investigate Ivory Coast violation reports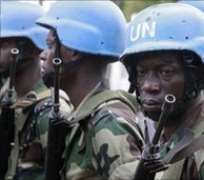 UN peacekeepers have been instructed to do all they can to investigate sites of alleged human rights violations, following November's disputed election.
The UN says it had tried to go to the site of one reported mass grave, but was blocked by security forces loyal to incumbent President Laurent Gbagbo.
Human rights groups claim allies of Mr Gbagbo have been abducting opponents.
Meanwhile, regional group Ecowas and the African Union are due to meet to Mr Gbagbo for more talks on Monday.
So far Mr Gbagbo has refused demands from the world community to stand down in favour of his rival in the 28 November presidential polls, Alassane Ouattara, who is internationally recognised as the victor.
Kenyan Prime Minister Raila Odinga, who is leading AU negotiations, has arrived in Nigeria to meet Nigerian President Goodluck Jonathan, who heads Ecowas, before talks in Ivory Coast.
'Record violations'
UN spokeman Martin Nesirky said UN Secretary General Ban Ki-Moon told Mr Ouattara in a phonecall on Saturday that he was "alarmed by the reports of egregious human rights violations".
"He (Mr Ban) said UNOCI had been instructed to do everything possible to gain access to the affected areas both for prevention and to investigate and record the violations so that those responsible will be held accountable," Mr Nesirky said in a statement.
The UN says some 200 people have been killed or have disappeared in the past month - mostly supporters of Mr Ouattara.
It says it has received reports of at least two mass graves and has been repeatedly blocked from investigating one of them, on the outskirts of Abidjan. When investigators tried to go, truckloads of men with guns showed up and forced them to leave.
The other reported site lies in the centre of the country, near Gagnoa.
The Gbagbo government has repeatedly denied the existence of any mass graves.
UN human rights chief Navi Pillay has written to Mr Gbagbo to tell him he could be held criminally accountable for abuses.
Mr Ouattara has asked for the International Criminal Court in the Hague to send a mission to the country to investigate the reports, and reiterated the call on Saturday.
The UN has also expressed concern that some of the homes of opponents to Mr Gbagbo have been marked to identify the ethnicity of their occupants, indicating signs the country could be heading for ethnic violence.
'Pressure'
Some of Ivory Coast's neighbours have threatened to oust Mr Gbagbo by force. The UK has said it would back military intervention, if sanctioned by the UN.
In an address for the new year, Mr Gbagbo said the pressure for him to quit amounted to "an attempted coup d'etat carried out under the banner of the international community".
He reiterated a call for the UN peacekeeping mission (UNOCI) to leave the country.
UN peacekeepers are protecting Mr Ouattara, who is holed up in a hotel in the main city, Abidjan.
The election was intended to reunify the country which has been divided since a 2002 conflict.
Mr Ouattara was initially proclaimed the winner by Ivory Coast's election commission, but the Constitutional Council said Mr Gbagbo had won. Both men have been sworn in as president.