NCAC MEDAL FOR GOWON, OSADEBE, OTHERS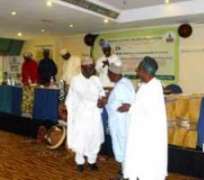 IN the honours' list is former Head of State General Yakubu Gowon received the Special Honours Award for the promotion of national unity through the instrument of All Nigerian Festival of Arts, which later transformed into the yearly National Festival of Arts and Culture (NAFEST).
The others are two eminent Nigerians and a corporate organization, which also bagged the NCAC Honours Awards. They were the late highlife musician, Chief Osita Stephen Osadebe, Professor Akinwumi Ishola as well as Paxherbals Clinic and Research Limited.
Aside the usual productivity awards given to some deserving members of staff, the council also gave merit awards to five school children that participated and won in the 1st Nigerian Art Olympiad held during the year. The best among the children would be participating in the International Art Olympiad holding in New York City early 2011.
In his welcome address, the Executive Director/Chief Executive Officer, National Council for Arts and Culture, Mr. M.M. Maidugu, said the awards were in recognition and celebration of creativity, hard work and commitment to the promotion of culture, peace and nation building.
Maidugu said General Gowon was being honoured for promoting peaceful coexistence among Nigerians. 'The Council and Nigerians will continue to cherish your legacies and disposition towards the cause of peace and nation building.'
The Chairman of the occasion, Prof. Jerry Gana, on his part, described Gowon as a role model and one, who has promoted, lived and ensured that even in the most difficult situation, there was no victor and no vanquish.
He said: 'You are a great leader, who has demonstrated the most important role of peace in human development. You are a great leader of distinguished character, leader with great vision, who have given so much to Nigeria.'
Speaking about government's attitude to culture, he believed the sector is yet to be given adequate attention considering the enormous potentials embedded in it. According to him, culture is central to development as it does not only educate but also refine the people.
On the role of culture in peace building and national integration, Gana emphasized that peace is a product of justice, fairness, equity and that any culture that fails to pay attention to these virtues is bound to face crises.
He therefore called on the leaders to enthrone justice and equity even in the distribution of nation's resources.
At the occasion, Prof. Yakubu Nasidi of the Department of English and Literary Studies, Ahmadu Bello University, Zaria spoke on The Role of Culture in Peace Building and National Integration. He tasked cultural organs of the government to be up and doing as they have a crucial role to play for absolute peace to return to the warring communities in Nigeria.
Like in the days of MAMSER, he urged them to embark on the public enlightenment campaigns based on the theme of peace and tolerance.
According to Nasidi, 'culture has the ability to make people see others in a certain way - imposes an identity on them and condition their behaviour and response to the world.'
Quoting Prof. Peter Ekeh, Nasidi defined culture as a conduit pipe of values, meanings and practices, which the individual imbibes to be a member of the society. He added that it would be difficult for any society to survive without culture as it structures individual's perception of his role and his identity in a particular social or political setting.
On the other hand, the lecturer described peace as a precondition for culture and national integration. According to him, peace is achieved, when there is an atmosphere of harmonious co-existence between peoples based on tolerance and understanding on social justice and good governance.
His words: 'Certainly, where there is social exclusion, poverty and deprivation, positive peace will remain elusive. On the surface, a society might look calm and peaceful but below is a seething cauldron of latent conflicts waiting to erupt to suppress and victimize the innocent.'
On national integration, he remarked that ever since the amalgamation of Northern and Southern Protectorates in 1914, Nigeria has faced the challenge of evolving a single national culture out of the multi-ethnicity constitution of the country.
He however suggested that rather than become an instrument of separation, the nation's diverse cultures could help in facilitating a common national identity but not without the willingness to identify unity in diversity.
'Our Nigerian culture then, rather than become vehicles of separation and difference, could become the facilitators of a common Nigerian identity. Difference or diversity should not constitute a stumbling block.
Sometimes, they are the precondition for genuine unity. What is required is a willingness to understand that there could indeed by unity in diversity', Nasidi said.
In his response, General Gowon commended NCAC for the award. He said he was able to achieve significant success during his administration as a result of love and support he enjoyed from Nigerians.
'The award for peace and unity was made possible by Nigerians, who lived at that time. I also appreciate the love and respect the younger generations of Nigerians give to me. Maybe it was as a result of what they heard from their parents. We have played our part, you have the responsibility to play greater role in nation building. The future of Nigeria is in your hands. You should do well and work hard', he said.
Gowon stated that peace, unity and justice are what Nigerians require at the present time to remain together. 'We must understand and believe in one another for peace to reign.'
NCAC also used the occasion to officially present the publication: The Nigerian Home Video Industry: Living in the Bondage of Wealth Creation, which was last year's lecture.