CREDIBILITY OF DELTA RE-RUN POLLS DEPENDS ON INEC'S VOTERS' REGISTER, SAYS OGBORU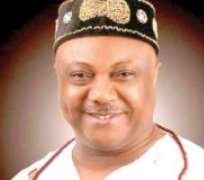 The Democratic Peoples Party (DPP) candidate in 2007 governorship election, Chief Great Ovedje Ogboru, has said that the Independent National Electoral Commission (INEC) must use a new voters register for the January 6, re-run election in Delta State. He spoke to Joe Adiorho. Excerpts:
WERE you taken unawares by the Appeal Court judgment and why did you delay flagging off your campaign?
We didn't start our campaign late. I am just a candidate of my party, and when the judgment came, the party mobilised our people's support, and it was thought that the better thing to do is allow other people do the talking at that time. A month later on December 7, I came into the scene, which was termed 'The Triumphant Rally' in Delta. It was an unprecedented show of support and the people of Delta now know that we are on grassroots mobilisation.
How prepared are you then for the January 6, 2011 rerun?
We are ready. What happened on December 7 was not just a spontaneous display of passion by the people of Delta. It was a well-organised and focused enthusiasm by the electorate. If within a short time, the people of Delta could be so organised to come out in their numbers from different political organisations, then it should give me a clear indication of the outcome if we were to do an election today and especially if these same people are voters. In elections people vote and the type of people who vote are politically conscious persons.
There is a problem though. The INEC is not ready. As at December 23, we asked INEC for the voters' register, which they want to use to conduct the rerun election and they told us that they were still trying to doctor the 2007 register to make it credible. But INEC and its chairman Prof Attahiru Jega had told us that the 2006 or 2007 voters' register has zero credibility and could not be used.
Now we are asking, how does INEC want to change that zero-credibility register without the benefit of a fresh registration, or are we saying that Jega wants to start by conducting an election that lacks credibility. Without a voters' register, no type of election can be conducted, good, bad or indifferent.
They are still trying to get the register for the elections in place and the question is, why could not INEC conclude that simple exercise before giving a date for the election?
Some people are asking why we are complaining and other people are not complaining. The answer is simple. We are the people that the electorate wants to vote for. If we don't complain, then they would be disenfranchised and there would be another miscarriage of justice. So, it is our view that INEC is not prepared for this election.
How would you ensure that those people who were in the December 7 rally are not disenfranchised?
I have said in strong terms that we are trying to guard against the disenfranchisement of the people and a majority of them for that matter. For several reasons, many of them would be disenfranchised especially after the sham elections. People were disenchanted in the system and they did not want to participate in the democratic process anymore. But now they have hope because the Court of Appeal reversed the sham elections.
They want to vote but unfortunately, many of them can no longer find their voters' cards, because they had temporary voter' card. Many also have attained voting age and would want to vote, but they don't have voters' card. But INEC told us recently that those whose photographs and digital data appear in the register, would vote, as long as they can be properly identified. This seems like a good step, but to make it better and beneficial to the electorate, there is need for that register to be displayed, and the people given sufficient time to identify the voting centres and booths in which their names would appear.
From our perspective, a minimum of 10 days should be given for that exercise before an election, because within a 10-day period, people would be able to find out where their names are in the register. We are asking INEC to give Delta people the voters' register and give them 10 days to organise themselves to vote. If INEC cannot do that, then their motive must be disappointingly ulterior. We don't know what the rush is about.
We still have 30 days or 31 days between the January 6, and the terminal date of 90 days allowed by the Court of Appeal. So what is the problem with INEC? In any case, the court did not prohibit the use of a new register.  So, what INEC needed to do was to take Delta as a pilot case, conduct the registration of voters' in the state before other places. If they say they would start on January 15 nationwide why don't you start on the January 3 or 4 in Delta then conclude before January 15 and thereafter display the register for three to five days as statutorily required and then conduct the election.
We are beginning to have doubts about the credibility of Jega, because we see that there is a problem of capacity in the handling of this question.
The Court of Appeal said that elections did not take place and INEC is not making a fair effort to conduct a credible election. He has not made any statement about the Delta rerun elections. We are not even talking about visiting the state. He has not even shown concern about the kind of elections he wants to conduct in Delta. We are beginning to question Jega and his huge credibility portfolio. I hope that he would not disappoint Nigerians.
Why do you think that the people of Delta would vote for you?
It is not just one issue. It is a collection of what we call value system. Delta today is a state where strange things happen. If it were not so, it would not be possible to produce a governor without an election. Only gangsters can do that. Unfortunately people feel that they can get away with impunity in the state. An airport that should cost N1.7 billion or N2 billion ends up at a whooping N40 billion and nobody is asking questions. The same persons have the impudence to try to impugn those who are asking questions. The same people with so much impunity will spend N14 billion on a project whose site is still occupied by bush. That is the kind of mindset that the former governor James Ibori, and his cousin, Emmanuel Uduaghan brought to Delta. The people of Delta do not want to continue with them.
There are four other persons in this race…
The people of Delta believe that we are going to do what is good and beneficial for the proper running of this state at any point in time. Our party manifesto is such that we will be able to stand by direct positive investment in each of the councils on a monthly basis of not less than a N100 million for their development.
This means that direct investment in terms of development in those councils will create synergy, opportunities and then residual income thereby strengthening the economy of those councils and in the process create employment, savings, investments, and access to capital. When all of these are put together you are creating a strong economy. That's something we are telling them we'll do because today Delta has no economy at all today. What we have is cash from Abuja and the next day capital flight to Europe. That is what Delta is and they do that by massive over invoicing of projects without accountability.
In any case, we have said that education will be free in Delta. We have said we have to go back to the old ways where we have to make farming a way of life. We are going to see integrated farm settlements and in most cases there will be a state-led growth strategy, which means that the state has to take an active part in making sure that the people are able to gainfully employ themselves.
Do you share the concern of some people who say that because three other candidates come from the same Urhobo area as your votes might be divided thereby tilting the advantage to the PDP?
Yes, there are four persons but not all are strong contenders. The mere fact that four Urhobo people are contesting doesn't mean that the votes would necessarily be split. the Urhobo are not stupid; they know a leader amongst them, and leadership is determined by a majority of the people. I know that the Urhobo people have endorsed my leadership; they did so in 2007 and they have done so again.
Is there any kind of negotiation going on now?
Who will we negotiate with?
Politics is about negotiation. Is anybody going to step down for you?
One of the candidates was not a candidate in 2007. He said he conducted a primary for himself in 2010 for an election that should have taken place in 2007. That tells us that he is not a candidate for the rerun election and it is a legal issue. There is a candidate for that party, the former deputy governorship candidate to the late man, whom I do not know. She has said she is the candidate and rightly so. If the candidate passed away the deputy must take over as of necessity.
In 2007, you were the consensus candidate by the Delta elders, leaders and stakeholders. Are you still regarded as such?
I am sure that the same people who made that consensus candidacy possible will reaffirm their faith and confidence in that ticket. So we are on track.
Has Chief Edwin K. Clark met you and other contestants to seek a consensus candidate then?
Not all the candidates belong to his party. The one that is supposed to be in his party has left and I know that he is not in good terms with that one. I still believe that in spite of the different political constraints we have today, Papa Clark and majority of persons who made that candidacy a consensus would still reaffirm it.
Do you think that President Goodluck Jonathan is supporting any candidate?
When President Jonathan talked of one-man, one-vote, he was sending a message to Nigerians that Nigeria comes first. When we talk about one-man one-vote we are saying that it can no longer be business as usual, no godfatherism, no family business. Nigerians must decide what they want, and when that happens, you must put Nigeria first. President Jonathan has put Nigeria first. He is not going to support a candidate that stayed in the office illegally for three and half years and frittered away the patrimony of the people of Delta because they belong to the same party.
Although Uduaghan will contest the election out of office, are you worried about the power of incumbency?
Well, he could not stop the Court of Appeal from taking him out of office. Today, he will face the mood of the country, which is that of one-man, one- vote. He is gone for good because the people of Delta are angry with him. He robbed our people their right to franchise. In any case, people are saying that he did very badly in three and half years. What power does he have? He hasn't got any power because the electorate has the power. He does not have the power to change the will of the people of Delta. That is where true power lies.
In 2003 and 2007 that you ran this race, you claimed that you were robbed. This time around, how do you plan to ensure that you are not robbed?
In every society, change is slow but sure. Today the national leadership has realised that we can no longer continue with what we have been doing in the past. We no longer can continue with this style of impunity.
We no longer can continue with this family business and then the relegation of the constitution. One-man one-vote means we have to become accountable and responsible; it is a categorical imperative so implied because with it comes statement of facts, statements that must follow certain actions. When we say one-man, one-vote, it is not just a catch phrase; it has a deeper meaning.
If the leadership of Nigeria has moved from do-or-die politics to one-man, one- vote, then you understand that mood of change is recognition of the fact that we have been robbing our brothers and sisters. And what has that led to? It has led to a massive capital flight and underdevelopment of our country, Nigeria becoming a pariah nation, apathy in the polity and the fear of insurrection in the not too distant future unless genuine change takes place. So there is mutual suspicion and fear that unless things get better, there is going to be an implosion.
What would you tell INEC to do to make this re-run election a success?
The electoral commission should seize the opportunity of the voters' registration that is supposed to take place in January to conduct a fresh voters' registration for Delta and use that as basis for the re-run election.
But if INEC is saying that they are hamstrung by the status of the Electoral Act and that they cannot use that fresh register then what they say they are doing is to expunge all fictitious and questionable names from the register. When that is done, we expect INEC to display that register, which they want to use for that election, and to give a minimum of 14 days from when that display is commenced before an election takes place. For the people to participate in this electoral process, they have to be able to find out where their names are in the register. If they are not able to do so, how will they vote? In a nutshell there are two ways out.  First, is a fresh register or secondly, sufficient time after a display of a credible register before the re-run election.
But if INEC goes on with what it is doing now, what are your chances?
We will not allow INEC to go on with that old register that we know is defective without kicking. We are going to first appeal to INEC to update that register to the best of its ability and then to display it, and then to give us minimum of 10 days for its display for claims and objections. If we do not get that assurance from INEC we will put them in court.