CBN TIGHTENS RULES ON FOREX, IMPORTATION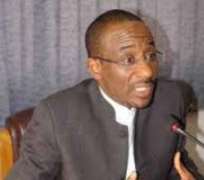 THE recent massive importation of military hardware into the country through the nation's ports may have compelled the Central Bank of Nigeria (CBN) to tighten the procedures for accessing foreign exchange (forex) by importers.
Thus starting from next year, banks in the country must be sure of products being imported into the country by their customers before foreign exchange is made available to them.
Apart from the nature of the goods being imported, other areas the banks are expected by the apex bank to scrutinise before making forex available to the importers are the history of both the importers and their overseas suppliers.
A source within the apex bank told The Guardian that the CBN's move was geared towards complementing the Federal Government's new resolve to checkmate the recent influx of unwanted goods, especially arms, into the country.
Based on that, the apex bank in a memo to the banks insisted that customers' underlying transactions and supporting documents must be validated by the banks before forex was sold to the importers.
Meanwhile, the apex bank informed the banks that advance payments by an importer to a supplier of goods prior to shipment has been reduced from 20 per cent of cost and freight (C&F) to 15 per cent of Fee on Brand (FOB).
C & F means a situation whereby there is a negotiation between the importer and supplier over who pays the freight charges, while FOB is a situation whereby the importer decides the freight and charges.
The apex bank equally stressed that its approval must be obtained for any advance payment above 15 per cent of FOB.
To also monitor the important procedure, the CBN warned that authorised dealers were expected to get CBN's approval for shipping documents predating form 'm' and letter of credit (LC) approval dates.
The implication is that form 'm' must have been approved before shipment, unlike the former practice of obtaining the form after shipping.
Form 'm' in shipping parlance means the form containing details of the goods shipped, destination, country of origin, among other vital information.
Security agencies in the country had in October this year intercepted artillery rockets and other weapons at a Lagos port in shipping containers labelled as building supplies, which originated from Iran and might have been destined for Nigerian politicians intending violence if they lose in 2011 elections.
An international shipping company based in France, CMA CGM, said it had picked up the containers in which the weapons were hidden in the southern Iranian port of Bandar Abbas. The shipment stopped in Mumbai, India, before heading to Lagos.
It was learnt that the shipper sought to have the containers reloaded and sent to Gambia, while Nigeria's intelligence agency said it had been monitoring the shipment, before it arrived in the country.