GBAGBO REBUFFS W'AFRICAN LEADERS' ULTIMATUM TO STEP DOWN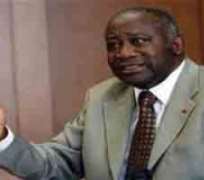 WEST African presidents' bid to mediate in the Cote d'Ivoire crisis has failed as the government of incumbent leader, Laurent Gbagbo, has rebuffed a call for him to step down or face removal by force.
Regional and world powers want Gbagbo to cede power to rival presidential claimant, Alassane Ouattara, after elections last month provoked a dispute that has killed more than 170 people and threatens to tip the country back into civil war.
The three presidents - Benin's Boni Yayi, Sierra Leone's Ernest Bai Koroma and Pedro Pires of Cape Verde - arrived in Abidjan yesterday to hand over the call from the West African bloc Economic Community of West African States (ECOWAS) to resign or face military intervention.
Gbagbo's government originally said it would welcome the emissaries 'as brothers and friends and listen to the message they have to convey.'
But shortly before they were expected to meet Gbagbo at about 1300 GMT, his government warned it would not tolerate any meddling in its affairs, nor would it heed any call to make way for Ouattara.
'Let's avoid political delinquency. No international institution has the right to intervene by force to impose a president in a sovereign state,' government spokesman, Ahoua Don Melo, told the British Broadcasting Corporation (BBC) in an interview when asked if Gbagbo would leave.
Some newspapers said Gbagbo's government insistence that he won last month's elections and that he is backed by the Cote d'Ivoire's constitution, was already a clear sign that he is not going to heed the ultimatum to step down.
Provisional elections' results in the world's largest cocoa grower showed Ouattara winning by eight percentage-points. But the nation's top court, run by a Gbagbo ally, overturned the results amid allegations of fraud. The United States and the European Union have slapped a travel ban on Gbagbo and his inner circle while the World Bank and the regional West African central bank have frozen his finances in an attempt to weaken his grip on power.
The standoff turned violent this month after Ouattara supporters tried to seize the state broadcaster's building and clashed with security forces, killing at least 20 people.
After several days of calm, sporadic gunfire was heard yesterday morning in the Abidjan neighbourhood of Abobo, a stronghold of Ouattara supporters.
A Reuters witness said police were chasing youths who were trying to set up barricades with burning tyres. It is not known if there are casualties.
Residents and human rights groups have accused pro-Gbagbo gunmen of extra-judicial killings, kidnappings and torture since the election. The UN condemned the violence.
The election was meant to heal the wounds of a 2002-03 civil war that split the country in two, but experts now fear the dispute over the results could reignite conflict.
The turmoil has pushed cocoa futures to recent four-month highs amid fears it could eventually disrupt exports. Cote d'Ivoire's Eurobond hit a record low last week on concern that the country would not meet a $30 million bond payment December 31.
The regional bloc ECOWAS is comprised of Benin, Burkina Faso, Cape Verde, Cote d'Ivoire, Gambia, Ghana, Guinea, Guinea-Bissau, Liberia, Mali, Niger, Nigeria, Senegal, Sierra Leone and Togo.