OHANEZE WOMEN GO TO THE POLLS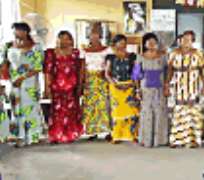 While Nigerians are daily watching as political gladiators hawk their manifestoes, persuading the people to cast their votes for them in return for service, the Women Wing of Ohaneze Ndigbo, Lagos State, recently cast their votes for those they felt would render service to them.
The event took place recently at the Railway Recreation Club, Yaba.
State Women leader, Lolo Priscilla Chima Ikeji said the reason for the election was because of the negative attitude of those elected in November last year. They allegedly abandoned their duty posts, leaving the job for the leaders.
Participants agreed that Dr. Chris Njoku who was sent by the Ohaneze indigbo to supervise the election did a marvelous job. Before the election proper, he told the contestants that whoever won should cooperate with the body for the betterment of Ndigbo. He also urged them to solve any differences within themselves, adding that they were elected to office for service.
In her remarks, Lolo Ikeji, while thanking God for the gift of life, admonished the women for the need to offer themselves for the service of the Igbo race and the oneness of the country.
'We should cooperate to achieve a common goal with one resolve and that is to see that Nigeria is one. We came from different parts of the country to Lagos and we travel with the same vehicle to the East. Ohaneze helps the poor and also empower them. They fight those who unjustly oppress them among other form of assistance.
Since November last year that we had an election, I was the only person working. It is not a do or die affair. Whether you win or not, you should help in supporting the association.'
The contestants were advised to make out time for meetings and other engagement required of them from the body. She said if anyone of them does not have time to render service, she should immediately desist from contesting.
The women, who came from all the corners of the state, got representatives from the local governments in Lagos State.
At the end of the exercise, Chief Mrs. Kate Ogonnia was elected Treasurer, Achinze Achama Rose, State Secretary, Mrs. Priscilla Uloma Nwauzo, Financial Secretary, Mrs. Agnes Obaji, Assistant Financial Secretary, Onyinye Delphin Anusiam, Publicity Secretary, Mrs. Ada Ibeneme, Welfare Officer, Ngozi Sylva Anadozie, Welfare 2, Mrs. Christiana Okoli, Welfare 3, Lolo Rose Uloaku Onuoha, Organising Secretary, Lolo Joy Dike, Provost 2, among others.
Njoku thereafter administered oath of office on the new executives after which they commenced work.