AGAIN, FIXTURES MAY KNOCK WOODS OUT OF AUSTRALIAN OPEN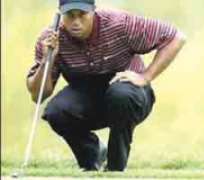 THE 2011 Australian Open will be staged the week before the Presidents Cup next November, the PGA of Australia has confirmed.
The historic tourney will start on November 10, with the Australian PGA Championship following the Presidents Cup at Royal Melbourne. The decision means that Tiger Woods is unlikely to play in his third straight Australian Masters, which is expected to take place in the first week in December.
The world number two had earlier stated that he would have preferred the Masters to be played the week before the United States (U.S.) takes on the International team in Melbourne. But PGA of Australia Chief Executive, Max Garske, said: 'There were a number of factors that needed to be carefully considered in finalising the scheduling for 2011.
'These included the timing of a number of international events, the availability of certain venues and the domestic schedule that best serves the Australian golfing public.
'With the focus of the golfing world set to be firmly on Melbourne come mid-November 2011, it is a given that the Presidents Cup will offer up a number of benefits to events falling on either side.
'So with these factors in mind, we feel we have made the decision in the best interest of the game and we now look forward to what will be a great year for the Australian golf community.'