ATIKU OPTIMISTIC OF NIGERIA'S ECONOMIC, POLITICAL GROWTH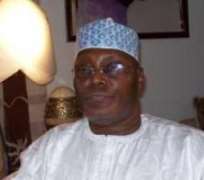 FORMER Vice President and presidential aspirant of the Peoples Democratic Party (PDP), Alhaji Atiku Abubakar, has stated that great promises are ahead for Nigerians.
In a Christmas and New Year message to Nigerians, the Turakin Adamawa expressed optimism that the country would overcome its travails and return to the path of socio-economic and political growth.
He said: 'As we celebrate this Special Season of Love and Peace to all humanity and await the coming year with its rich promises, it is important that we re-dedicate ourselves to the vision of our founding fathers. Christmas is as much a time for celebration as it is for stock-taking and sober reflection.
'I salute the doggedness of our people in building a functional democratic society and their indomitable courage in the face of so many social, economic and political challenges. I believe that the collective will of all Nigerians is capable of lifting the national spirit, and in using the symbolism of Christmas to turn our great hopes and expectations in the coming year into reality.
'I urge all our people – rich and poor, city dweller and farmers, teachers and doctors, artisans and entrepreneurs – to imbibe the spirit of this season of tolerance, care, understanding and compassion so that our communities will be free of strife, and our nation, shorn of the false values that divide us as a people.'
The former vice president added: 'As we march into 2011, a year that will define our democracy and nation, probably as never before, let us stretch the hand of fellowship to one another, and see the future of our country as one of shared experiences and our common destiny. Together, with hard work, perseverance and uncommon passion, we can truly make good things happen in our fatherland.'