Top 15 Recent Bad African Movie Titles..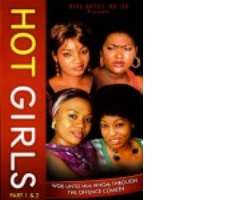 This might take me all day but it just has to be done!. In collaboration with the release of the worse movie title ever "Beyonce and Rihanna", I'm going to list 15 bad African Movie Titles that i have come across recently.
1. Tears In My Eyes — ft Ramsey and Kate Henshaw. Sorry but where else does tears com from?
2. Throne Of Tears — ft Emeka Ike. Enough with tears in movie titles. It doesn't work on us anymore!
3. Breaking News — ft Emeka Ike. Are we about to watch a CNN Coverage??
4. Give it up — ft Mercy Johnson and Ini Edo. Give what up? Too Sexual. Please Mr Producer give us more Details.
5. North and South — ft Patience Ozorkwor. Please producer, you forgot East and West!
6. Female Lion — ft Patience Ozorkwor. I think Female Teddy Bear would have been more welcoming.
7. Broken Tears — ft Van Vicker, Genevieve, Kate Henshaw. Have i already mentioned Enough tears in titles?
8. Divine Partner — ft Oge Okeye. I think Divine must be the most abused word in the history of Nollywood.
9. Dont Wanna Be A Player — ft Ini Edo, Mercy Johnson. Do i need to elaborate any further..please don't make me…
10. Sleep Walker — ft Jackie Appiah, Genevieve Nnaji. Sorry but the title just sounds creepy!
11. One More Man — ft Mercy Johnson. One more man to sleep with….kiss….which one producer?
12. I hate Women — ft Jackie Appiah, Van Vicker. The first Ghana Movie in our list. You hate Women? ..well we also hate who ever came up with the title.
13. Tempted to Touch — ft Desmond Elliot, Monalisa. Tempted to touch what? Is this a perverted movie? and is this a rip off from that 2000-something summer hit song?
14. The Princess Of My Life — ft Ini Edo, Desmond Elliot. Princess of my life, Princess of my soul..Princess of my heart…What about The Princess of My Leg and any other body parts they can find to include in the title.
15. Hot Girls — ft Omotola and Rita Dominic. Grown ass women features in a movie with such title? ..The Girls needs to be replaced with Mess!
Did I miss out Any Movie?..Let Me Know. Help me make this into a Top 20!