CAMEROON'S CAPTAIN FAULTS CAF ON FALCONS AWARD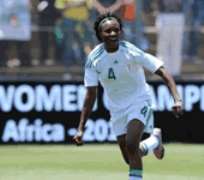 Nkwocha celebrating a goal during the last AWC in South Africa
Indomitable Lioness of Cameroon longest serving Captain, Bernadette Anong, has faulted the Confederation of African Football (CAF) on the award given to Nigeria's senior women team, Super Falcons, as the Women Team of the Year 2010.
CAF last week in Cairo, Egypt, chose Falcons as the continents Best Women National Team ahead of Nigeria's Under-20 team, the Falconets, and Equatorial Guinea's women team.
Reacting to the draws that saw Falcons' goal-scoring heroine, Perpetua Nkwocha being crowned Africa's Woman Player of the Year for the third time, Anong said that Nigeria's Falconets were more deserving of the award than their sister team.
Anong hinged her argument on the fact that Falconets, against all odds, came second at the Germany 2010 FIFA World Cup , a feat which she said brought joy and pride to women football in Africa.
'I don't think that Super Falcons deserve the awards. I believe it would have been more appropriate to reward the Nigeria Under-20 team for its exploits at the World Cup in Germany.' Anong remarked
' I know that Falcons were given the honour because they won the AWC for the sixth time in Africa, but the organisers of the award failed to realise that the tempo of the World Cup was quite higher than that of the AWC.
' I have played in the AWC for 10 years and I think that the level of the tournament this year was really low. That Nigeria has continued to win the trophy means that women soccer in the continent has not really progressed as it should be expected.
Anong, however, showered encomia on Sunana SK of Sweden's player, Perpetua Nkwocha , whom she said merited all the accolades that were coming her way.
' I had no doubt that Perpetua would be bestowed with the award for the third time. Not only was she outstanding at the AWC, she has equally excelled in her professional career with her Swedish club.
'She is a player that has shown so much commitment to Falcons, in fact, she remains the bedrock of the Nigeria's senior women team.
'I have first hand knowledge of the havoc she used to wreck on the Indomitable Lioness any time we played against Falcons. I salute her.'