Bill To Recognize Traditional Institution Underway - President Jonathan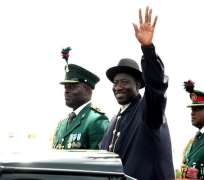 ABUJA, Dec 27, (THEWILL) - President Goodluck Ebele Jonathan has said his administration will present before the National Assembly next year, a bill that will grant the traditional institution in the country due recognition in the nation's constitution.
He stated this today during the formal coronation ceremony of HRH, King Lot Justin Ogiasa, Oke X, as the Obanema of Otuoke Kingdom in Ogbia LGA of Bayelsa State.
President Jonathan noted that while traditional rulers nationwide play key roles in engendering peace and development in the country, there is no national law that accords them constitutional recognition.
"I will work with the National Assembly to give proper recognition to the traditional institution in Nigeria. There is no national law that recognizes traditional ruIers, who play key roles in the unity and development of our country, and we have to correct this. I will submit a bill on this before the National Assembly next year," the President said.
He commended royal fathers in the country for their role in maintaining peace in their domains, urging them not to relent, but make more efforts to keep the peace, which he said is "costly".
The President also advised monarchs in the country to stay more in their domains and pay closer attention to the needs of their subjects, saying, "you cannot rule your people from the diaspora."
He described HRH King Lot Ogiasa as a consistent and ardent facilitator of community development, saying his coronation, as paramount ruler of Otuoke therefore did not come as a surprise.
In his remarks, Governor Timipre Silver of Bayelsa State, said all Bayelsans are proud of President Jonathan's emergence as commander in chief of Nigeria from a little community as Otuoke, and are totally in support of his bid to return to office as President in 2011.
"The only way to change Nigeria is through a Goodluck Revolution," he said.
Highlights of the occasion included the formal crowning of HRH King Lot Justin Ogiasa, Oke X, as the Obanema of Otuoke, followed by traditional dances and displays.
Born on 19th August 1940 in Otuoke community, Ogbia LGA, HRH King Lot Justine Ogiasa worked variously in the civil service of Rivers and Bayelsa States before retiring as a senior staff of the Bayelsa Ministry of Commerce, Industry and Tourism.
Other dignitaries at occasion included First Lady, Dame Patience Jonathan, Gov. Rotimi Amaechi of Rivers State, Bayelsa Deputy Governor, Hon. Wenimipre Seibarugu, members of the National Assembly, members of the Bayelsa executive council and legislature, HRM King Alfred Diette-Spiff, and presidential aides.