PANIC IN BAYELSA COMMUNITY OVER JOHN TOGO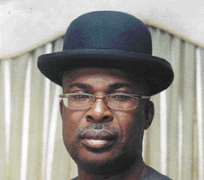 Sylva
There is panic in Amassoma, Southern Ijaw Local Government over reports that the leader of the Niger Delta Liberation Front (NDLF), John Togo is hiding in one of the villages close to the community.
The fears, in the community, were being fuelled by the presence of soldiers in the water- ways and the security that had been introduced in the creeks.
The Sector 2 Command of the Joint Military Task Force (JTF) had recently in a statement personally signed by its Commander, Col. Victor Ezugwu on plans to attack troops and oil facilities in Bayelsa State had warned that communities in the state should not harbour Togo.
Ezugwu in the statement had declared that any community that disregards the JTF warning does so at its own risk. Checks indicated that the warning from the command was based on reports that Togo had been sighted around some villages in Bayelsa State sharing boundary with Delta State. Few days ago following the instruction of the command, the 149 Battalion in the state under the supervision of Col. A. A. Ojajune destroyed nine ex-militant camps and occupied one in Ogbia Local Government Area of the state.
The destruction of the camps in Ogbia and occupation of one considered as strategic which had been executed in the other local governments which militants had camps was to ensure that NDLF had no foothold to regroup in Bayelsa State.  An intelligence source in the JTF said the security outfit under Major-General Charles Osas Omoriege was determined to put an end to the Togo threat in the Niger Delta region and would soon get him.
 The source said Omoriege made this clear when some Ijaw leaders visited him and disclosed to them how the JTF lost seven soldiers and one policeman to the battle with Togo in Delta and declared that the deaths of the men would not deter the military from apprehending the militant leader. A reliable source who pleaded anonymity and declined to name the village Togo was said to be hiding, however, assured that no community in Bayelsa had anything to fear as the JTF would see that no harm come to the people in the bid to flush out the militants leader.
Meanwhile, the NDLF had promised to cultivate a better working relationship with the Federal Government and see to the success of the amnesty programme if President Goodluck Jonathan could appoint Ms. Ankio Briggs or Mrs Agary Koripamor to head the amnesty committee as replacement for Mr. Ndutimi Alaibe.
NDLF in a statement by its spokesman, Mark Anthony a copy made available on-line to Daily Sun said since it was obvious that Alaibe may resign, its choice of the duo to the Federal Government 'is based on their transparent and sterling track records in their dogged and selfless fight towards the development of Niger Delta region over the years.'
 While noting that the choice of any of the two nominees 'may help to deal with the Niger Delta issues and ex-militants,' it added 'this appointment will give NDLF faith and enabling ground to work with the amnesty and support President Goodluck Jonathan in his bid to win the 2011 presidential election.'