STRUCTURES ALONE DON'T MAKE UNIVERSITY – PROF ADELABU, VC, UNIABUJA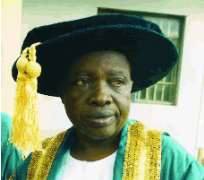 Prof. James Sunday Adebowale Adelabu, vice chancellor of the University of Abuja, has given insight into how his administration intends to turn the university around. He also spoke on challenges ahead in the school.
We know that it is not easy running a university as big and strategic as University of Abuja, especially being at the federal capital city. What are the challenges you face?
I'd really say, to God be the glory. As you rightly said, the university is in the nation's capital, and seat of power, where everybody has interest. But as much as possible, I see it as a challenge. It is all about putting all the resources together; maximise them to see how we can make it a university of international standard.
What efforts are you making towards making it an international university?
My efforts are encapsulated in my vision and missions for the university. One of the programmes I really thought about has to do with integrated farming. And in line with that, early in the year, we undertook a journey to Israel. We know Israel is a country without any land or natural resources, yet they are able to do so much. So, a team, which was led by the chairman of council, Prof. Iya Abubakar, went to Israel. We had two external members. I as the vice-chancellor, the registrar, the director of academic planning, and chairman of committee of deans, embarked on that study tour from which we really gained a lot and made some contacts.
Besides agriculture, we made useful contacts in the field of engineering and the sciences, to enable us to engage in collaborative studies. In line with that too, African Council for Distance Education, of which University of Abuja is a member, had just, at the last meeting we had in Nairobi, Kenya, elected me to complete what is remaining of the tenure of our zone here, to be the chairman. So, in the area of distance learning, we are trying to see how much we can relate with other people. And under that same African Council for Distance Education, I happen to be the chairman of the ICT committee before being elected chairman; we held our meeting there, and my own coordinator was adopted as the secretary of the committee. So, this is another way we are trying to see how much the university can gain from international collaborations. ICT, you know, is the thing that is ruling the world now. In that area, we are also trying. All these are besides our normal academic activities.
How do you resist pressure from above?
Pressure from above?
Yes, you know here being the seat of government, expectedly there will be pressure from many quarters - ministers, senators and permanent secretaries, etc
The pressure from above is only in terms of something like admission; that's the only area I can really think of pressure from above. If we are open-minded, and look for the progress of the place, they should rather come in to help, and I would rather say that the relationship should make things better for us as a university, because really, it is not all that easy. But I think it should only be in the area of admission because this is where everybody's interest lies. Everybody wants his/her child to be in the University of Abuja; that's the only pressure I can think of. Other than that, the relationship has been cordial.
Many see this institution as a glorified secondary school, in terms of infrastructural development. What are you doing to transform it into a first class university?
Let me make one correction; people only refer to our school as a glorified secondary school in order to put us down. But to the best of my knowledge, we have many competitions in this country that the University of Abuja has led. I give you those I can remember. In the Law School, for so many years now, our graduates, from the place you called glorified secondary school, have stood out, exceptionally. They led their sets. In another instance, we had a lady who finished from this school in physics, which happens to be my own department. She, Odunola, led internationally. She is in one of the big companies now. Then the Zain competition, which was held last year, it was our students who led in the competition in the whole country.
So, don't look at the structure only. It is not the structure that makes the knowledge. If you say we are not sufficient in the area of physical structure, maybe you are right, and that is only at the mini-campus. With what we have at the permanent site now, if those structures are completed, by the special grace of God, I know people will not look down on us, any more. I advise you visit the main campus and see the structures under construction. Just last week, when we had council meeting, some of these contracts were discussed, including those being funded through the PTDF intervention, and those we have under appropriation. But the major problem is finance. This university can be transformed into a great place, even in terms of infrastructure, if funds are made available to us. We have companies that are ready; Julius Berger can transform the whole place within the shortest possible time. So as for people talking about glorified secondary school, it is not in terms of knowledge; and I am proud of that.
Talking about the permanent site, you've stayed in this place rather too long. What's keeping the entire university from moving to the new site?
Some people are already there. I just had a meeting with the security; that's why you met me here (old campus); you would have met me in the other place. We have already moved the whole Faculty of Arts. We are hoping that the Faculty of Veterinary Medicine and Faculty of Engineering will soon be moving. At least, their buildings have got to a point that they can go and occupy them, and the whole administration is over there. So, you sometimes see me over here because I want to save working hours or working time. We have many faculties still here. When they need me as the VC, they have to come there, but in order to save time, I move to where more members of the meeting are. If there are five people in a committee, and one or two of them happen to be at the new site, instead of moving three to that place, let two move down to this place.
Again you will agree with me that some people can leave their work here, saying 'we are going to see the VC, we are going to see the VC.' Let them not come to see the VC; let the VC come and see them, and that's why we operate from two sites. So with that one, all efforts are being made. And just as I earlier said, some faculties will definite move. If we cannot move before the end of this year, then by January, by the grace of God, the faculties, which already have their building will move. Also we have hostels there, for both male and female hostels, which are accommodating no fewer than 500 students each. They have their lectures over here, and that is why the administration has embarked on the provision of campus shuttle. We have buses that shuttle between the two campuses, and the students only need to pay a token sum of N50 per drop, as against over N300 per they pay daily for the commercial buses. God willing, before this time of next year, many people would have moved to that place.
You are just trying to round up the 2009/2010 session when others are already in the 2010/2011 session. What are you doing to bring it in harmony with other universities, so that we can have a uniform calendar in the university system?
I think you should even praise the University of Abuja for the effort it has made, and I thank God for the support of the council and my staff. University of Abuja has not lost any session as a result of strikes. Remember the national strike that engulfed the nation sometime last year. It was during that time that I took over. When we came in, we readjusted our calendar, so that we would not lose any session. Our staff members denied themselves of pleasure, and used their rest period to make up. The second semester examination for this session ended on December 11. Hopefully, by the grace of God, we will start the next session in January 2011, for which, if God spares our lives, we will have rounded it up by the normal time in October.
When we spoke with the registrar of JAMB in September, he complained that some universities were already running late with their admission process. And now this is December, if September was late I wonder how we can describe the fact that your university has not done its admission.
You will recall we have already taken the post-UMTE screening test, which is essential. And the admission process has been on, which has been sent to JAMB. So, what is remaining is the issue of publication, which we will do anytime from now. It is not as if we have not done admission; we expect the session to end. We will now think of making all necessary arrangements for the take-off of another session. That is why it appears to you as if the University of Abuja is delaying admission.
So, when is the admission list going to come out, sir?
Anytime from now; in the next couple of days, as I said earlier. We have tried to use one concept: it's better to fish out than to mix up. The examination period is a very sensitive period; if you let anything to distract people, and give the slightest opportunity to people who are already tensed up, anything can happen. So, we agreed to finish the exams; students are on break. We'll go on with the admission.
There is this issue of the accreditation of the medical school, and I think, computer engineering again. Why is it that students are admitted for medicine only for them to discover it has not been accredited by the NUC?
Thank you. Anything about the University of Abuja is politicised, and we have to be frank about that. Only last week, University of Benin, which has been in existence for years, had the same problem. But the truth about the issue in the University of Abuja is that there is no way you start something without having some form of problems; more so, when we have four capital intensive programmes starting the same day. As much as possible, what was lacking before is being normalised by my administration .
Thank God you came in when the issue was just going on. You heard me over the phone, because NUC wanted myself, the registrar, the director of academic planning and the provost of the College of Medicine to meet with them today, but it was postponed. So, all those things are going on; that's why I said the whole thing about accreditation or no accreditation, concerning Abuja has always been politicised. Internally, I know we are going about things the way they should be. Now, we are conducting interviews towards remedying some of the things that people have been saying - the issue of consultants, our staff going to the teaching hospital, and the teaching hospital staff coming here. The application has been put out, and the shortlisting is already done, and interview is supposed to come up on Monday. So, things are going on as regards to that, but let's not forget one thing: Rome was not built in a day, and if people really join hands to look at things with an open mind, they will really realise that some of these things they say are not true. There are many structures that are coming. I suggest you visit the permanent site.
You sounded optimistic about your medical school. Are you saying that those students who are already admitted in the programme should have no cause to worry about their future? Second, are you going to admit students into your medical school for the session you are about to begin?
When I get to the NUC and JAMB, I will clear that. But don't forget one thing, the people who are coming in this year are not coming as medical students; they are coming in as would-be medical students. When you come in, the first year is basically the sciences— Physics, Chemistry, Biology. They take science courses, like other students. It is after that that they will go into their disciplines. If we want to make things easy, we will consider, maybe, to let it continue with those we already have on ground. If at the end of the day we feel it is necessary, we have the remedial programme, which is basically science. So, the issue of getting students at any time or lacking students at any time does not arise. But it is better that the attention of the authority is more on getting the problems on ground solved, in terms of infrastructure. The consultants are already there; it's just a question of getting those in the hospital come to the university, and those in the university come to the hospital. That is one of the conditions that have been there.
Post-UTME has been a divisive issue in the university system, and while answering the question on admission you said you had done your post-UTME. Is it still desirable or necessary? And then there is also the issue of university authorities using the post-UTME screening to fleece tens of thousands of prospective students when they know they can only admit a fraction of them.
As far as the University of Abuja is concerned, the post-UTME is a screening exercise; it is not an admission exercise. The only body empowered to conduct admission test is JAMB. However, we are privileged to screen our own students. What we did in the University of Abuja is to conduct written tests - there are universities that do not conduct written tests. It's not exam, the reason being that those of us here in this room, if I have to discuss as we are discussing now, it will be subjective. But if we want it to be objective, come and do a written test, and what we do in the University of Abuja is that we mark over 150; because there are three subjects, the General paper, Mathematics and English, which is 50 each. On that basis we have said that once a person makes 40 per cent, that is 60 over 150, it means the person has passed, and we now admit on the basis of JAMB score.